Sweden will introduce a Covid-19 vaccination pass on 1 December for public indoor events of more than 100 people, as cases rise in much of Europe, the government has said.
With infection rates relatively low, Sweden on 1 November removed the requirement for fully vaccinated people with symptoms to get tested for the virus, but the government said it was now reversing that decision after criticism.
Health Minister Lena Hallengren said Sweden expected to see a rise in cases during the winter and was "not isolated from the rest of the world".
The vaccination pass will be required for those over the age of either 16 or 18 - the government has yet to decide - at events such as concerts, theatres and sporting events, but not at restaurants and bars.
Organisers who do not require the pass will be subjected to other strict restrictions on crowd numbers and social distancing.
In the early phases of the pandemic, Sweden stood out by not introducing a lockdown and only recommending the use of masks in certain situations where crowding was unavoidable.
It relied instead on non-coercive recommendations, though some restrictions were introduced including on the number of people allowed at public gatherings and restaurants, and earlier closing times for bars and restaurants.
It lifted all of its restrictions in late September, as its vaccination programme progressed and case numbers were under control.
A total of 67% of Swedes are now fully vaccinated, rising to 82% of those over the age of 16, according to the Public Health Agency.
The country currently has an incidence rate of 85.8 cases per 100,000 inhabitants over the past 14 days, according to the World Health Organization - one of the lowest in Europe and far below that of its Nordic neighbours where cases are soaring.
Germany's Christmas markets in limbo amid Covid surge
As Covid-19 cases soar the festive season is hanging in the balance for Germany's famous Christmas markets.
As the government scrambles to respond to a dramatic rise in infections over the past two weeks, some of the traditional markets have already been cancelled, while others are still waiting nervously for decisions.
The Striezelmarkt in Dresden, the oldest Christmas market in Germany, which draws around three million visitors annually, is due to open on 22 November.
Stallholders have already built their wooden huts and are busy hanging decorations and assembling wooden figures. But they might have to take it all down again at any moment.
"I can't describe what we are going through at the moment," said Karin Hantsche, who has been selling traditional gingerbread at the market for 32 years.
"We are not sleeping at night, we are so nervous and tense."
The state of Saxony has said the markets can go ahead, but local authorities in Dresden are due to meet on 25 November and could take a different view.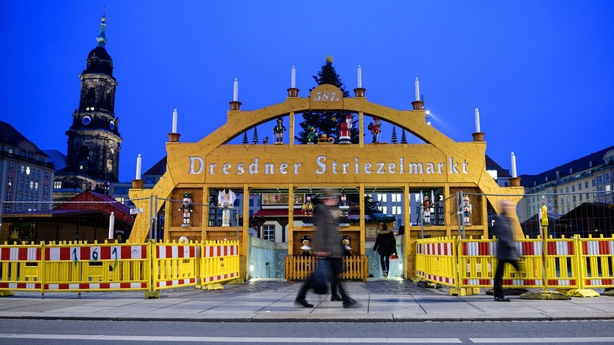 The central government and the leaders of Germany's 16 states are also due to meet this week to discuss new national measures.
With the country's seven-day incidence rate striking a new record high for the tenth day in a row today, Chancellor Angela Merkel described the situation as "dramatic".
"The fourth wave is hitting our country with full force," she said. "The number of daily new infections is higher than ever before ... and the daily death toll is also frightening."
The Robert Koch Institute reported that confirmed cases had increased by 52,826 today.
---
---
For Ms Hantsche, whose company brings in 50% of its income over the Christmas period, the closure of the market would be a disaster.
"Not everyone will survive this, and for me I can't say yet," she said.
"We are prepared to immediately lay everyone off again if the pandemic situation requires it. But we need some form of compensation for costs, and at the moment we do not have that."
Christmas markets have been an annual fixture in Germany since the 15th century, when craftsmen and bakers were given special permission to ply their wares in town squares in the run-up to Christmas.
In pre-pandemic times, the markets drew about 160m visitors annually and brought in revenues of €3-5bn, according to the BSM stallkeepers' industry association.
But most German cities cancelled their Christmas markets last year as Covid-19 cases began spiralling, despite the financial losses.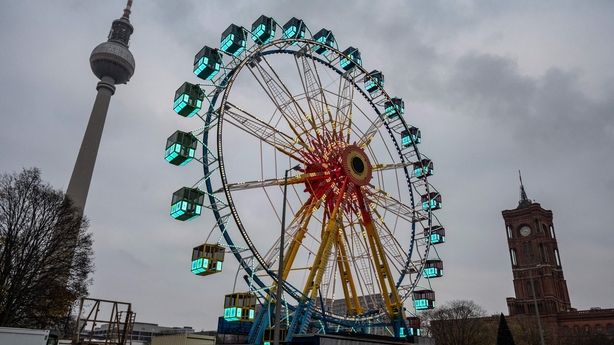 Munich yesterday became the first major German city to cancel its 2021 Christmas market, with several smaller markets already cancelled across Germany.
Others are still planning to go ahead, but with restrictions: in Leipzig there will be no alcohol, while in Nuremberg, the market will be pared down and split across several locations.
Markus Harich, who has been selling traditional festive mulled wine and other drinks at the Striezelmarkt for 30 years, is busy putting the finishing touches to his wooden hut.
"We are in a very difficult situation at the moment," he said. "We don't know what will happen next. Will we open at all? Will the regulations be changed?"
He too has had "sleepless nights" worrying about the future of his business. "The goods are ordered, but nobody is giving us any information ... At the moment we have really been left alone in a vacuum."
Ulrich Poetschke, who sells traditional artwork from Germany's Erzgebirge region, spends most of the year preparing for the festive season because "the most important business for us is the Christmas business".
"We are hearing different news every day about whether the market is taking place, so it is a very, very difficult situation for the traders," he said.
Austrian Covid cases hit record on third day of lockdown for unvaccinated
Austrian coronavirus infections hit a new daily record, the third day of a lockdown for those not fully vaccinated aimed at halting the surge.
Roughly 65% of Austria's population is fully vaccinated against the virus, one of the lowest rates in western Europe.
Austria also has one of the highest infection rates on the continent, with a seven-day incidence of 925 per 100,000 people.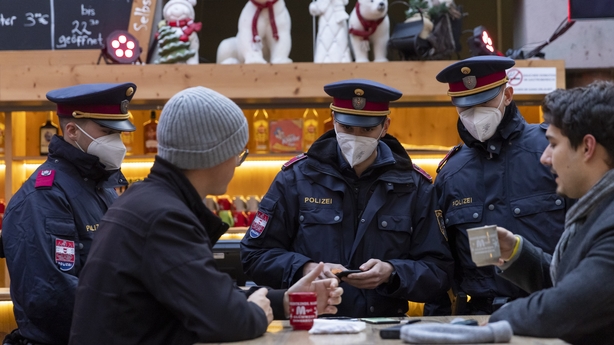 Soaring infections across Europe as winter approaches are prompting governments to consider reintroducing unpopular lockdowns.
In contrast to the Netherlands, which has ordered a partial lockdown that applies to all, Austria has sought to avoid placing extra restrictions on the fully vaccinated.
Daily infections rose to 14,416 today, official data showed, the first time they have passed the 14,000 mark.
The peak of the biggest wave of infections before this was 9,586 about a year ago, when the country went into full lockdown.
Having barred the unvaccinated from places including restaurants, hotels, theatres and ski lifts ten days ago, the government ordered a lockdown under which roughly two million people not fully vaccinated can only leave their homes for a limited number of reasons.
Those include going to work, shopping for essentials and "stretching your legs" with no limit on time or distance.
Given those sweeping categories, there are doubts about whether the lockdown can be properly enforced and whether it will succeed in countering the surge in infections.
The situation is worst in two of Austria's nine provinces, Upper Austria and Salzburg, where hospitals are coming under increasing strain.
Salzburg has said it is preparing for a triage situation when the number of people needing intensive care beds exceeds supply, though that stage has not yet been reached.
Portugal considers new Covid restrictions
Portugal has said it is considering imposing new coronavirus restrictions after an increase in cases and hospitalisations, despite having one of the world's best vaccination rates.
Portuguese health authorities on Wednesday recorded 2,527 new cases and more than 500 hospitalisations - the highest figures since early September.
More than 86% of Portugal's population have been fully vaccinated and authorities are urging the over-65s to take a third Covid vaccine dose.
The vaccines' protection against severe illness and death means any new restrictive measures will not be as "drastic" as before, government spokesperson Mariana Vieira da Silva told local media in Lisbon.
EU watchdog may announce view on vaccine for children next week
Europe's drug regulator is likely to disclose its view on the use of Pfizer/BioNTech Covid-19 vaccine in five to 11 year-old children around Wednesday next week, Austria's health ministry said.
"We are currently anticipating further information from EMA in this matter around November 24," the health ministry said in a statement.
The European Medicines Agency (EMA), which began evaluation glowering the age limit for the shot to five years in mid-October, did not immediately respond to a request for comment.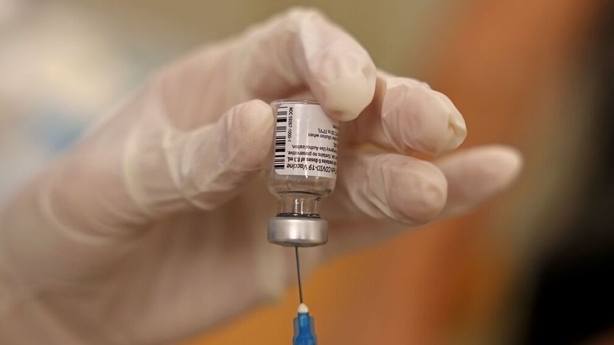 The two-shot vaccine, based on new mRNA technology, has been found to induce a strong immune response in five to 11-year-olds in a clinical trial of 2,268 participants.
The United States started distributing the shot to children as young as five on 3 November.
While children are far less susceptible to severe Covid-19, they can spread the coronavirus to others, including those more at risk of severe illness.
A similar review of Moderna's rival mRNA vaccine is ongoing and EMA said last week it expects to decide in about two months on the use of Moderna's shot in children aged six to 11 years.
Czech Republic reports record 22,479 daily coronavirus cases
The Czech Republic reported 22,479 new coronavirus cases for yesterday, the highest tally recorded in the country of 10.7 million since the pandemic started, Health Ministry data showed today.
The daily figure represented a 54% jump from a week ago and surpassed a previous record of 17,778 infections seen in January. The country tends to report the highest number of cases on Tuesdays as more people test after the weekend.
The Czechs have had to observe relatively light restrictions in the latest Covid-19 wave compared to previous ones, with the government pledging no school closures or lockdowns, and promoting vaccination.
People have to show negative Covid-19 tests or vaccination certificates to enter restaurants and bars and are required to wear masks inside.
The government has resisted tightening rules while in transition to a new administration expected to take office in the coming weeks, but the worsening situation in hospitals has made it consider tighter restrictions on unvaccinated people.
The government was due to discuss various options tomorrow.
Hospitals reported 4,425 coronavirus patients yesterday, less than half of the record highs seen in March, and 661 people in intensive care, the Health Ministry said.
The country has recorded a total of 31,709 Covid-19 deaths, with the daily count mostly over 60 in the past days.
The Czech Republic's vaccination rate has lagged those of other countries, with 57.6% of the population fully vaccinated versus an EU average of 64.9%, according to data from the European Centre for Disease Prevention and Control.