There have been 4,570 new cases of Covid-19 reported by the Department of Health.
The number of people with Covid-19 who are being treated in hospitals has increased by 40 from yesterday to 622.
117 of these patients are being treated in intensive care units - an increase of 11.
The country's hospital system is reaching full capacity and is now under widespread pressure in all parts of the country, due to the ongoing rise in Covid-19 admissions, according to the HSE's Chief Operations Officer Anne O'Connor.
Speaking on RTÉ's News At One, Ms O'Connor said there is "a worrying and significant impact" of Covid-19 in hospitals, with just 94 beds available in hospitals across the country.
She said that it is now "inevitable" that more scheduled care will be cancelled as there is a finite capacity for beds.
"We are reaching a point where it is becoming difficult. In reality there is only so much we can do as a health service," she said, adding that the picture is "one of people who are very sick and needing a lot of care" with a knock-on impact on the ability to respond to non-Covid patients.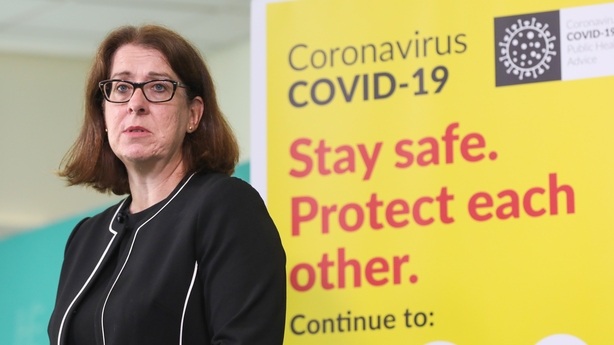 There have been cancellations in a large number of hospitals, and this morning there were just five beds available in 25 sites.
Ms O'Connor said there has been a 25% rise in admissions in the last week, and ICU admissions are up 41%, adding that the people coming into hospital with Covid-19 are much sicker, and of the 117 patients with the virus in hospitals, 81 of these require ventilation.
She said there has been a 32% increase in numbers of people coming to emergency departments in the last week and 23% end up being admitted, which is a high rate.
Staff are very worried and cannot see where the surge will end, and she appealed for people not to attend emergency departments where possible and for older people to be supported at home.
Over 3,800 staff were absent due to Covid-19 last week, up over 1,000 on two weeks ago.
---
---
Meanwhile, the Department of Health has published the Winter Preparedness Plan for October 2021 to March 2022.
It says €77m in funding will be used to open extra beds, more community diagnostics and secure extra private hospital capacity.
Another 143 beds are promised by the end of this year and 62 more by next March.
More home support hours are also promised.
The Irish Nurses and Midwives Organisation said it welcomed "the belated publication" of the plan, adding that is is seeking "an urgent meeting" with HSE Chief Executive Paul Reid and his senior officials to discuss its implementation.
INMO Deputy General Secretary Designate Edward Mathews said: "We need urgent action to use all available bed capacity in private hospitals to divert appropriate care from our acute hospitals.
"Our acute hospitals are not just full, they are overcrowded, so surge capacity from the private sector to alleviate the pressure in hospitals across the country is imperative."
Dublin's Mater Hospital moves to ICU surge capacity
Meanwhile, Dublin's Mater Hospital has moved to ICU surge capacity and now needs to ventilate patients outside of intensive care, the President of the Intensive Care Society of Ireland has said.
Dr Colman O'Loughlin, a consultant at the Mater, said this is the first time this has happened since the third wave of Covid-19.
He said the need to go into surge brings a degree of harm because services for other patients have to be curtailed, and warned that hospitals are in a serious situation and at high capacity levels with Covid-19 patients.
Speaking on RTÉ's Today with Claire Byrne programme, Dr O'Loughlin said too many acute hospitals beds are taken up with Covid-19 patients, adding that it is next to impossible to try and run a normal health system alongside this.
He said this has resulted in curtailed surgical activity and significant cutbacks in elective surgery.
Dr O'Loughlin said it is particularly hard to keep going when there is a "lack of visibility of how this is going to turn around".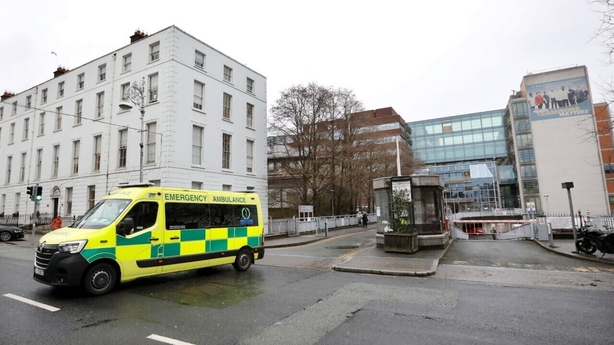 He said previous lockdowns had a positive impact on reducing case numbers, but there is no desire to re-introduce lockdowns or restrictions now.
"Without that it's not clear to us working on the frontline what the trigger event will be to turn things around to stop this 3000-4000 cases per day...they're the ICU patients of two weeks time, some of those patients."
He said he is not advocating for a lockdown, but warned that society will be forced into it if things are not turned around.
He also said there is an almost equal number of unvaccinated people and vaccinated vulnerable people in ICU.
Earlier, a member of the National Covid-19 GP Liaison Committee said an extension of the use of Covid-19 certificates and a more widespread use of mask wearing needs to be considered.
Dublin-based GP Dr Ray Walley said the Government should take the advice of NPHET after its most up-to-date modelling and also needs to re-enhance the messaging on mask wearing, including the consideration of face coverings among the under 12s.
Speaking on RTE's Morning Ireland, he said "lockdowns should be a last recourse at all times".