The National Public Health Emergency Team has recommended that people who frequently go to nightclubs, bars and restaurants should take twice weekly antigen tests.
The group said this would cover people engaging in higher risk activities involving multi-household indoor activity.
It recommends self-testing on a serial basis at a minimum of twice weekly.
NPHET is also recommending extending the use of Covid certificates to other areas outside of hospitality.
It is understood that NPHET does not specify where the certificates could be used, and any extension could require new legislation.
It is also understood that NPHET does not recommend the reimposition of social and economic restrictions for now, but warned that such a move cannot be ruled out in the future.
The recommendation were contained in a letter sent by NPHET to Minister for Health Stephen Donnelly yesterday.
In it, NPHET also strongly advised the Government that people work from home, where possible, and that employers be supportive of the move.
The Cabinet will consider the recommendations at Tuesday's meeting.
However, it is possible that the Cabinet Covid Committee could meet on Monday to discuss any changes.
Minister for Health Stephen Donnelly said the Government's main message was to "layer up and adopt the full range of protective measures".
In a post on Twitter, he added: "This includes wearing face masks, recognising the importance of good ventilation and using rapid tests as an additional layer of mitigation against infection and transmission."
NEW: Letter from CMO to Minister for Health re COVID-19 - 11 November 2021 https://t.co/OfZ4ek9COx

— Department of Health (@roinnslainte) November 12, 2021
This afternoon, Taoiseach Micheál Martin confirmed he received a letter from NPHET this morning.
"Numbers are increasing and that is a concern. Therefore, the main import of NPHET's advice is on all of us to restrict socialisation and to monitor behaviour," the Taoiseach said.
Mr Martin added that recommendations proposed mask-wearing in outdoor sporting events, including in large crowds and in congregated settings.
---
---
He added that people with vulnerabilities or underlying conditions should also wear medical-grade masks
"We generally try and reduce socialisation and then, cumulatively, that will have an impact," he said.
He said the letter from NPHET also shows the booster campaign is operating well and would be an essential part of dealing with this phase of the pandemic.
Mr Martin also responded to criticism of the Government's 'mixed messaging', which he said was a well-worn argument.
"The fact is that NPHET advises. The Government then will decide and give consideration to the advice. I don't believe in suppressing public health advice," he said.
Speaking in Co Galway, Taoiseach @MichealMartinTD confirmed he received a letter from NPHET this morning and said there will be some new measures - including recommending the wearing of masks at major outdoor events. | More: https://t.co/iKD9KvcLHk pic.twitter.com/IGRRkIwQtz

— RTÉ News (@rtenews) November 12, 2021
"This is a transparent process. Health advice has been to the fore of our response to the pandemic from the get go.
"If you look at countries that undermined public health advice, they didn't fare as well. This is a very dangerous disease-causing death and severe illness. It can have long-term impact. We've got to take this seriously."
Regarding the possible extension of vaccination certificates, the Taoiseach said there was nothing specific as of yet regarding other sectors outside of hospitality, but there will be ongoing inspection and enforcement going forward.
Mr Martin said antigen tests are being used more frequently and the Government will be giving further consideration to wider distribution to the public.
Regarding rising numbers of children with Covid-19, he said there were far more children presenting with non-Covid related illnesses, such as respiratory viruses.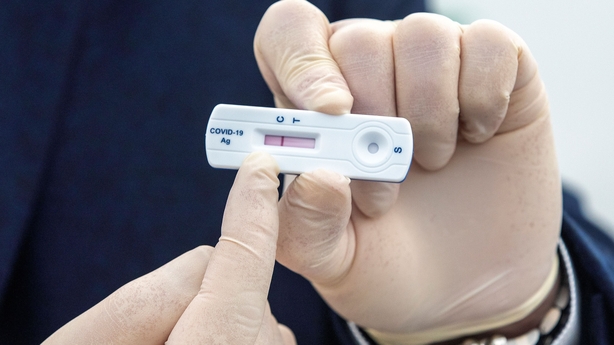 "Children with symptoms should stay home, but there will be specific circumstances for the use of antigen testing in schools. That's something we will be working towards shortly," he said.
Asked about the vaccination of 5 to 11-year-olds, as is currently the case in the US, Mr Martin said the EMA is actively giving consideration to the vaccination of children.
He added: "We will then take advice from NIAC in respect of that. We vaccinate children for a whole range of conditions and diseases, which is historically very effective.
"I personally would be supportive if the authorities recommend this measure. That's an issue that will be on the agenda imminently."
Sinn Féin's spokesperson on Workers' Rights has said the Government should heed NPHET's advice and reinstate remote working.
In a statement, Louise O'Reilly said that while the initial return to on-site working was successful, "it has become clear that overcrowded public transport and crowded office spaces have played their part in Covid case numbers rising again".
The Labour Leader Alan Kelly has said the use of antigen testing should have happened a long time ago.
Speaking in Dublin ahead of his party's annual conference he said: "14 months ago across the road in Leinster House I was asking for antigen tests to be used. I think it is ridiculous where we are at this stage.
"I believe in using them. I used them this week before I came up here. I'll use them again before I leave on Sunday. They have been part of my life for over a year."
Deputy Kelly called for greater availability of booster vaccines, saying there is enough supply to make boosters available to everyone in the country, as well as making them available through Covax.
"We can do both.
"As I understand it, we have access to well in excess of fifteen or sixteen million vaccines.
"We meet our requirements to Covax. Once our healthcare workers are boosted and once our over 60s and those under 60 who are compromised, I believe with the infrastructure we have in place, we should boost the whole country."
Additional reporting: Teresa Mannion and Mary Regan