Austria is days away from placing millions of people not fully vaccinated against Covid-19 on lockdown, as daily infections are at a record high.
Intensive-care units are increasingly strained, Chancellor Alexander Schallenberg warned today.
His conservative-led government has said it will ban the unvaccinated from restaurants, theatres, ski lifts and providers of "services close to the body" like hairdressers.
Around 65% of Austria's population is fully vaccinated against the coronavirus, national statistics show.
Austria has the lowest vaccination rate of any Western European country apart from tiny Liechtenstein, according to European Centre for Disease Prevention and Control data.
Many Austrians are sceptical about vaccinations, a view encouraged by the far-right Freedom Party, the third-biggest in parliament.
Under an incremental government plan agreed in September, once 30% of intensive-care beds are occupied by Covid-19 patients, people not vaccinated against the coronavirus will be placed under lockdown, with restrictions on their daily movements.
The current ICU level is 20% and rising fast.
"According to the incremental plan we actually have just days until we have to introduce the lockdown for unvaccinated people," Mr Schallenberg told media, adding that Austria's vaccination rate is "shamefully low".
EMA approves two antibody treatments for Covid-19
The EU's drug watchdog has approved two Covid-19 antibody treatments, in its first approvals of the groundbreaking therapies that help stop infected people developing symptoms of the disease.
Ronapreve, made by Swiss pharma giant Roche with US biotech firm Regeneron, and Regkirona, developed by South Korea's Celltrion, got the green light from the European Medicines Agency (EMA).
The move adds to the European Union's toolbox of drugs as it fights coronavirus infection rates that are rising to record levels in some countries.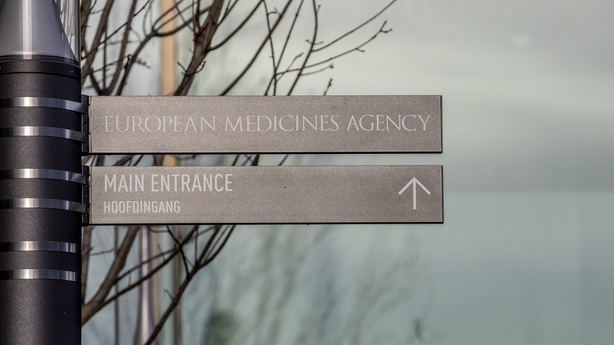 "Ronapreve and Regkirona are the first monoclonal antibody medicines to receive a positive opinion... for Covid-19," the Amsterdam-based EMA said in a statement.
EU Health Commissioner Stella Kyriakides said the approval of the two drugs was an "important step" against the disease, with the bloc's response so far relying on four vaccines.
"With Covid-19 infections on the rise in almost all member states, it is reassuring to see many promising treatments in development as part of our COVID-19 therapeutics strategy," she said in a statement.
"Today we take an important step forward towards our goal of authorising up to five new treatments in the EU by the end of the year."
EU states could already call on the bloc's contract for 55,000 treatments of Ronapreve, she said.
Lab-produced monoclonal antibodies are Y-shaped proteins that bind to the spikes that dot the surface of the coronavirus, stopping the pathogen from invading human cells.
Vaccines train immune systems to produce such antibodies too.
But some people including the elderly and immunocompromised do not respond well to vaccines, and such groups stand to benefit the most from "passive vaccination" where the antibodies are delivered directly.
Israel holds 'war drill' in case of new Covid strain
In what it called a world first, Israel today held a "war game drill" in case of an outbreak of a new lethal variant of Covid-19.
Civilian and military officials took part in the exercises, named "Omega" after the supposed strain, held at Jerusalem's nuclear blast-proof National Management Center.
The simulation covered different aspects of a crisis, including mass inoculation, ordering curfews and imposing a flight ban, Prime Minister Naftali Bennett's office said.
"The State of Israel is in an excellent situation. We beat the fourth wave and we are on our way toward exiting the Delta variant. However, at the same time, we are always looking ahead... We are not 'closing up shop'," it said.
Mr Bennett, on a visit to the centre, said the biggest threat was "what we do not know yet, more dangerous and more contagious variants of Delta that are resistant to the vaccine that can crop up all of a sudden".
"In order to simulate a real situation", the drill - a "first of its kind in the world" - was organised in three sessions to reflect the passage of time between various scenarios.
Israel was the first country to launch a mass booster campaign during the Covid-19 pandemic, with more than 3.9 million people getting a third dose since the summer.
In late August and early September, however, cases of Covid infection rose to more than 10,000 a day, a number that has since fallen to just a few hundred.
About 80% of Israel's nine-million population have been fully vaccinated against the coronavirus.
---
Read more: Latest coronavirus stories
---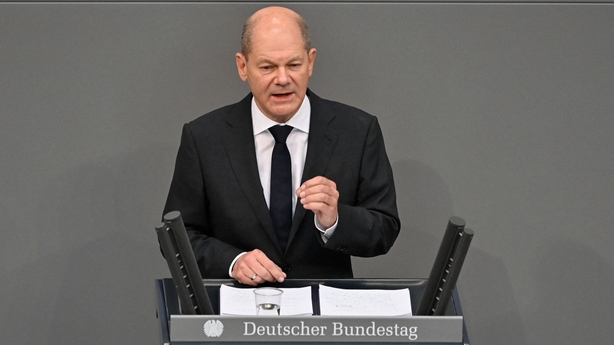 Potential German Chancellor says restrictions needed
Germany needs further coronavirus restrictions to combat a record surge in infections and "get through this winter", would-be chancellor Olaf Scholz has said, calling a meeting with state premiers to decide new curbs.
The country recorded 50,196 new cases in the past 24 hours, according to the Robert Koch Institute health agency - the first time the figure has exceeded 50,000.
Infections and deaths have been climbing steeply since mid-October, in an outbreak blamed on Germany's relatively low vaccination rate of just over 67%.
Mr Scholz's remarks came after he faced criticism for his relative silence despite the urgent situation, with detractors saying he was more focused on his Social Democratic Party's bid to form a ruling coalition with the Greens and liberal FDP following September's election.
Presenting proposed measures drafted by the three parties in parliament, he said new restrictions were necessary to "get through this winter".
"What we need now is for the country to pull together in one direction," he said, also urging more Germans to get vaccinated.
"It is very, very important that we take every measure to ensure that we can protect the health of the citizens of our country," he said.
"Even if the situation is different (from last winter) because so many people have been vaccinated, it is still not good, especially because not enough people have made use of the vaccination option so far."
The measures proposed by the incoming coalition parties include restricting access to certain facilities to those who are vaccinated or have recovered from the disease - a system known as 2G in Germany.
They also want to tighten testing requirements for employers and reintroduce free rapid antigen tests, a measure that had been in place over the summer but was abandoned in mid-October.
The proposals will be scrutinised by the Bundestag lower house of parliament this week and are expected to come into force at the end of the month.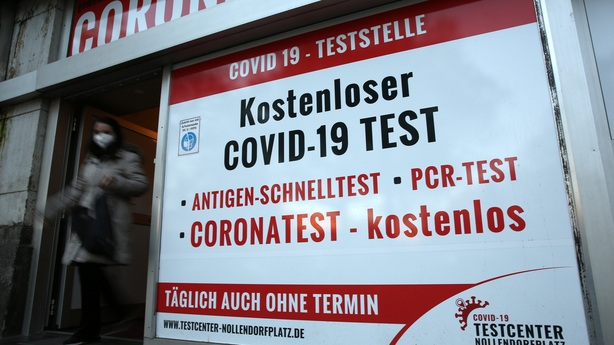 Outgoing Chancellor Angela Merkel has called for urgent action and described the rise in infections as "dramatic".
"The pandemic is returning in a new spectacular fashion," her spokesperson said this week, calling on regional authorities to take further steps to quell the outbreak.
Germany's incidence rate has also hit a record high, climbing to 249.1 new infections per 100,000 people over the past seven days.
The number of deaths in 24 hours also climbed to 235.
Several of the worst-hit states, including Saxony, Bavaria, and most recently Berlin, have introduced new restrictions on unvaccinated people.
As of Monday, Berlin will apply the 2G rule in restaurants, terraces, bars, sports halls and hairdressers.
Saxony has also introduced the 2G rule for indoor dining, cinemas, theatres and other indoor events.
Over 4.9 million people have been infected by Covid-19 in Germany since the beginning of the pandemic.
Housing compounds, shopping mall sealed off in Beijing virus outbreak
Authorities in Beijing have sealed off a shopping mall and locked down several residential compounds over a Covid flare-up, as the latest outbreak spread to the Chinese capital's central districts.
China has largely curbed widespread transmission of the coronavirus through snap lockdowns, mass testing and travel restrictions, but authorities are on high alert after a nationwide spike linked to domestic travel in the past month.
Six new cases were found in Beijing's central districts of Chaoyang and Haidian this morning, local media reported, all close contacts of people infected recently in northeastern Jilin province.
Raffles City mall in Dongcheng - also a central district in the capital - was sealed off yesterday evening after a close contact of a person with Covid-19 was found to have visited the mall, the Beijing Youth Daily reported.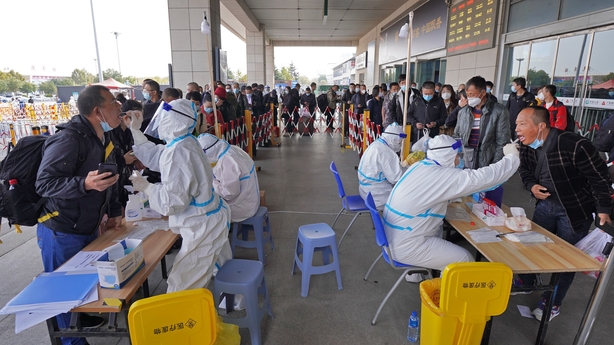 Its exits were closed, and all staff and customers inside were not allowed to leave until they got tested.
Videos shared on social media platform Weibo showed crowds of shoppers in masks, lining up to be tested inside the shopping centre.
The mall remained closed today.
The latest spike occurred during a high-level meeting of top Communist Party leaders in Beijing.
Beijing health officials said at a briefing that more than 280 close contacts have been identified, with almost 12,000 people screened for the virus in both Chaoyang and Haidian districts.
Five residential communities, a primary school and two office compounds were placed under snap lockdowns early today, with tens of thousands of residents barred from leaving and made to undergo mass testing.
Live streams on local media of the areas under lockdown showed staff in hazmat suits piling up bags of food for residents stuck inside.
Four of the diagnosed cases are members of the same household, while the other two are a Jilin resident on a business trip to Beijing and their close contact, local health authorities said.
As more nations lift coronavirus restrictions, China continues to pursue a strict zero-Covid strategy that has seen its international borders largely closed since the start of the pandemic.
Its latest wave of infections has seen millions put under lockdown and domestic travel rules tightened, with many flights and trains cancelled.
Two killed in fire at Covid hospital in Romania
Two patients died and a nurse was injured when a fire broke out in a Covid-19 hospital in the central Romanian city of Ploiesti, officials said, the latest in a string of deadly hospital fires over the past year.
The fire, which was quickly extinguished, affected one room. Fifteen patients in the wing were moved to another hospital.
There were more than 17,400 Covid-19 patients, including 310 children, being treated in Romanian hospitals today, including 1,823 in intensive care units.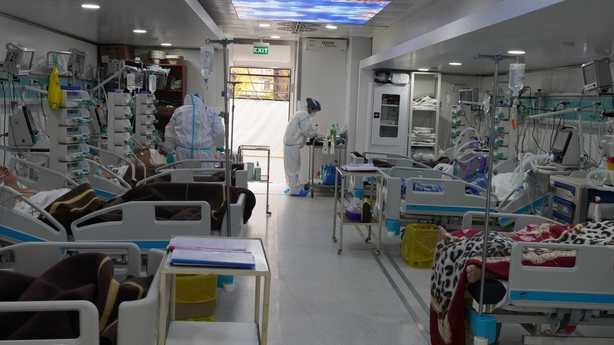 Romania has the second lowest vaccination rate in the European Union and one of the highest Covid-19 mortality rates in the world, with record daily infection numbers throughout October stretching its hospitals.
In October, a fire killed seven people in the intensive care unit of a hospital in the eastern city of Constanta.
In February, a fire killed four patients in the capital, Bucharest. Last November, 10 people died in a blaze in an intensive care unit at the Piatra Neamt county hospital.
Officials have begun regularly inspecting oxygen lines and fire permits at hospitals.
Even before the pandemic, Romania had one of the EU's least developed healthcare infrastructures.
The state has built one hospital in the last three decades, spends the least on healthcare in the EU and has a shortage of doctors and nurses.
Denmark to impose Covid-19 isolation for travellers from Singapore

Denmark will impose self-isolation requirements on travellers from Singapore, its embassy in the city-state said, following a surge in Covid-19 infections.
Singapore was removed this week from a European Union list of non-EU countries for which travel restrictions should be lifted.
"Singapore is now considered a high risk country for travel to Europe," the embassy of Denmark in Singapore posted on Facebook.
The EU's safe list of countries is reviewed every two weeks and is not legally binding on member nations.
Last month, the United States advised citizens against travel to Singapore, raising the alert level to its highest.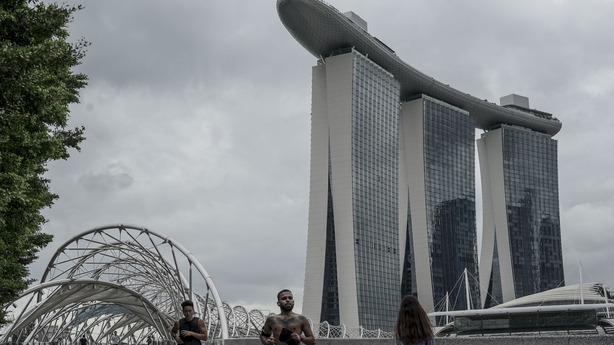 Singapore detected 3,481 new cases of Covid-19 yesterday.
But most of its recent new cases are asymptomatic or mild, with 85% of the 5.45 million population vaccinated.
Singapore had kept the infection numbers very low through most of last year and early this year.
With the exception of certain groups such as Danish citizens "who are fully vaccinated regardless of where", all travellers from Singapore must be tested upon arrival and self-isolate for ten days, the Danish embassy said.
The isolation will end on the fourth day if there is a negative PCR test result.
The rules applied to all travellers regardless of vaccination status as Denmark does not recognise Singapore's vaccination certificate, it said.
Last month, Singapore had included Denmark in a short list of countries for which quarantine-free travel would be allowed for fully vaccinated people.