The National Public Health Emergency Team said there has been a "significant increase" in Covid-19 cases amongst almost all age groups.
The Department of Health reported 2,975 new cases today.
There are 551 patients with the virus in hospital, up 31 from yesterday, of whom 89 are in intensive care, up six.
The Deputy Chief Medical Officer said the incidence rate is three times higher than in October 2020.
There has been an accelaration in incidence of the virus, Dr Ronan Glynn said, adding that last week was the third highest case count since the pandemic started with 25,000 cases reported in a single week.
Previous to that, weeks one and two of last January were the highest, he said.
There is a deterioration in incidence across the country, but counties Leitrim, Waterford, Laois, Louth, Donegal, Carlow, Longford, Meath, Westmeath, Cork and Kerry all have a 14-day incidence of more than 1,000 per 100,000 people.
Dr Glynn said there is a significant increase in cases among people aged 19-24.
However, he said there are positive benefits due to the booster vaccine programme with fewer older people (aged 80+) getting the virus.
There is an increase in positivity rates in acute hospitals, according to the Deputy CMO, with an average of 60 admissions per day, including six to intensive care.
There are, on average, 150 Covid-related deaths per month with 74 new deaths notified over the past week; 44 of those in November and 22 in October.
Dr Glynn said the growth rate of the virus is about 5% per day, but changes in testing patterns, and the recent midterm break should be taken into account.
By using basic mitigation measures, such as wearing masks, he said the outlook for deaths across Europe could be significantly reduced.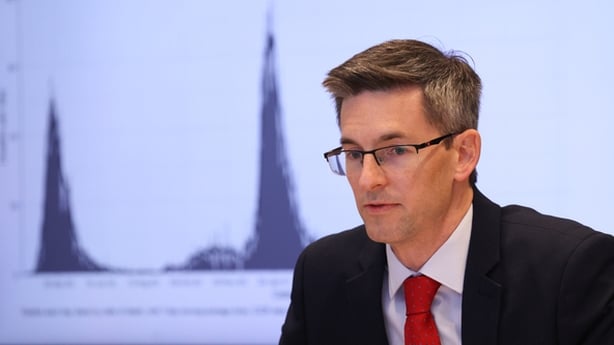 Referring to ESRI data, Dr Glynn said people are having, on average, 6.2 contacts.
He also pointed to data on hospitality compliance showing that around one in three people are not being asked for Covid vaccine certificates.
Dr Glynn said NPHET requires all sectors to do all they can to help mitigate the high numbers.
The Chief Medical Officer said he understands that people have "become tired" of the pandemic, but Dr Tony Holohan said compliance with public health measures is not "quite at the level" that it needs to be.
He said although there has been a significant suppression of the virus with vaccination, the accelaration of cases is of "concern" to NPHET.
CMO Dr Tony Holohan says we are not seeing "encouraging signs of reduction in socialisation." He adds a small improvement in terms of "collective adherence might be sufficient to bringing this back under control." | Read more: https://t.co/A0I3TyS3t8 pic.twitter.com/TJuZRWgGUD

— RTÉ News (@rtenews) November 10, 2021
The level of socialising is something that cannot be sustained in terms of case numbers, Dr Holohan added, as he asked people to plan activites.
"If you are planning to meet up with people, try and reduce those contacts by half," he said.
Dr Holohan said this would have a significant effect in terms of transmission of Covid-19.
"If you are planning to go out two nights, just go out once. If you are planning on having ten people to your home, just have five," he told reporters.
Dr Holohan said he understands that people want to meet up heading into Christmas, but vaccinations still need to be taken up by some people and the levels of transmission need to be managed.
He said that if high levels of socialising continue, the rise in cases will continue, which is why he said it is "so important" for people to hear the message from NPHET.
"Transmission is not inevitable," the CMO said, and "we hold it within our collective capacity to prevent this virus from transmitting".
Dr Holohan there needs to be a greater level of adherance to public health measures in order to make an impact on the levels of transmission.
He also said it is critical that those with symptoms of the virus isolate themselves.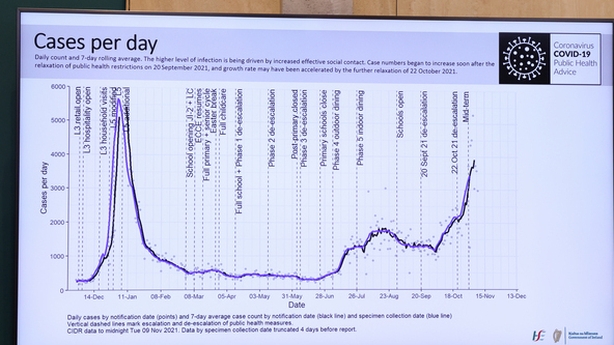 He said a key difference between this and last Christmas is that most of the population is vaccinated and that allows for much of society to remain open.
Christmas party plans are within everybody's control, the CMO added, and he would like employers to minimise risk for themselves.
It is important for individuals to have discretion in terms of what they want to do, Dr Holohan said, adding: "Do I need to do this now, can I put this off?"
"What's the chance of me when I am out and about bumping into the virus? Well right now, it's very high."
Dr Holohan said people should try not to follow up high-risk activities (such as going to a match or a night club) by not undertaking another high-risk activity such as visiting vulnerable people.
The CMO Dr Tony Holohan said that while nothing can be ruled out, no one is expecting to go back to the introduction of restrictions.@rtenews

— Fergal Bowers (@FergalBowers) November 10, 2021
The CMO said that "while nothing can be ruled out", there is no plan to reintroduce restrictions.
He again advised people to "take their business elsewhere" if Covid-19 safety measures are not being followed in pubs and restaurants.
Dr Holohan said schools are low-risk environments for the virus.
He said that antigen testing across schools is not being contemplated, but as part of the overall contact tracing system.
Dr Ronan Glynn says people have disregarded the importance of personal mitigating measures that they can take to prevent the spread of the Covid-19. | More: https://t.co/A0I3TyS3t8 pic.twitter.com/z8zXSaUDUW

— RTÉ News (@rtenews) November 10, 2021
Professor Karina Butler, chair of the National Immunisation Advisory Committee, said "we are almost there" in terms of people with underlying conditions receiving their booster vaccinations.
Regarding the next age cohorts to get boosters, she said NIAC is looking to give them when they are needed and when it is safe to do so.
Prof Butler said that protection of the initial vaccine waning after five or six months is against infection not necessarily against severe disease or hospitalisation.
She said it is a concern that people aged in their 40s and 50s might start to have waning immunity, but she said it is more of a concern to give those at the highest risk of severe illness a booster vaccine.
---
---
In Northern Ireland, a further seven patients who had previously tested positive for Covid-19 have died.
Another 1,765 cases of the virus were also notified by the Department of Health.
This morning, there were 404 Covid-positive patients in hospital, with 36 in intensive care.