There have been 3,903 new cases of Covid-19 notified to the Department of Health - a figure described as "very concerning" by Chief Medical Officer Dr Tony Holohan.
The number of people in hospital who have tested positive for the disease is 463, five more than yesterday. Of these, 76 are receiving treatment in intensive care, a decrease of 14 overnight.
The Taoiseach said numbers are "very high" at the moment and people need to be conscious of their behaviour over the next while.
"We are concerned about the rising case numbers but we are in a much different position that we were last year because of the powerful impact that vaccination has had," Micheál Martin said.
"We always had a sense that this winter would be difficult," he added.
In Northern Ireland, 1,164 new infections and four Covid-related deaths were reported.
Dr Tony Holohan commented: "Today we are reporting 3,903 confirmed cases of Covid-19. This is a very concerning figure and a stark reminder that this virus is highly contagious.
"This is not a situation any of us want to be in, but our reality remains that we are still in the midst of a global pandemic.
"Ireland has been tracking ahead of other Western European countries when it comes to this fourth wave of the pandemic. We are now starting to see a rise in incidence across the continent in line with our own recent experience."
The Chief Medical Officer added: "There is some good news in that the number of people per 1,000 cases requiring hospitalisation and critical care as a result of Covid-19 infection has reduced.
"While Covid-19 vaccines give good protection from serious illness and hospitalisation, we know that fully vaccinated people can still get and transmit the virus.
"However, if you are vaccinated, you are more likely than before to experience a mild form of the disease. This is the key difference between the situation we find ourselves in this winter compared to last."
He urged people to adhere to public health measures and advised extra caution around those who may be immunocompromised or vulnerable to Covid-19.
Today's coronavirus figures are provisional due to technical problems and may be updated at a later date.
We need your consent to load this rte-player contentWe use rte-player to manage extra content that can set cookies on your device and collect data about your activity. Please review their details and accept them to load the content.Manage Preferences
Earlier, Tánaiste Leo Varadkar predicted Covid-19 case numbers would reach around 4,000 today or tomorrow, partly because of a backlog of unreported cases.
Speaking on RTÉ's Morning Ireland, Mr Varadkar said the situation is "fragile, but it is stable".
"We will see cases hit around 4,000 today or tomorrow," he said. "They've been heading that way and there's a backlog of unverified cases."
Mr Varadkar said these case numbers do not mean the same thing as they did this time last year, but he said more restrictions cannot be ruled out.
"It would be reckless to do so, but I can say that it's not our intention and we don't expect to have to reimpose restrictions before Christmas."
The Covid-19 booster vaccine plan is going well, he said, but may need to be extended to cover those under 60 with chronic conditions.
"Maybe even everyone under 60," he added.
The Tánaiste said it is good news that the UK has authorised the use of a pill shown to successfully treat Covid-19.
"I've always said that we would have to get through another winter before we can say this pandemic is behind us," Mr Varadkar said, urging those with symptoms to stay at home.
Vaccination status of COVID-19 cases admitted to ICU in Ireland between 1st April and 30th October 2021 report published https://t.co/gIbv4VGvkq pic.twitter.com/151trRf1hu

— HSE Health Protection Surveillance Centre (HPSC) (@hpscireland) November 5, 2021
Speaking on RTÉ's Today with Claire Byrne, HSE Chief Executive Paul Reid said the benefit of the vaccination programme is keeping the country protected.
Mr Reid said that anyone who is "strongly symptomatic" and cannot get a PCR appointment should contact their GP who may be able to refer them.
He added that anyone who is symptomatic should stay at home.
---
Read more
Latest coronavirus stories
---
Over 75s remain a particular concern. The HSE is seeing an increased presentation of over 75s at emergency departments.
Mr Reid said there is normally a 25% admission to hospital from EDs, but that increases to 50% for over 75s.
Delayed care and frailty issues are some of the main reasons they are being admitted, he added.
Around 1,500 to 2,000 people a day are still registering for a Covid vaccine.
"If you are not vaccinated, you are really at extremely higher levels of risk. Nobody is making any judgements. It's never too late to come forward," he said.
Meanwhile, the HSE's Director of Acute Hospitals has said about ten surgeries in 21 hospitals are being cancelled per week.
Speaking on the same programme, Liam Woods also said 1,000 beds are being used in the private hospital system each week.
These beds are being used, when possible, for diverted emergency services.
"Ten per site per week was roughly what we were getting about a week-and-a-half back ... that was across about 21 hospital sites," Mr Woods said.
"Covid is very much interrupting the normal service delivery and has done that sadly for almost the last two years now.
"We're seeing an increase in ED attendance that's well above the demographic. That's been driving by difficulties in accessing care in the community."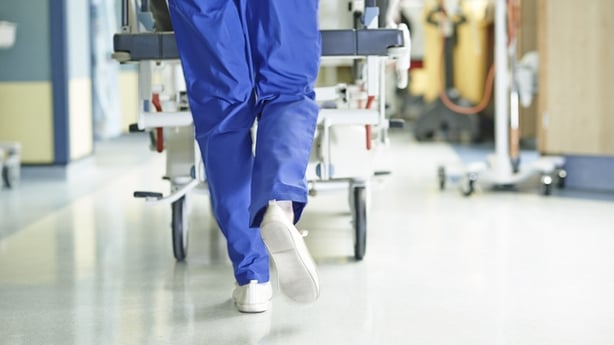 Mr Woods said the growth is most seen in the over 75s category, which reflects a "high need for care".
He said the plan is to "grow capacity to meet the demand".
The wider plan, he said, is to grow capacity in both the acute and community care systems to meet increasing demands, which he said is happening in the background.
"I think we also need to recognise that the demand on the emergency departments, independent of what's happening with Covid, is also now very high," Mr Woods said.
"So the pressure on the system, both to do the normal planned surgery, but also to treat people as they present at the front door of the hospital, is also very high."
He said the HSE has invested in over 1,100 hospital beds since the start of the Covid-19 pandemic.