Tánaiste Leo Varadkar has said the Government is considering a dedicated campaign on vaccinations to reach out to communities who do not speak English.
While the HSE has been providing information in various languages to improve vaccine uptake, the Tánaiste said more targeted campaigns may be needed.
It comes as Central Statistics Office data shows that eastern European nationals working in Ireland have the lowest rates of vaccination at 44%, compared to 67% of Western European nationals and 90% of Irish nationals.
The CSO found that nationality-based data shows low vaccine uptake rates of 26% for nationals of EU14-27 countries working in agriculture, forestry and fishing, reflecting the high proportion of seasonal workers in these sectors.
The EU14-27 countries are those states that joined the EU on 1 May 2004.
They are the Czech Republic, Cyprus, Estonia, Latvia, Lithuania, Hungary, Malta, Poland, Slovenia, Slovakia, Romania, Bulgaria and Croatia.
Taoiseach Micheál Martin said that some countries have a higher level of resistance, in terms of taking a vaccine, compared to Ireland.
He said that this could be due to historic reasons in terms of the relationship that they would have had with their state in previous times.
Mr Martin told reporters in Dublin this afternoon that there had been a steady increase in the number of unvaccinated people coming forward for inoculation, including more pregnant women.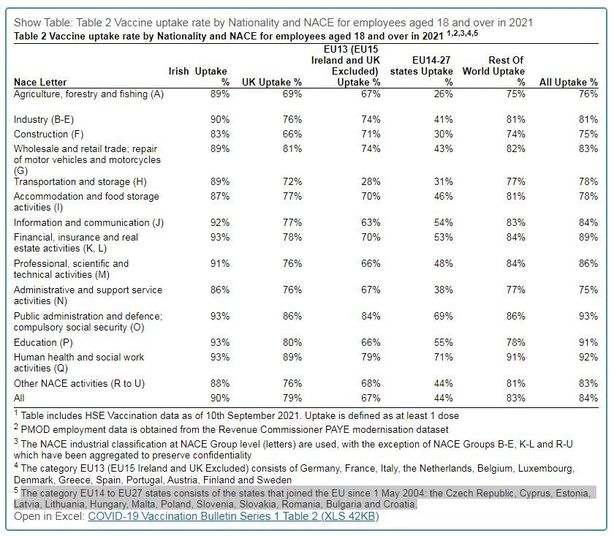 The Founder and CEO of Translate Ireland, Graham Clifford, said the attitudes of migrants working here to vaccination is mirroring what is happening in their home countries.
Speaking on RTÉ's Six One News, he said that uptake rates of vaccination in countries such as Poland, Lithuania and Romania are being reflected in the migrant populations from those countries here.
The demographic make-up of the migrant population in Ireland is younger than in the general population, he said.
Vaccine hesitancy and fear of messaging from the state is also an issue for those coming from former eastern bloc countries, he added.
Mr Clifford said that messaging is a task that has to be worked on continuously and while there has been progress, it has been slow.
By gender, the nationality group with the lowest vaccine uptake rates are male nationals of EU14-27 countries at 39%, and female nationals in the same group at 49%.
For Irish nationals, vaccine uptake rates range from 85% in the 18-24 category to 96% in the 65+ category.
For UK nationals, vaccination uptake is 70% among those aged 18-24 and 80% in those aged 64 years and older.
The CSO has said that vaccine uptake rates are generally higher for females than males for those with a record of employment, with higher rates in all age groupings except in the 65-plus age group, where rates are identical.
Looking at employees by economic sector, it found that vaccination rates are highest at 93% in public administration and defence; compulsory social security.
It found that the lowest rates were in construction, and administrative and support service activities at 75%.
The office said that the vaccine uptake rate is 84% for all employees aged over 18 up to 10 September.
Reporting Fergal Bowers and Tommy Meskill