The Minister for Health has said people who are deemed close contacts of a Covid-19 case will be sent antigen tests from today.
Stephen Donnelly said close contacts can expect to start receiving the rapid tests from tomorrow.
Under the system, people can use the antigen tests at home if they are both fully vaccinated and do not have symptoms.
In cases where people have symptoms, they are advised to self-isolate and arrange a PCR test.
People who are eligible for antigen tests will get a call from a contact tracer who will arrange to have the test posted to their homes.
Free test kits will be sent and people are advised to take a test on the day they receive it; take the second test two days after the first and the third test two days after the second one.
If any of the tests returns a positive result, the person should self-isolate and arrange for a PCR test to confirm.
---
---
The minister also said he believes there is "a strong case" for healthcare workers to be given booster vaccines.
Speaking on Newstalk, Mr Donnelly said the Department of Health and the Chief Medical Officer are "working very closely" with the National Immunisation Advisory Council (NIAC) on the matter.
Asked about rolling out the booster shots without the approval of NIAC, he said he would be "very loath to step away from NIAC advice".
Mr Donnelly said booster shots for people over 60 will begin from next week.
He said it is planned that people aged 60 to 69 will receive their jabs at mass vaccination centres, while those aged 70 to 79 will go to their GPs, but he added: "The final details are still being worked through at the moment."
Postal service most 'practical' way to send test kits
The HSE's clinical lead for infection control said the use of the postal system to deliver antigen tests is a practical way to get tests to people in a reasonable time frame.
Speaking on RTÉ's Drivetime, Professor Martin Cormican said that lots of options were considered, but An Post reaches everybody in the country and this was seen as a practical option.
Asked about a potential two or three-day delay in getting tests to people, he said described the delay in getting tests to people as "a reasonable delay".
Prof Cormican said this would provide an element of additional insurance for those who are fully vaccinated and asymptomatic.
He said people who are most infectious are those who have symptoms.
Meanwhile, the HSE is appealing to anyone with Covid-19 symptoms to act quickly, get a test, and protect the people around them.
As part of a new 'Thank You' campaign, the HSE is asking people not to attend work or any other events if they have any Covid symptoms.
HSE Clinical Director Dr Colm Henry said it has to become unacceptable for people to go to work with cold or flu-like symptoms or attend a social event with a cough or after just having a Covid test.
Vaccine message for pregnant women 'getting through'
The Health Service Executive's Clinical Director of Women and Infant Health has said 15 pregnant women have been admitted to ICUs with Covid-19 since September, but the message that vaccination is necessary "appears to be getting through".
Speaking on RTÉ's Morning Ireland, the former master of the Rotunda Hospital said pregnant women accounted for 1% of ICU admissions last year.
This climbed to 2% in the first half of 2021, but more recently that figure rose to 7%.
Dr Peter McKenna said these women have been critically unwell, with some requiring ventilation for weeks.
None of the women were fully vaccinated and just two were partially vaccinated, he said.
Dr McKenna said a recent survey of patients in all 19 maternity units found that 58% of the 750 women were fully vaccinated, while 74% of their partners were fully vaccinated.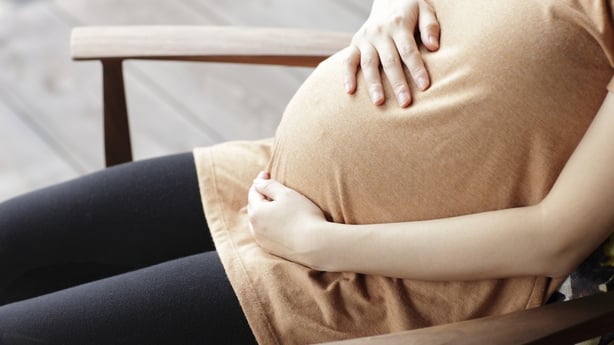 He described it as a very gratifying figure because it came from "a very, very low base".
"It would suggest to me that the message that vaccination is necessary if you don't want to become unwell, is getting through.
"I think that we may now have reached a tipping point where the message is absolutely clear and unequivocal that all pregnant women for their sake and for the sake of their baby should be vaccinated", he said.
Dr McKenna said women in the late stages of pregnancy, particularly the last three months when breathing is more difficult, are getting sicker than other women of the same age and health who are not pregnant.
He also said that the latest guidelines for partner visits to maternity hospitals are due to be introduced on 1 November and all hospitals will be encouraged to comply to the best of their ability with the new guidelines.
"None of these restrictions were introduced on a whim. They were all introduced in order to make the hospitals as safe as possible for patients and for staff," Dr McKenna said.
"I suppose really that with deteriorating rates and increased pressure on the hospitals maybe the path ahead isn't as smooth as we would have hoped for. But I don't think, well I'm sure, that there will never be a return to the original level of restrictions that we would have had earlier."