World Health Organization Director-General Tedros Adhanom Ghebreyesus has said the Covid-19 pandemic will end "when the world chooses to end it".
"It is in our hands. We have all the tools we need - effective public health tools and effective medical tools - but those tools have not been shared equitably.
"With almost 50,000 deaths a week, the pandemic is far from over," Mr Tedros said.
"Unlike so many other health challenges, we can prevent this.
"Complacency is now as dangerous as the virus. Now is the time to be on heightened alert, not to let down your guard."
Mr Tedros said the disease "will not disappear" and the world must turn its focus to what it means "to live with it".
"This does not mean giving up on controlling the virus, but rather a focus on how we reduce the risk in the long-term, as well as doing all what we can do, to limit the emergence of new and more dangerous variants.
"The key is to make sure the vulnerable will be protected, and the key is to make sure the number of cases will not overwhelm the healthcare capacity.
"These two points is going to be the calibration point - calibration means adjusting the strengths of those interventions - to make sure we can bring the economy and people's life back," Mr Tedros added.
About 31% of people who have received at least one dose of a coronavirus vaccine were from high income countries as of 25 October, and at least 25% were from Europe and North America, according to the Reuters' news agency vaccination tracker.

Russia reports record-high daily Covid-19 infections
Russia has reported 37,930 new Covid-19 infections in the last 24 hours, its highest single-day case tally since the start of the pandemic.
The government's coronavirus taskforce reported 1,069 deaths related to the disease, six short of the record of 1,075 set on Saturday.
Faced with worsening infection rates and frustrated by the slow take-up of Russia's Sputnik V vaccine by its own population, authorities are introducing stricter measures this week to try to curb the spread of the virus.
President Vladimir Putin last week declared that 30 October to 7 November would be paid non-working days.
From Thursday, Moscow will introduce its tightest lockdown measures since June 2020, with only essential retail such as supermarkets and pharmacies remaining open.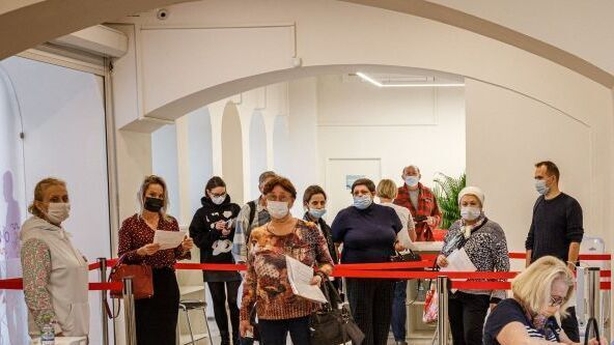 Christmas to be 'normal' - British health secretary
People in England can expect Christmas to be "normal", the British Health Secretary has said, as he urged people to have their Covid-19 vaccines.
Sajid Javid said no "sensible health secretary across the world would want to predict exactly where we're going to be in three months' time, or six months' time", as there was a risk of new variants posing a problem.
He told BBC Breakfast: "For all those people like me that are hoping and planning for a normal Christmas - which I do by the way, I think that's where we'll be, we'll have a normal Christmas - if we want, let's just keep playing our part."
---
---
Mr Javid said he agreed with Prime Minister Boris Johnson that people can expect a better Christmas than last year, when lockdown restrictions were in place.
Asked on LBC radio whether he thought Christmas was "safe", Mr Javid added: "I think it is as long as we do what we all need to do - everyone's got a role to play in this.
"We all want a fantastic Christmas and we can ensure that by getting out there and getting our vaccines."