There have been 1,845 new cases of Covid-19 reported by the Department of Health.
Almost 500 people are now in hospital with Covid-19, with 497 patients with Covid reported to be receiving hospital care.
This is an increase of 24 from yesterday, and an increase of 48 since Saturday.
Of those in hospital, 99 are receiving intensive care, up two on yesterday's figure.
In Northern Ireland, four further deaths of patients who had previously tested positive for the virus have been reported.
The Department of Health also reported another 1,019 cases.
This morning, there were 348 Covid-positive patients in hospital, of whom 33 were in intensive care.
We need your consent to load this rte-player contentWe use rte-player to manage extra content that can set cookies on your device and collect data about your activity. Please review their details and accept them to load the content.Manage Preferences
Meanwhile, the head of the Health Service Executive's Covid-19 vaccination programme has said that, since Thursday, the number of people coming forward for a vaccine has increased from 800-1,000 per day to around 2,000 a day.
Speaking on RTÉ's Morning Ireland, Damien McCallion said a campaign will run over the next ten days to try to encourage those who are unvaccinated against the virus to come forward for a jab.
Mr McCallion said more than 60% of the people in ICU are unvaccinated.
"We're encouraging them to go forward and talk to their healthcare professional - be it in hospital or to their GP - who can perhaps talk them through and explain the benefits and risks of the vaccine.
"Those people are at very high risk of ending up in intensive care, and as Paul [Reid, HSE CEO] said yesterday, we have seen people even die as a result of receiving the Covid disease in recent times."
Mr McCallion said the HSE is focusing on those who have received a first dose but not a second, adding that they will receive an individual phone call.
He said there is "a lot of activity going on" over the next 10 days to try to encourage vaccine uptake.
"I think the key thing we would say to people is - go to trusted sources of information.
"Be it online, such as HSE.ie, or talk to healthcare professionals - your GP, your pharmacy or your consultant.
"Particularly for those vulnerable groups, it's really important for them, given that we've seen the impact in ICU and hospitals."
Mr McCallion said the HSE has been working with hospitals to try and make a certain amount of vaccines available in most major hospitals, including maternity services.
He said the idea is to make it more readily accessible for someone who is in for an appointment, or for others who come into hospital and have not had a vaccine.
Vaccines centres have been very effective, he added, as have GPs and the pharmacy sector.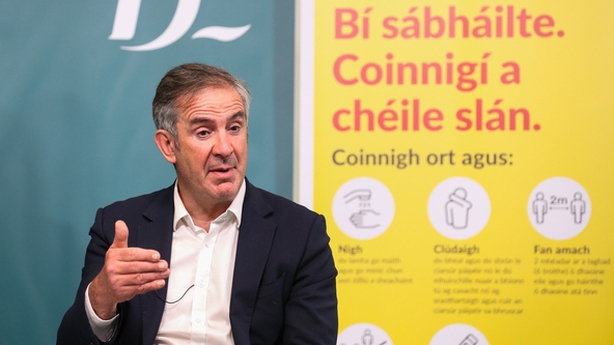 The reason the HSE has retained vaccine centre infrastructure, Mr McCallion said, is because it could see that a booster programme is coming and general practice was under pressure in relation to other work.
"Vaccine centres at the moment, the teams that are there are working through residential care as part of the first phase of the booster plan.
"We're well advanced in that, in terms of people over 65 in long-term residential care. That programme will actually complete this week, and the over 80s then are being developed and worked out through general practice.
"Again, they're very well advanced with over 110,000 out of 160,000 people over 80 years of age already boosted."
In relation to boosters for healthcare workers, Mr McCallion said that from the HSE's perspective, concern is growing for those working on the frontline.
He said there are around 1,800 people out with either symptoms of Covid-19 or close contacts.
"Which is significant in terms of both the people themselves and the impact on the services they work in," he said.
"Having said that, NIAC (National Immunisation Advisory Committee) provide the advice to us, they have provided the expertise, and they've served us well through this programme.
"We know that that's being looked at intensively at the moment in terms of healthcare workers, being one of the next phases of the rollout."
He said the HSE is making contingency plans so that when that advice comes it can move quickly.
---
---
Earlier, the biopharmaceutical industry urged younger people to get vaccinated against Covid-19.
The latest research, carried out by Ipsos MRBI for the Irish Pharmaceutical Healthcare Association, shows hesitancy is holding steady at around 9%.
The research, carried out between 30 September and 14 October, shows that 5% of people will refuse a jab.
Among 18 to 34-year-olds, that figure is 9%. Overall, 4% of people are unsure about taking a Covid-19 vaccine. The figure is highest among 18 to 34-year-olds, at 8%.
Since the start of the year, the research found that the proportion of people overall who will refuse a vaccine has remained steady at around 5%.
Although the number of people who are unsure about getting a Covid-19 vaccine has declined since January, the level has slowed to around 4% in recent months, it said.
Overall, 91% of people either intend to get vaccinated or have received a vaccine for the coronavirus.
Bernard Mallee, director of communications and advocacy at the IPHA, said: "Vaccination is reducing serious illness, hospitalisations and deaths caused by Covid-19.
"Overall, the vaccination rate is very high. But hesitancy, although proportionately small, is still sticky, especially among some younger people.
"We urge everyone who is eligible to get vaccinated so that we can maximise protection in the community.
"Vaccination, alongside adherence to basic public health advice, can control the recent rise in infections.
"It is important that we work together so stop the further deterioration of the epidemiological situation."
The World Health Organization estimates that vaccines save up to three million lives every year.
Additional reporting Sharon Lynch