A new Covid-19 outbreak has spurred parts of China to increase restrictions on movement, with the capital Beijing sealing off some areas and northwestern regions imposing a range of transport curbs and closing public venues.
China, where the coronavirus was first identified in late 2019, reported 28 new domestically transmitted cases for yeserday, more than double the 13 cases a day earlier, health authority data showed.
The numbers are tiny compared to elsewhere in the world, but Chinese cities are quick to contain outbreaks under tough national guidelines of zero tolerance.
The Changping district of Beijing banned people in certain higher-risk areas from leaving their residential compounds, suspended face-to-face classes at schools close to those areas and ordered nearby businesses to halt operations, an official told a news briefing.
Six local cases, some of the highly transmissible Delta variant, were detected this week in Beijing city, which has vowed high vigilance ahead of the 2022 Winter Olympics Games in February.
Beijing city has started injecting booster vaccine doses,with groups including people taking part in the Games given priority.
In Hebei province next to Beijing, the cities of Xingtai and Baoding, a few hours' drive from Zhangjiakou that is co-hosting the Games with Beijing, this week found a total of four local asymptomatic infections, which China counts separately as confirmed cases.
The majority of the 70 local confirmed cases reported since 16 October were from northwestern China - Gansu province, Ningxia autonomous region and some northwestern areas of Inner Mongolia, which in general are remote and do not have as much health resources as major cities.
---
---
Around a dozen cities in Gansu province, many of which have yet to report any local infections, halted some long-distance bus services as of this morning, state television said.
A few trains linking Gansu's capital, Lanzhou, and the outside had been halted, while only one flight from Lanzhou to Beijing was allowed, an official said.
In Qinghai province, an airport has halted serving passengers transferring flights. The province reported one local case yesterday, the first this year.
All tourist attractions in Ningxia, and some in Gansu and Qinghai, have been suspended.
Travellers arriving from overseas who have stayed in China for less than 28 days have to take tests before they are allowed enter to Ningxia, and are required to stay indoors for a week of health monitoring on arrival.
China's railway authorities have halted the loading of cargo destined for some stations in the Xijiang region until the end of October, citing virus control measures without giving further details.
Xinjiang reported one local confirmed case and five asymptomatic infections earlier this month. It has reported no infections since 16 October.
New Zealand sets 90% vaccine target to end lockdown
New Zealand has set a 90% vaccination target for scrapping lockdowns as Prime Minister Jacinda Ardern unveiled a plan to open up despite the stubborn grip of the Delta variant.
Ms Ardern said her goal had shifted from eliminating Covid-19 to minimising its spread in the community by ramping up vaccinations.
She said the change meant New Zealanders would not be subject to stay-at-home orders and business shutdowns, provided they were fully inoculated.
"We cannot ask vaccinated people to stay home forever," she told reporters.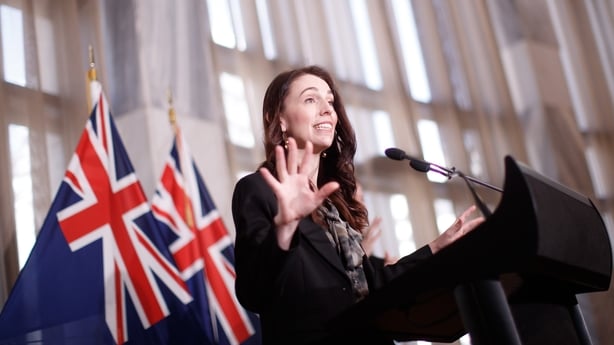 Around 86% of eligible New Zealanders have had their first vaccine dose and 68% are double jabbed.
Ms Ardern won widespread praise for her initial coronavirus response, which involved strict lockdowns, rigorous contact-tracing and tight border restrictions.
The "Covid Zero" policy resulted in just 28 deaths in a population of five million and domestic life was near normal for long periods.
But the New Zealand Prime Minister said it was no longer viable due to an outbreak of the highly transmissible Delta variant detected in Auckland in August.
"Its tentacles have reached into our communities and made it hard to shake, even using the best public health measures and the toughest restrictions we had available to us," she said.
Ms Ardern said the new policy would give hope to almost two million Auckland residents who have been in hard lockdown for nine weeks.
"If you want summer, if you want to go to bars and restaurants, get vaccinated," she said.
"If you're vaccinated, you'll get to enjoy the things you love, secure in the knowledge that the people around you and the environment you're in are as safe as possible in the Covid world."
Melbourne reopens as world's most locked-down city eases pandemic restrictions
Residents of Melbourne flocked to the city's pubs, restaurants and hair salons after the world's most locked-down city emerged from its latest spate of restrictions designed to combat the spread of Covid-19.
Australia's second-largest city has so far endured 262 days, or nearly nine months, of restrictions during six separate lockdowns since March 2020, representing one of the world's longest Covid-19 lockdowns.
Argentina's capital, Buenos Aires, last year went through 234 straight days of lockdown.
In Melbourne, people were seen cheering and clapping from their balconies, while cars honked horns continuously at 11.59pm yesterday when lockdown restrictions in place since early August ended.
Many venues, including food outlets and even haircutters, opened at the unusual hour for the occasion.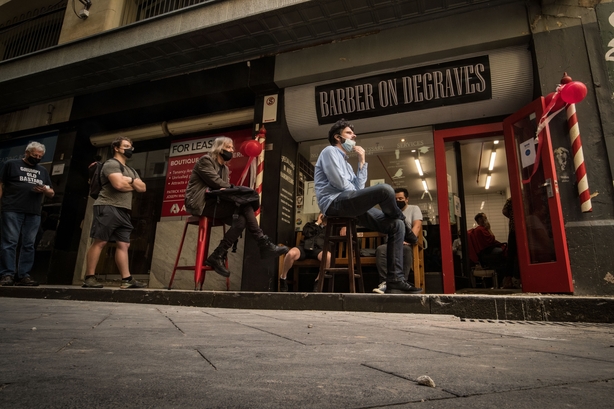 Jubilant scenes were seen in the country's largest city, Sydney, almost two weeks ago, when authorities started easing restrictions as Covid-19 vaccination rates rose.
Just over 70% of adults in Australia are now fully vaccinated and many residents are planning to fly overseas again as international border restrictions start to ease from November.
From the start of next month fully vaccinated international travellers arriving in Sydney and Melbourne will no longer need to quarantine.
Qantas Airways Ltd said that it would speed up plans to restart flights to many destinations and upsize some planes amid "massive demand".
Even with Delta outbreaks across Australia's southeast from late June, coronavirus numbers are still far lower than those of many comparable nations, with some 152,000 cases and 1,590 deaths.
The state of Victoria, of which Melbourne is the capital, reported 2,189 new local Covid-19 cases and 16 deaths yesterday, making it the centre of the Delta outbreak in Australia.