There have been 2,466 new cases of Covid-19 notified to the Department of Health.
This is the highest number of daily infections reported since 21 January, when 2,608 people were confirmed to have coronavirus.
The number of people in hospital who have tested positive for the disease is 457, nine more than yesterday. Of these, 90 are receiving treatment in intensive care, an increase of two overnight.
Today's infection numbers are 82% higher than a month ago, when 1,432 new cases were recorded on 22 September.
Meanwhile the number of people with Covid-19 in hospital has risen by 68% during the same time period, from 272 to 457 with 63 in ICU on 22 September compared to 90 today, a 42% increase.
Chief Medical Officer, Dr Tony Holohan, said: "The bank holiday weekend will bring increased levels of socialising across the country.
"With the current trajectory of the disease in Ireland, it is important that every individual knows and acts on the basic measures to limit the spread of Covid-19.
"Keep social distance, wear a face mask appropriately, wash your hands regularly and manage your contacts.
"If you are meeting indoors with others, ensure the room is well ventilated, avoid crowded situations and if it feels like an unsafe environment, leave.
"Be mindful of the symptoms of the disease such as fever, cough, or flu like symptoms. If you do experience any symptoms, self-isolate immediately and seek a PCR test as soon as possible."
Dr Holohan added: "Today and over this weekend, the HSE is continuing to operate walk-in Covid-19 vaccination centres right across the country for anyone aged 12 years and older.
"I strongly encourage anyone who has not yet attended for their first dose of a Covid-19 vaccine, or second dose if it is due, to avail of these vaccination centres this weekend."
---
---
Earlier, HSE Chief Operations Officer Anne O'Connor said there are no paediatric ICU beds available across the country and just 23 adult ICU beds available.
She told RTÉ's News At One that some children are on trolleys.
"Critically, the paediatric services are very busy and Crumlin today has, unfortunately, 13 children on trolleys this morning, which is not something any of us would want."
Hospitals are seeing infections in children that were not seen last year because of the lockdown.
"We have a lot of children presenting with respiratory illnesses. We didn't really see that as much last year because children weren't mixing as much. They weren't in school as much and now they're back."
Across the country, "our hospitals are under significant pressure and have been all of this week and indeed last week," Ms O'Connor said.
But some parts of the country are under more significant pressure than others with attendances highest in Galway, Tullamore, Cork University Hospital, Mayo, St Vincent's Hospital and Kilkenny."
Also today, a member of the National Public Health Emergency Team said the further easing of restrictions has led to a "certain anxiety" among GPs and healthcare workers who are concerned about the impact of rising Covid cases on hospitals.
Dr Mary Favier, Covid Advisor to the Irish College of General Practitioners, said while it is great to see a further reopening of society, there are many "conflicting" paths on the road.
Speaking on RTÉ's Morning Ireland, she said GPs and healthcare workers are feeling the impact on services.
"So the concern is, we have gone from what is supposed to be a very slow gradual opening up to what looks like a speeding up. And there are conflicting messages in that.
"GPs on the ground are really feeling the impact and for healthcare workers in hospitals, the same."
Dr Favier said the "majority of our hospitals have no intensive care beds available, so if there is a major road traffic accident or someone has significant cardiac surgery over the weekend, people are vulnerable".
Meanwhile, Health Service Executive CEO Paul Reid has said there is a "significant proportion" of healthcare staff who are not able to work because of Covid-19 infections.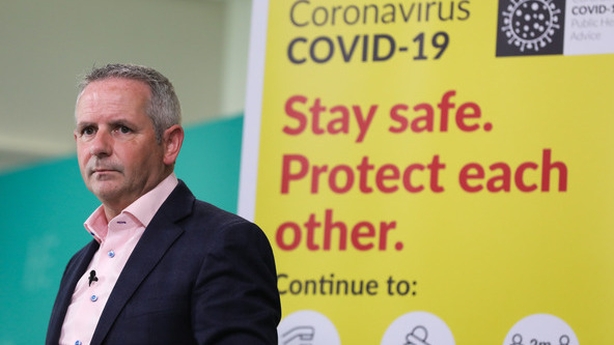 He is anxious to see booster vaccine campaigns for healthcare workers, adding that the National Immunisation Advisory Committee (NIAC) continues to assess the evidence relating to booster shots.
He said his concerns relate to healthcare workers becoming ill with Covid-19 and the subsequent impact on the health service and "secondly, what we are seeing is emerging outbreaks within healthcare settings".
Mr Reid said the recent increase in Covid-19 transmission over the last fortnight should be a "very real rain check for us all", saying he is concerned about the "lag effect" between a high level of cases and the resulting hospitalisations.
"For those who are vaccinated it is a strong warning to strengthen the basic measures of defence.
"If you are unvaccinated you are at a much higher risk and you put your family and friends and society at higher risk."
Mr Reid said a number of hospitals are not in a position to continue elective care because of the impact of Covid-19 cases.
"Our concern heading into winter is a range of factors working against us."
On the possibility of the health service reaching surge capacity, Mr Reid said some hospital wards would need to close and staff redeployed to intensive care units.
Vaccines prevent serious infection, Mr Reid said, as he urged people, in particular pregnant women to get the vaccine.
Among the 12 pregnant women who have been admitted to ICU between June and October, only one was partially vaccinated, he added.
Tonight, entertainment is set to reopen across the country, after new safety guidelines were signed-off between the Government and industry representatives.