Friday, 22 October: The day and date were to have far greater significance, but there is still a lot to be positive about.
Today was the day flagged by the Government for a number of months to relax the majority of the remaining Covid-19 restrictions. But the virus had other ideas.
As we all know now, a sharp increase in Covid cases and hospitalisations forced the Government to rein in its plans. February 2022, is the new date when the Cabinet will re-visit the final Covid 19 restrictions which remain in place.
In the meantime, though, the week did not pass without some good news.
The cap on the number of people attending indoor events has been lifted; nightclubs can reopen from tonight; normal operating hours for bars and restaurants also resume. Digital Covid Certificates are still required and masks are still mandatory, but these are new-found freedoms of the Covid era.
Almost as if it was planned this way, it is all coinciding nicely with the beginning of the October bank holiday weekend. And, in Cork, that means the Jazz Festival.
---
---
Cork people are resilient. In recent years, they have been on our television news bulletins far too often, cleaning up after flood waters devastated their homes and businesses in the city centre.
And what did they do? Despite continuing to live under that threat of flooding, they got on with it.
So, they have had some practice when it came to the restrictions and the lockdowns introduced to control the spread of Covid.
Princes Street in the city centre is an example.
A model for outdoor dining
The dozen-or-so owners of bars, restaurants and cafés on the street put their heads together at the beginning of the pandemic and came up with a business model for year-round outdoor dining that has since been adopted in many other towns and cities throughout the country.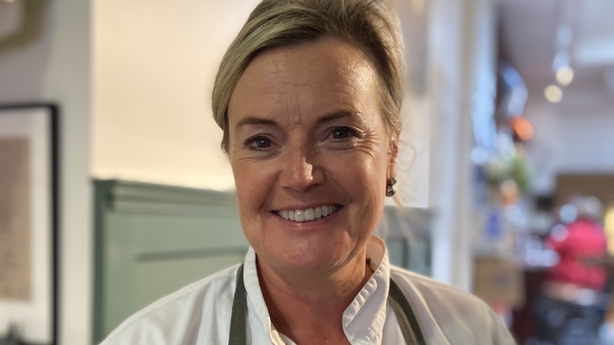 "We didn't want to have something that just popped up and had to be dropped again every time there was a shower of rain," says Claire Nash, owner of Nash 19 restaurant on Princes Street.
The traders designed and "sold" to Cork City Council the concept of a pedestrianised, covered streetscape dedicated to outdoor dining. The council bought in and others followed. The street was closed at both ends to traffic.
A series of steel-framed canopies, capable of withstanding all but the most severe wind and rain, was constructed. They have been connected, lit and heated. The restaurant and bar owners added atmosphere and street furniture.
Outdoor dining on Princes Street has been a success. Businesses on the street might not have survived without it.
"This isn't going anywhere," Ms Nash insists.
"People have decided that they like to eat out. This is here to stay and it's fantastic."
Ms Nash has changed her business model to best cater for outdoor dining. She is looking for more staff to meet demand. Nash 19 has been flooded many times over the past three decades, only to reopen within days after the surge tide receded.
The success of the outdoor dining innovation is clearly satisfying for the team at Nash 19: another victory; a measure of their resilience.
"This has really been a highlight of my career for sure," says Ms Nash.
"It's been something that we've wanted to deliver for some time, but I never thought that it would happen to this extent."
Like many in the hospitality sector, there is disappointment that the requirement for Covid certificates and masks remains, when they were meant to be relaxed today, but there is an appreciation too for the fact that steps taken in recent months towards full reopening were not reversed.
"What we're really looking forward to is getting back to hospitality in its true sense," Ms Nash says, looking ahead to the days when it will no longer be necessary to scan vaccination certs before accepting a booking.
That sentiment is shared not only across businesses in the hospitality sector in Cork, but across the country.
Kerry hoteliers grateful for no back-pedalling on gains
While Cork is gearing up for the Jazz Festival this weekend, the Moorings Hotel and adjoining Bridge Bar in the fishing village of Portmagee in South Kerry is winding down.
The summer has been good to Kerry, boosted by staycationers in their thousands. T-shirt weather in September, extending well into October, helped too.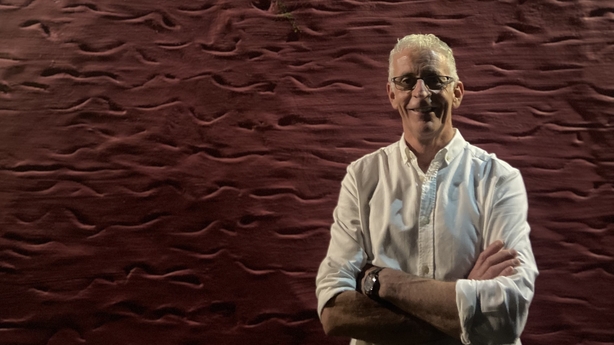 Gerard and Patricia Kennedy have run the Moorings Hotel in Portmagee for over 30 years. They have seen few years tougher than the last two.
Mr Kennedy says he would obviously have preferred if the remaining restrictions were removed, but he is grateful at least that there was no back-pedalling on the hard-fought gains that have seen his business reopen to the extent which it has.
"I'm very concerned with the last few days again now," Mr Kennedy says, referring to Covid case numbers heading in the wrong direction.
"I think the public have to realise that they have to be vigilant again: wear the masks, do the sanitising and all that. I think we have become lackadaisical in it, because when you get a bit of a go ahead you think 'this is it, it's over', but it's not over.
"I think you have to stick with it. You'd be afraid it will come back and we will have a full lockdown again. That's the fear for us. It would be devastating."
In a corner of the Bridge Bar inside, Ger O'Shea from Cahersiveen is strumming his guitar and singing a few songs for those who have gathered to dine and to socialise.
Mr O'Shea has been playing music in pubs and bars in the area for more than 20 years. He used the last 18 to 20 months to return to education, but he longs to be able to go back to performing fulltime.
As a student, he is dependent on the income he gets from performing, since he was allowed resume with outdoor gigs in the summer.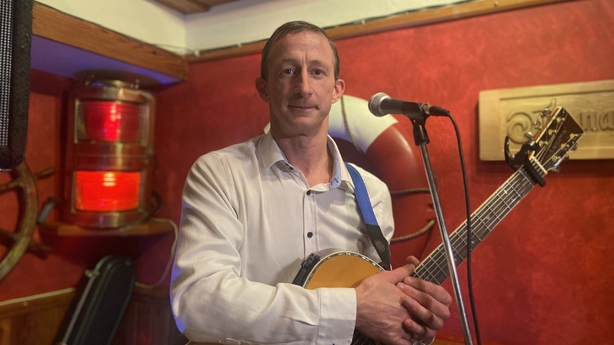 "Music is in my blood," Mr O'Shea says.
"It comes from generations, from my uncles and from my grandmother. I missed music during lockdown, so it's great to be back doing what I love doing."
Mr O'Shea believes it is time for people to re-double their efforts, to knock case numbers back.
"If everyone does their little bit to be as cautious and careful and try to live with this and try
and mind each other. The show must go on. We've got to drive on and live our lives."
'A scary period of our lives'
Back in Cork, on a pedestrianised plaza next to the pier in Blackrock, traditional musicians from Douglas Comhaltas branch have been gathering outdoors on Thursday nights as often as restrictions will allow them. There are often more than 30 attending. Each one brings an instrument, and a chair. When the weather allows, they often play for over two hours.
The sounds of the traditional music and songs carry for a good distance towards the city and, eastwards in the other direction, out the harbour.
It is quite a magical thing to hear, in the darkness. It is even more magical, apparently, for the musicians.
Denied access to indoor venues for several of the past 20 months, they moved outdoors just to be able to meet and play music together. Many are full-time musicians, or depend on music for their income. Pandemic restrictions have been particularly difficult for musicians like these and those involved in the arts generally.
Their sense of camaraderie on their Thursday night gatherings is conveyed by soprano and music teacher, Gemma Magner, from Whitechurch in North Cork.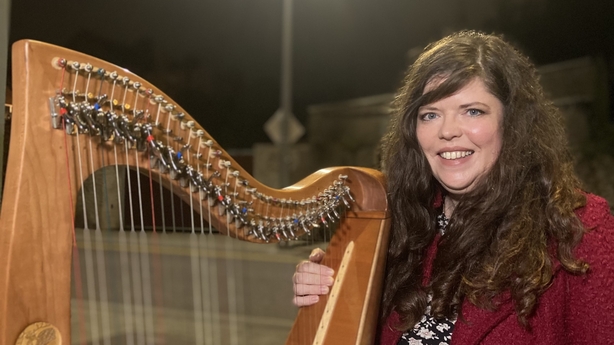 "I suppose in a very scary period of all our lives, where a lot of us felt very alone," Ms Magner says.
"Meeting here and being able to play together was good for all our souls and brought spirit back into all our lives."
In anticipation of a relaxation of most of the remaining restrictions today, the group had been on the lookout for a hall big enough to accommodate all of them, while also allowing for social distancing. That search must now be postponed, temporarily at least.
As long as they can keep meeting, either in person in Blackrock, or online via Zoom, they will not be too despondent if restrictions remain.
"If they lift, great, and, if they don't, we'll go to whatever that's needed to keep the music alive," Ms Magner says.