Moscow will reintroduce Covid-19 lockdown measures from 28 October, Mayor Sergei Sobyanin has said, with supermarkets and pharmacies the only shops allowed to stay open in an effort to cut soaring infections and deaths.
The decision came a day after President Vladimir Putin approved a nationwide week-long workplace shutdown from 30 October to 7 November and said regional leaders could introduce tighter measures at their discretion.
The partial lockdown in the capital, the first since June of last year, will also run until 7 November.
Mr Sobyanin said all shops would close except those selling essential goods, such as supermarkets and pharmacies.
Schools and kindergartens will shut too, while bars and restaurants can only operate takeaway and delivery services.
The measures reflect a growing sense of urgency over the relentless rise in cases, which the Kremlin has blamed on low vaccination rates.
Similar restrictions will apply in the wider Moscow region, but Valentina Matvienko, the head of the upper house of parliament and a close Putin ally, said another nationwide lockdown would be inadvisable.
"It would be a huge blow to the economy, a psychological blow for citizens. It is not necessary," TASS news agency quoted her as saying.
Russia reported 1,036 coronavirus-related deaths in the last 24 hours as well as 36,339 new infections, both record daily highs.
Authorities said they were keeping an eye on a new strain of the Delta variant of the virus which is also spreading in England, but believed existing vaccines could cope with it.
---
---
Russia was quick to develop and launch its Sputnik V vaccine when the coronavirus pandemic struck last year, but take-up has been slow, with many Russians citing distrust of the authorities and fear of new medical products.
Mr Putin himself has received the vaccine and repeatedly appealed to people to do the same, but to little avail.
The vaccine has been cleared for use in more than 70 countries but approval by the European Union's drug regulator is unlikely until at least the first quarter of 2022 because some data needed for the review is still missing, a source with knowledge of the matter told Reuters.
But encouraging domestic take-up is the most pressing challenge now, with only around 48 million of Russia's 144 million people fully vaccinated as of 15 October, according to data from the coronavirus task force.
In Moscow, Mayor Sobyanin has already announced four months of stay-at-home restrictions for unvaccinated over-60s.
Theatres and museums are excluded from the new lockdown and will be permitted to stay open provided they limit the number of visitors, who will be required to wear masks and present QR codes on their mobile phones to prove they have been vaccinated or have recovered from Covid.
Ukraine's new daily coronavirus cases, deaths hit record

Ukraine registered a record daily high of new coronavirus infections and related deaths, the health ministry said.
Ministry data showed 22,415 new cases over the past 24 hours, exceeding the previous high of 20,341 on 3 April.
There were also 546 new deaths, surpassing the 19 October record of 538.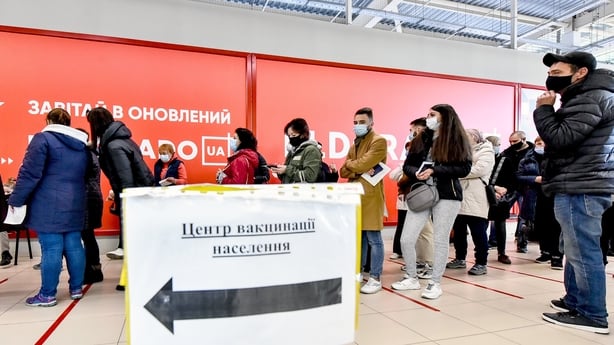 The number of new daily coronavirus infections in Ukraine, which has a population of 41 million, has increased over the past several weeks and the government last month tightened coronavirus lockdown curbs.
It also extended a state of emergency that allows authorities to impose curbs until year-end to rein in infections.
Ukraine's pandemic tally of infections stands at 2.7 million, with 62,389 deaths.
India marks 1 billion Covid-19 vaccine doses

India has marked the milestone of administering one billion Covid-19 vaccine doses, with the government promoting the achievement in song and video even as a recent drop in inoculations worries healthcare providers.
After a slow beginning in the middle of January, India's immunisation campaign has covered three-quarters of its 944 million adults with at least one dose but only 31% with two.
The government wants all adults to get vaccinated this year.
"India scripts history," Prime Minister Narendra Modi said on Twitter. "We are witnessing the triumph of Indian science, enterprise and collective spirit of Indians."
Nearly 90% of the vaccines administered in India have come from the Serum Institute of India (SII), which produces a licensed version of the AstraZeneca drug. SII has more than tripled its capacity since April and can now produce 220 million vaccine doses a month.
SII has also slowly resumed exports for the first time since April, when the government stopped all overseas sales to meet domestic demand as infections rose dramatically.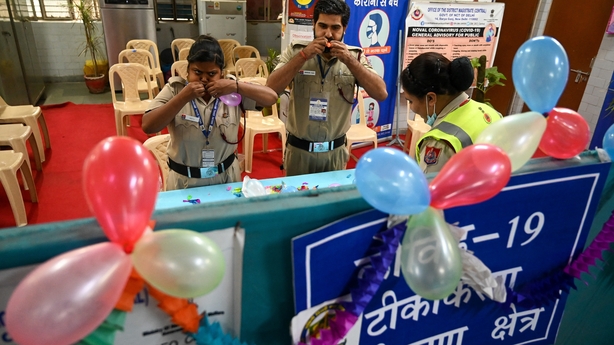 The World Health Organization (WHO), which relies heavily on India for supplies to its global vaccine-sharing platform COVAX, congratulated the country for reaching the landmark.
India has so far reported 34.1 million Covid-19 cases and more than 452,000 deaths, most during a second wave of infections of the Delta variant that surged through the country between April and May.
A "sizeable number of people in India have not taken their second dose by the due date despite adequate supplies, the health ministry said on Tuesday, as new infections fell to their lowest since early March.
Daily shots have averaged 5 million this month, a fifth of September's peak, though states are sitting on record stocks of more than 100 million as domestic output of the AstraZeneca vaccine soars.
Despite the current low number of infections, ministry officials have been urging people to get vaccinated fast, especially as the ongoing festival season means family gatherings and mass shopping, raising the risk of a new wave of infections.
Thailand allows vaccinated tourists from over 40 countries
Thai Premier Prayut Chan-O-Cha has announced that vaccinated travellers from more than 40 countries will be allowed to enter the country without undergoing quarantine come 1 November, as it readies for a much-anticipated re-opening.
The 46 countries and territories is a significant jump from the 10 initially announced last week.
The ballooning list is due to Thailand's urgent need "to stimulate the tourism sector and other related business sectors," said Prayut.
"We need to move faster than that and do it now," he wrote in a post on his official Facebook page.
"This is because waiting for everything to be perfect will be too late."
Beside the United States, Britain and China, vaccinated tourists from a slew of European countries - including France and Germany - will be allowed in, if they are able to provide a negative Covid RT-PCR test.
Neighbours Cambodia and Malaysia are also on the "low-risk" list, as well as Singapore, Japan, South Korea, and Hong Kong.
Before the pandemic, Thailand attracted nearly 40 million visitors, with tourism making up almost 20% of its national income.
Flights cancelled, schools closed as China fights virus outbreak

Authorities in China cancelled hundreds of flights, closed schools and ramped up mass testing to try and stamp out a new Covid-19 outbreak linked to a group of tourists.
Beijing has maintained a relentless zero-Covid approach with strict border closures and targeted lockdowns, even as other countries tentatively try to ease restrictions.
Domestic outbreaks have largely been eliminated, but as China logged a fifth straight day of new cases -
mostly in northern and northwestern areas - authorities beefed up coronavirus controls.
The latest outbreak was linked to an elderly couple who were in a group of several tourists. They started in Shanghai before flying to Xi'an, Gansu province and Inner Mongolia.
Dozens of cases have since been linked to their travel, with close contacts in at least five provinces and regions, including the capital Beijing.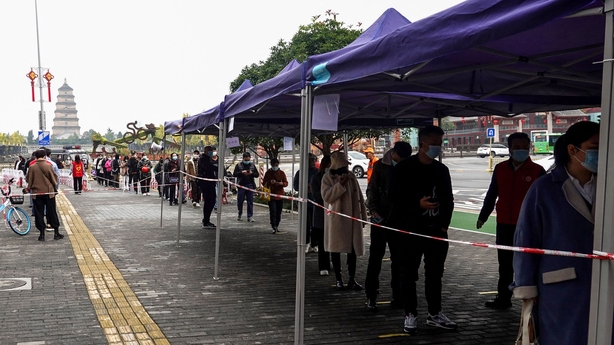 In response, local governments have rolled out mass testing and closed scenic spots and tourist sites, schools and entertainment venues in affected areas, and also imposed targeted lockdowns of housing compounds.
Some regions including Lanzhou - a city of around four million people in northwestern China - have told residents not to leave unless necessary.
Those who need to leave must present a negative Covid-19 test.
Airports in the affected regions have cancelled hundreds of flights, according to data from aviation tracker VariFlight.
Around 60% of flights to the two main airports in Xi'an and Lanzhou have been cancelled.
There were 13 new domestic cases reported today, China's National Health Commission said.
Pfizer vaccine very effective against Delta variant in adolescents in Israel - study

The Pfizer/BioNTech Covid-19 vaccine is highly effective at preventing infection and symptomatic disease from the Delta variant among 12- to 18-year-olds, research conducted in Israel shows.
The findings, published in the New England Journal of Medicine, will likely provide further reassurance the shot is effective against the variant among younger people as the US drug watchdog considers authorising use of the vaccine on children as young as five.
The study found the estimated vaccine effectiveness against documented Covid-19 infection in adolescents was 90%, and 93%against symptomatic Covid-19, on days seven to 21 after the second dose.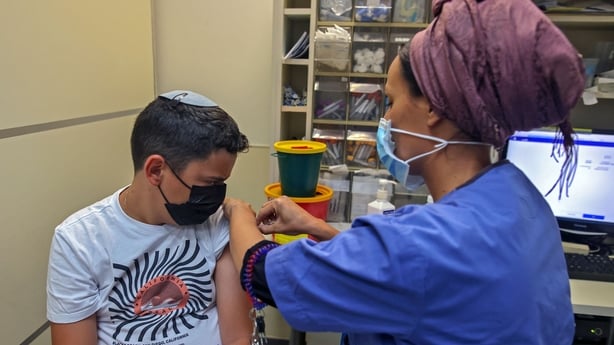 Israel's Clalit health maintenance organisation and Harvard University researchers reviewed data from 94,354 vaccine recipients aged 12 to 18 who were matched with an identical number of unvaccinated adolescents from the same age group.
The research was conducted between June and September, when the Delta variant was the main strain in Israel.
In a statement, Clalit said the study was one of the largest peer-reviewed evaluations conducted among the age group of the effectiveness of the vaccine against the Delta variant.
Earlier this week, an analysis released by the US Centers for Disease Control and Prevention (CDC) showed the Pfizer/BioNTech vaccine was 93% effective in preventing hospitalisations among those aged 12 to 18.
The Pfizer/BioNTech vaccine is authorised for children as young as 12, and the companies are seeking further approval from the US Food and Drug Administration for use in those as young as five.