Primary school principals have called for the reinstatement of Covid-19 supports that were removed from schools three weeks ago.
The Irish Primary Principals' Network has said that in light of recent rising virus figures it believes the Government should review the decision it took to cease the tracing of close contacts of confirmed Covid cases.
It comes as a Co Wexford school reopened today following an instruction to do so from the Department of Education.
CBS Primary School in Wexford town told RTÉ News that the majority of its pupils remained at home however. The school said that around one quarter of children were in attendance.
The school closed earlier this week over concerns at high levels of Covid-19 detected among its pupils.
However it reversed that decision last night following a direction to reopen from the Department of Education.
School principal Vicky Barron said this morning that the school had decided to close "in the absence of public health advice".
"We acted with the health and safety of our children at the centre of our thoughts and I stand over that decision".
Ms Barron reiterated concerns she has that the current way of managing Covid in schools is flawed.
"My concern is that nothing will change. A child could be asymptomatic and unwittingly spreading Covid in the classroom – because it is airborne - and nobody will know until that child transmits it in their own household."
She said that since Sunday the situation had deteriorated and that there were now 34 cases that she knew of among those attending the school. The school was aware of 30 cases when it made the decision to close for the week.
A number of teachers were absent today and Ms Barron said she has been unable so far to find substitute cover for them. She said the school has been forced to use special education teachers to teach mainstream classes.
"We are back and we are doing our best to keep everyone safe", she said.
---
---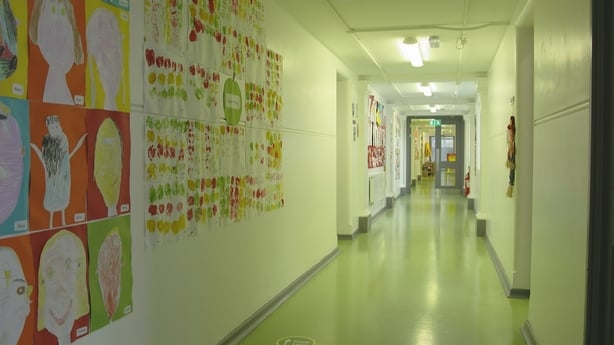 Meanwhile, the Irish National Teachers' Organisation is to meet the Department of Education tomorrow to discuss concerns around current high levels of Covid-19 in primary schools.
INTO General Secretary John Boyle said: "Schools are doing their best to keep their communities safe, despite being stripped of public health supports which were instrumental in keeping our schools open safely for most of the last school year.
The union will discuss what it said is "the very high level of infection among 5-12 year olds and plans for safeguarding schools from Halloween to Christmas".
President of the IPPN said "if schools continue to have engagement with public health teams at the earliest possible juncture when Covid cases are identified within the school, then it's less likely that a school or board will find themselves in such difficult circumstances in having to make such a decision".
Speaking on RTE's News at One, Brian O'Doherty said the decision to close a school is a matter for the management bodies in consultation with the Department of Education.
He said the challenge in recent weeks has been the disparity between controlled measures and safety protocols in schools and what was happening in the wider society and that naturally there was going to be slippage.
He said parents have been really responsible in working with schools to make sure there is not a high rate of infection introduced into the schools.
The Department of Education has reiterated its view that schools are low risk environments.
In a statement, it said that "the evidence available from the operation of schools during Covid-19 to date shows that schools are low risk environments due to the infection prevention and control measures in place".
It said it continued to be guided by public health advice, and to engage on a regular basis with all education partners as well as public health officials to ensure that schools can continue to operate safely.
Last month, the rules governing contact tracing in primary schools changed.
Following a recommendation from NPHET, routine contact tracing of asymptomatic close contacts among children in settings such as primary schools was discontinued, with the exception of children in special education settings.
This change was greeted with concern by many working in the primary education sector.
They feared that Covid would spread more widely in schools as a result.
Those concerns have been augmented in recent days as a number of primary schools experience high levels of Covid among pupils.