The chair of the National Public Health Emergency Team's Irish Epidemiological Modelling Advisory Group has said there has been a very large number of admissions to intensive care.
At a NPHET briefing, Professor Philip Nolan said 14 people were admitted to ICU in the last day, bringing the total number to 86.
He said there has been a slow increase in the number in intensive care from 60 four weeks ago, to 74 on average over the last week.
Case counts have continued to grow, with the seven-day moving average increased from around 1,100 coming into October, to 1,889 today.
He said our 14-day incidence is back above 500 per 100,000 cases.
Prof Nolan said the number of admissions per day to hospital has increased from 40 at the beginning of the month to on average 57 people per day being admitted.
The figures, representative of data up to last Monday, show that the counties with the highest 14-day incidence are Donegal, Longford and Carlow.
Prof Philip Nolan says: "What the data tells us is that there were a whole set of changes in society [...] that meant our population behaviours began to change in late Sept and that triggered this latest wave of disease." | Follow live updates: https://t.co/gzixJRaw8H pic.twitter.com/IizrbtLSg9

— RTÉ News (@rtenews) October 20, 2021
2,148 new cases, 63 deaths in the past week
The Department of Health has reported 2,148 new cases of Covid-19 today.
As of 8am, 464 patients with Covid-19 were in hospital - 86 of whom are in ICU.
The five-day moving average has now reached 1,937.
63 deaths have also been notified since last Wednesday.
There has now been a total of 5,369 deaths related to Covid-19 in Ireland.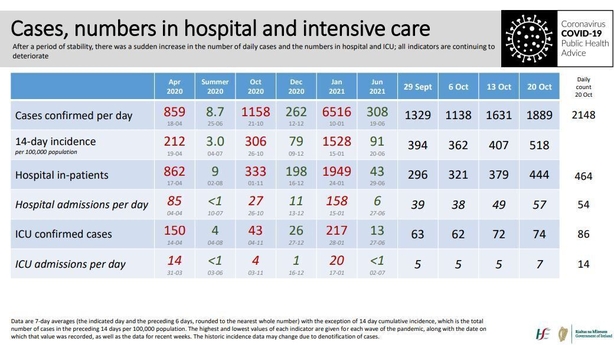 In Northern Ireland, six further deaths of patients who had previously tested positive for Covid-19 have been reported.
The Department of Health also confirmed another 1,423 cases of the virus.
As of this morning there were 355 Covid-positive patients in hospital in Northern Ireland, of whom 33 were in intensive care.
'No single silver bullet solution'
The Chief Medical Officer has warned that there is "no single silver bullet solution" for driving down the rise in daily case numbers.
Dr Tony Holohan said the responsibility falls on individuals and individual sectors and not just on small elements of society.
"Our collective assessment is that there needs to be a focus on our entire behaviour across the population, to achieve that little bit extra on top of what we are already achieving.
"That's going to mean responsibility on the part of individuals but also on the part of individual sectors, to not have the focus exclusively on small elements of society that remain closed like nightclubs but actually to focus on what is it that each one of us can do within our individual lives, within our families, within our workplaces, within our social settings."
Dr Holohan said that while transmission is reduced somewhat and the severe effects of the disease are significantly reduced for vaccinated people, the data shows that it is still possible for people in the vulnerable age groups to contract the virus and to experience its severe effects.
"It's particularly important that people who are vulnerable to the severe effects of this disease, those with underlying conditions, people over the age of 60 in particular, minimise as much as they can their discretionary social contacts and are aware of the kinds of factors that are important in influencing their own risk," he said.
Chief Medical Officer Dr Tony Holohan has said there has been a 'worrying and concerning' increase in Covid cases and hospital admissions which he anticipates will be followed by a rise in deaths | Follow live updates: https://t.co/gzixJRaw8H pic.twitter.com/xEYdJVG4x5

— RTÉ News (@rtenews) October 20, 2021
---
---
Meanwhile, the HSE's National Lead for Testing and Tracing Niamh O'Beirne said a large number of people are coming for Covid-19 testing with 150,000 people coming through the testing system over the last week.
Speaking on RTÉ's Six One, she said this represents an increase of 18% across all age groups. People are having more close contacts due to there being more people back at work and mixing socially, she commented.
Ms O'Beirne said the average number of contacts is three but there is an increasing number of people who have five close contacts.
The community positivity rate overall is around 12% but some counties in the south have a rate of 19% and some counties in the east have a higher rate.
She said there are no plans to reintroduce contact tracing in schools but the situation is under constant review.
Ms O'Beirne said antigen testing is now being introduced for people who are fully vaccinated and over the age of 12.
People who have been identified as a close contact will receive a text message followed by a phone call from a tracer.
They will discuss the person's vaccination status and how symptomatic they are. Those who are unvaccinated will observe the normal protocol of restricting their movements and do Covid-19 tests.
Those who are vaccinated and who do not have symptoms will be sent antigen tests. They will be asked to carry out multiple antigen tests over a period of a week or so. This system should be in place before the end of next week.
Predicted rise in people needing treatment 'concerning'
Earlier, the predicted rise in the number of people being treated in Ireland for Covid-19 is "concerning", the President of the Intensive Care Society of Ireland said.
Speaking on RTÉ's Morning Ireland, Dr Colman O'Loughlin said projections being reported yesterday indicated there could be up to 1,000 Covid-19 patients in hospital and 150 in ICU over the next few weeks and months.
"That is quite concerning, because that will be difficult to cope with in the setting of increased capacity or increased activity across all hospital levels," Dr O'Loughlin said.
He said it is a "huge challenge" and one that healthcare workers had hoped they would not have to face into again.
"Each hospital will have a different point at which it will have to kind of consider how it runs as a hospital in terms of coping with increased Covid activity," Dr O'Loughlin said.
"I suppose the word that's used a lot is a surge activation.
Dr O'Loughlin said that surge has not been activated "in the classic sense", but it is something that doctors are "really nervous" about.
"So you have to close aspects of the hospital and ask those staff to move across into an area they're not familiar with and look after very, very sick patients," he said.
"It looks like again that if it does happen, it'll be elective surgery that will probably take the biggest brunt."
Dr O'Loughlin said that "nearly all" of the patients in ICU are unvaccinated.
A respiratory consultant and clinical director for the department of medicine at Our Lady of Lourdes Hospital, Drogheda, said 10% of its medical beds are taken up with Covid-19 patients.
Dr Ian Counihan, Covid-19 lead at the hospital, said it is concerning that a large medical ward is being taken up solely with patients being treated for the virus.
There are also a large number of presentations at the hospital's emergency department and the pediatric emergency department, he said.
August was the busiest month for unscheduled care that the hospital has ever had, Dr Counihan added, which he believes is the result of poor access to healthcare over the last 18 months.
He urged people to get the flu vaccine, adding that he believes this will be "particularly important" this year.