Four months into one of its worst Covid-19 outbreaks, Israel is seeing a sharp drop in new infections and severe illness, aided by its use of vaccine boosters, vaccine passports and mask mandates, scientists and health officials said.
Israel was struck by its fourth coronavirus wave in June, fuelled by the fast-spreading Delta variant.
Rather than imposing new lockdown measures, the government bet on a third booster dose of the Pfizer Inc/BioNTech vaccine for people age 12 and up, mandated face coverings and enforced use of a "Green Pass" - proof of vaccination, recovery from the illness or a negative test for the virus - at restaurants and other venues, even for children.
Since peaking in early September, daily infections in Israel have fallen more than 80%, with severe cases nearly halved.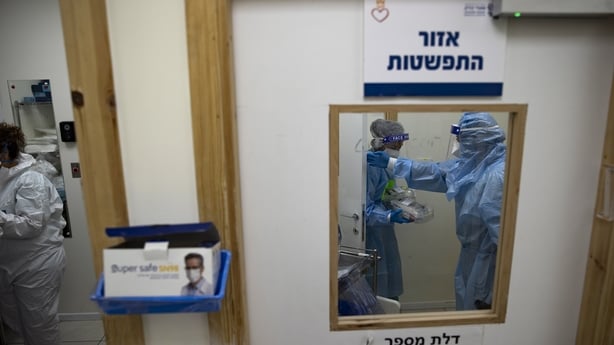 "Day by day we are breaking the Delta wave," Prime Minister Naftali Bennett said earlier this week, crediting government policy for "close, smart and flexible management allowing life alongside coronavirus."
Israel's "Living with Covid" strategy, which has not come without cost or controversy, has kept schools and the economy open.
The Israeli Health Ministry presented the latest safety and effectiveness data from its booster campaign to a panel of advisers to the US Food and Drug Administration considering authorisation of additional booster shots.
The data show that among people over 60 - the first group to receive boosters - infections began declining rapidly about two weeks after third doses were administered, while still climbing among other age groups.
A data analysis by Doron Gazit and Yinon Ashkenazy of the Hebrew University's Covid-19 monitoring team showed the virus' reproduction rate - its ability to spread - began a sharp fall among each age group following the third shot.
---
---
Two months into the Delta wave, vaccinated people over the age of 60 made up more than half of severe Covid-19 cases. The majority were over 70 with health conditions that put them at higher risk.
Since administration of boosters, mostly unvaccinated, often younger, people are bearing the brunt of serious illness. They make up about 75% of hospitalised patients in severe condition, while those vaccinated with two or three shots account for a quarter of such cases.
A third dose has so far been effective in curbing severe breakthrough cases among vaccinated people age 40 and up, according to the health ministry.
There is less available data for teens and young adults. However, the ministry said its findings so far show that a third dose has not increased the risk of myocarditis, a rare heart inflammation, in younger people.
Some scientists said Israel's decision to approve a third vaccine dose for young adults and teens was premature, lacking clear evidence of a benefit. They argue the focus should still be on convincing unvaccinated people to accept the shots.
So far, 3.7 million people have taken a third shot, more than a third of Israel's population.
S Korea eases coronavirus gathering curbs before switch to 'living with Covid'

South Korea said it would lift stringent anti-coronavirus curbs on social gatherings next week, as the country prepares to switch to a 'living with Covid-19' strategy amid rising vaccination levels.
From Monday, the government will allow gatherings of up to four unvaccinated people, and ease operating-hour restrictions imposed on venues like restaurants, cafes and cinemas, Prime Minister Kim Boo-kyum told a Covid-19 response meeting.
In the Seoul area, gatherings of up to eight people will be allowed if a group includes four fully vaccinated people, and in other regions, up to ten people will be allowed to gather.
South Korea never imposed a full lockdown, but has been under its tightest possible social distancing curbs, including a cap on gatherings of more than two people after 6pm since July when the fourth wave of infections started.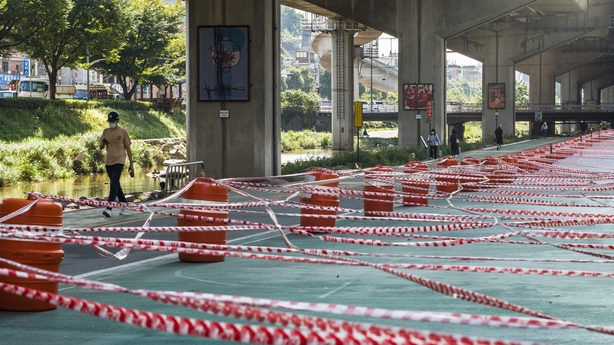 The relaxation will also allow outdoor sports events to take place in front of crowds, rather than behind closed doors as at present, if 30% of all spectators are fully vaccinated, Lee Ki-il, deputy minister of health care policy, told a briefing.
The new social distancing rules will be imposed until 31 October, after which the authorities will announce a more inclusive strategy for small businesses and the self-employed, hit hard by the sweeping curbs.
South Korea reported 1,684 new Covid-19 cases for yesterday, bringing its cumulative tally to 339,361 infections with 2,626 deaths. It has fully vaccinated 62.5% of its 52 million population, and has given at least one dose of a vaccine to 78.4%.
The country began this month offering boosters to those with weakened immune systems or deemed to be at high risk - the elderly, nursing home patients and staff.
President Moon Jae-in, aged 68, received his Pfizer/BioNTech, booster shot today, six months after his second dose of AstraZeneca's Covid-19 vaccine in April.
New Zealand reports 65 new locally acquired cases of Covid-19

New Zealand reported 65 new locally acquired cases of Covid-19, with all in locked-down Auckland, as the country readies for a mass immunisation drive tomorrow when it hopes to administer a record 100,000 vaccine doses.
Auckland, the country's largest city, entered into a lockdown in mid-August to stamp out an outbreak of the Delta variant, with officials looking to end the strict restrictions when full vaccination rates reach 90%.
About 2.6 million New Zealanders have so far been fully vaccinated, or about 62% of the eligible population.
New Zealand, which had stayed largely virus-free for most of the pandemic until a Delta outbreak in mid-August, is now looking to live with Covid-19 through higher inoculations.
It reported 71 cases yesterday, the biggest rise in six weeks.- https://agency.reuters.com/en/copyright.html