The Minister for Health has said the high number of Covid-19 cases is partly due to Ireland's proximity to the UK and the high level of movement between the countries.
Ireland has one of the highest vaccine uptake rates in Europe, but despite that, the country also has one of the highest incidence of the virus.
More than 9,800 cases have been reported in Ireland in the six days since Saturday.
Stephen Donnelly said he has been advised by public health officials that there are two reasons for the level of cases.
He said: "Part of it is proximity to the UK, where the cases have been consistently very, very high and obviously we have an awful lot of movement between the Republic and the UK."
We need your consent to load this rte-player contentWe use rte-player to manage extra content that can set cookies on your device and collect data about your activity. Please review their details and accept them to load the content.Manage Preferences
Minister Donnelly said it is also partly down to "the starting point" of the vaccination campaign.
"We got hit with the Delta variant earlier than most of mainland Europe and the analysis from around Europe is suggesting that given the virulence of this particular strain, it's very difficult to bring the cases down.
"What you will be seeing in eastern European countries now is a very rapid increase as they deal with the combination of the Delta variant really taking hold with the lower rates [of vaccination]."
The minister said it is in part due to "a stickiness in terms of the cases levels".
"What you can do with the measures and the vaccinations is ideally stop them going up, but it's much more difficult to continue to bring them down from whatever level you went to in the first place," he said.
Asked if use of the Digital Covid Certificate could be extended as part of measures to allow the next reopening phase proceed as planned on 22 October, Minister Donnelly said he could not comment right now.
"We are really going to have to wait and see what the public health advice is on Monday and then obviously Government will have to make decisions on that next week," he said.
Measured response needed to Covid-19 case rise - Nolan
A measured rather than an emergency response to the recent rise in Covid-19 cases is needed, the chair of the National Public Health Emergency Team's Epidemiological Modelling Advisory Group has said.
Professor Philip Nolan said Ireland is on a "knife edge" balanced on vaccine protection, as the coronavirus positivity rate has risen from 8% to 10% across the country in the last week.
Speaking on RTÉ's Today with Claire Byrne, he said that although the numbers are similar to this time last year, the dynamics are completely different.
Prof Nolan also said he did not believe the country is at the point where decisions will have to be made in relation to schools and it is very important for the Government, the population and children that schools remain open.
Prof Philip Nolan: "We're looking at a situation where the disease is going in the wrong direction... This is a time for concern... It doesn't seem to be the time for emergency action like we would've needed back in October [2020] or January" | Read more: https://t.co/iqZY1MW3yy pic.twitter.com/peLf5BCtl9

— RTÉ News (@rtenews) October 14, 2021
Vaccination offers a really significant buffer, he said, and "it's harder for the disease to move quickly when 90% of the population is vaccinated".
Prof Nolan said that things are going in the wrong direction, but there is no reason to believe the virus will rapidly go out of control and another week or so of data will be needed before a measured response is considered.
More data is needed on the trajectory of the disease over the coming days ahead of NPHET meeting next Monday and giving recommendations to Government, Prof Nolan says | Read more: https://t.co/iqZY1MW3yy pic.twitter.com/E7N4tJFOiF

— RTÉ News (@rtenews) October 14, 2021
"We don't know if it is a step change ... and will stay at this level, but we are worried that we may be seeing genuine growth [in the virus]," he said.
Prof Nolan said there is a worrying number of Covid-19 tests being requested and there is also a concern that positive cases may translate to increased hospitalisations next week.
---
---
Prof Nolan said there has been a rise in cases in the last week and it is "a very rapidly changing situation and one of the scenarios we have modelled".
The change in the trajectory of cases is very recent, he said, and the first indication was cases reported last Friday from swabs taken on Wednesday, but each day of data is important and "we will know an awful lot more about where we are going next Monday".
The virus is moving subtly and slowly through the vaccinated population, he added, and appealed to people to help persuade everyone they can to take the vaccine, but also not to leave home if they have cold or flu symptoms.
"It is dangerous now for people to mix where one of them has any kind of symptom," he warned.
Meanwhile, the Chief Clinical Officer at the HSE has reiterated that the vaccination programme affords great protection but not complete protection.
Speaking on RTÉ's Six One News, Dr Colm Henry said the programme has had a large impact in terms of reducing harm and the floodwall of defence is very strong in preventing hospitalisation, ICU admissions and death. However, he said that people who are not vaccinated do not have that protection.
He said this has been underlined by the figures concerning hospital admissions. Over 40% of those hospitalised are unvaccinated but they only constitute about 8% of the adult population.
Today the Department of Health reported 1,627 new Covid-19 cases, while the number of people in hospital with the virus increased by seven to 415. There are 70 patients in intensive care.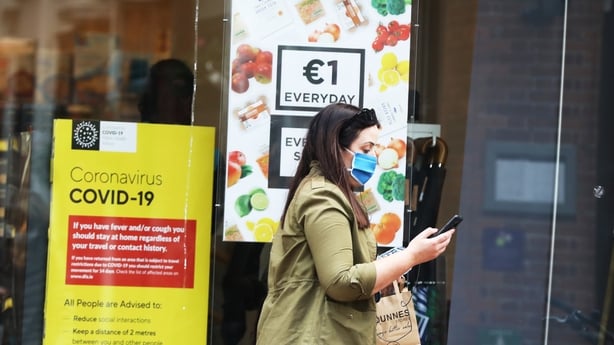 Taoiseach says Ireland needs to 'get back to basics'
Taoiseach Micheál Martin said that Ireland needs to "knuckle down" and "to get back to the basics" in preventative actions on Covid-19.
"The number of cases have gone up", there are more hospitalisations and that is "a cause of concern", he added.
Mr Martin said decisions will be taken early next week as to how to proceed in relation to the lifting of restrictions but said the pandemic situation has "taken a turn for the negative".
He urged people to get vaccinated and said there needed to be more mask wearing.
Meanwhile, the Sinn Féin leader said that people need to use their "cop on" as Covid-19 becomes endemic and cannot be "banished".
The decision on whether to lift restrictions on 22 October "will have to be taken very mindful in plain sight of the public health advice," Mary Lou McDonald said.
Any decision on reopening can't be 'blind to the public health advice,' says Sinn Féin's Mary Lou McDonald, but commitments have been made to sectors that have been closed for nearly two years. | Read more: https://t.co/SgfSeePCHb pic.twitter.com/c1DXi49U8g

— RTÉ News (@rtenews) October 14, 2021
Speaking on RTÉ's News at One, she said: "Covid now is a reality, it will become endemic rather than, you know, a pandemic, and all of us need to use our cop on, we need to be smart and sensible about how we carry ourselves, but also people need to get back to work and life needs to resume."
She described the vaccination programme as "literally a game-changer for all of our society".
Ms McDonald also called on Government to act speedily and give clarity on whether restrictions will be lifted on 22 October.
The proposed phase of reopening on that date is due to see the majority of restrictions lifted, including requirements for physical distancing and mask wearing outdoors and in private indoor settings.
Measures that are to remain in place include isolating while feeling symptoms of Covid-19 and mask wearing in healthcare settings, indoor retail and on public transport.
People aged 12 and over can register online for a Covid vaccine, with a number of walk-in vaccination centres still in operation.