Russia has reported a pandemic high for both new coronavirus infections and fatalities over 24 hours, with the country's vaccination drive at a snail's pace and few restrictions in place.
Officials registered 31,299 new infections and 986 deaths from Covid-19 over 24 hours, bringing Russia's total fatalities to 220,315 - the highest toll in Europe.
The surging outbreak has come with just 31% of Russians fully inoculated, according to the Gogov website, which tallies coronavirus data from the regions.
A lack of tough restrictions has allowed the disease to spread, though a number of regions have reintroduced QR codes for access to public places.
The Kremlin has balked at reintroducing major restrictions despite calling the country's vaccination rate "unacceptably" low, saying this week authorities have to ensure "the economy continues working."
Spokesman Dmitry Peskov once again ruled out a lockdown and said that authorities have to "continue to explain to people that it is necessary to be vaccinated".
"It's irresponsible not to get the vaccine," he told reporters.
But Mr Peskov added that Russia's healthcare system was prepared for the onslaught in coronavirus patients, saying that it is not "overwhelmed".
"The entire medical infrastructure is mobilised," he said.
---
---
Health Minister Mikhail Murashko for his part blamed the growing spread on the "behaviour" of Russians and called on them to get vaccinated.
"If we do not introduce general restriction measures now we run the risk of a continuing rise in cases," he was cited by state news agency TASS as saying.
He did not, however, specify possible restrictions.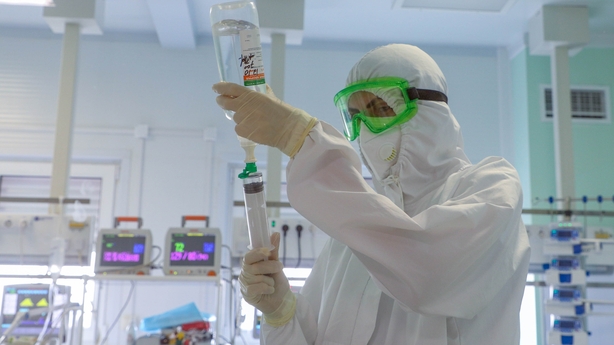 While several Russian-developed jabs have been available for months, authorities have struggled to inoculate a vaccine-sceptic population.
Independent polls show that more than half of Russians do not plan to get a shot.
Moscow - the epicentre of Russia's outbreak - has so far withheld from bringing back restrictions, but on Monday announced that it would open two dozen sites around the capital where residents could get free express tests.
Independent experts have accused authorities of downplaying the severity of Russia's epidemic.
Under a broader definition of deaths linked to the virus, the Rosstat statistics agency said last week that by the end of August more than 400,000 Russians with the coronavirus had died.
European medicines watchdog reviews AZ anti-Covid cocktail
Europe's medicines watchdog has said it has started evaluating AstraZeneca's anti-Covid cocktail called Evusheld, which could eventually lead to the authorisation of its use in the European Union.
The move comes after AstraZeneca this week said trials showed that the drug, made from a combination of two monoclonal antibodies, reduced severe coronavirus symptoms and deaths.
The decision to start the rolling review "is based on preliminary results from clinical studies, which suggest that the medicine may help protect against the disease," the European Medicines Agency (EMA) said.
It can take several months between the start of a rolling review by the EMA and any eventual green light.
Monoclonal antibodies - which recognise a specific molecule of the target virus or bacteria - are synthetic versions of natural antibodies.
They are administered to people already infected, to make up for deficiencies in the immune system.
This is different from a vaccine, which stimulates the body to produce its own immune response.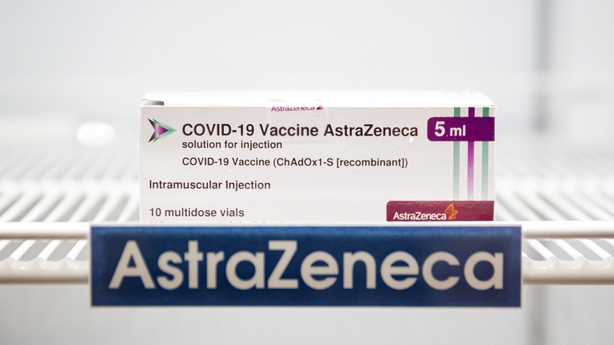 AstraZeneca's separate Covid-19 vaccine is one of the four jabs currently approved for the EU.
The company said on Monday that it had seen "positive results" from the new drug, also known as AZD7442, with a "statistically significant reduction in severe Covid-19 or death" in non-hospitalised patients with mild-to-moderate symptoms.
The trial involved 903 participants and 90% of them were people at high risk of progression to severe Covid-19.
The EMA move comes after Swiss pharma giant Roche applied to the agency on Monday to authorise its anti-Covid cocktail called Ronapreve, while the EMA last week said it could soon start reviewing Merck's new Covid-19 pill.
Bali reopens to international visitors, but with no flights
Indonesia's holiday island of Bali has reopened to foreign tourists after 18 months of pandemic hiatus, but the island is lacking one crucial ingredient: international flights.
Tourism-reliant Bali is scheduled to reopen and though its Ngurah Rai international airport has carried out simulations preparing for tourists to return, it is not expecting much to happen soon.
"So far there is no schedule," said a spokesman for the airport.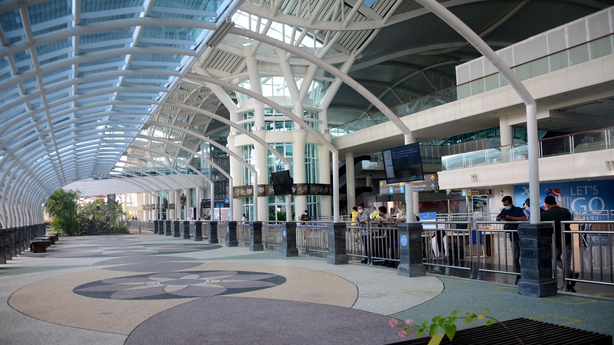 Indonesia's tight immigration measures during the pandemic have devastated the island, with widespread closures of hotels, shops and businesses.
The government is eager to revive Bali's beleaguered tourism industry in response to a sharp fall in new coronavirus cases since July, when Indonesia was Asia's Covid-19 epicentre.
However details about the reopening, such as visa requirements and which countries they apply to, have so far been patchy.
Indonesia only confirmed the 19 eligible countries in a statement late yesterday, which include China, India, Japan, South Korea and New Zealand, and several countries from western Europe and the Arabian Gulf.
The move follows Thailand's calibrated reopening that began in July with much fanfare, with the islands of Samui and Phuket welcoming vaccinated tourists from multiple countries, with hundreds on the opening days.
Vietnam plans to welcome foreigners to its Phu Quoc next month.
Some Indonesian tourism industry representatives say Bali's reopening plan is not matched by demand.
As well as requiring Bali visitors to be vaccinated against Covid-19, Indonesia has stipulated they must spend their first five days in quarantine, a measure rival tourism markets are phasing out.
"We are ready to accept tourists who visit Bali, but certainly it does not mean all the guests suddenly visit Bali," said Ida Bagus Purwa Sidemen, executive director of the island's hotel and restaurant association.
"At the earliest, by the end of the year we can evaluate whether the situation has improved."
Melbourne set for Covid lockdown exit
Melbourne will exit months of Covid-19 lockdown next week helped by a faster-than-expected vaccine uptake, Victoria state Premier Daniel Andrews has said.
The move is ahead of schedule even though daily infections have hit a record.
In the worst day of an outbreak of the Delta variant coronavirus that began in early August, Victoria logged 2,297 new cases, up from 1,571 the day before and the highest for any Australian state or territory since the pandemic began.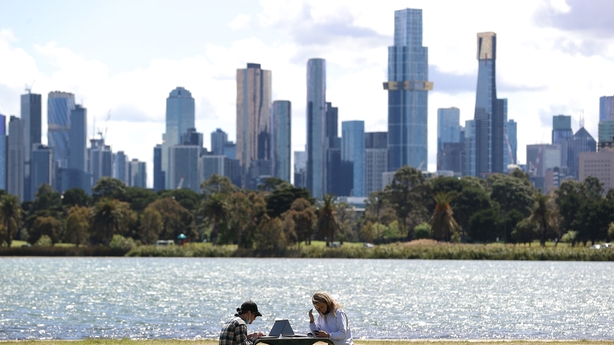 Eleven people died, bringing the total toll in the latest outbreak to 125.
But the surge comes as Victoria also nears the 70% threshold for double-dose vaccination among eligible adults - the level at which authorities have promised to end strict stay-home restrictions.
That target was originally expected to be met on 26 October, and the vaccination level was 62% as of Thursday.
"We will deliver the (reopening) road map ... You get vaccinated and we will open up and I do what I say," Mr Andrews said, speaking during a media briefing in Melbourne, the state capital.
Most new cases were detected in Melbourne, but the city's night curfew will also be lifted, while businesses can reopen with strict social distancing rules, according to the roadmap.
More curbs will be relaxed when vaccination levels reach 80% and 90%.
Sydney, where the first case was detected in mid-June, continued a downward trend in new cases. Daily infections in New South Wales eased further to 406, the majority in Sydney, well down from the state's pandemic high of 1,599 hit in early September.
The city came out of a lockdown of more than 100 days earlier this week, and Sydney could enjoy more freedoms from Monday - beating forecasts by a week - as the proportion of fully vaccinated people older than 16 is expected to top 80% this weekend.
Palau nears 100% Covid vaccination
The tiny Pacific nation of Palau has emerged as one of the world's most vaccinated places with more than 99% of the eligible population fully protected against Covid-19, according to the latest data.
In a population of about 18,000, almost 15,000 people have been fully vaccinated, according to the country's ministry of health and human services.
The International Federation of Red Cross and Red Crescent Societies said that meant more than 99% of the eligible population had been fully jabbed.
In a statement, the health body praised what it said was a "remarkable" pace of vaccination, but warned that coverage elsewhere in the south Pacific was patchy.
The figures allow Palau - situated about 1,000km east of the Philippines - to contest for "top spot in the world for Covid-19 vaccination rates" according to the IFRC.
Palau was one of the few countries to avoid Covid-19 after closing its borders early in the pandemic, despite the huge cost to its tourism-reliant economy.
That record of zero Covid cases was broken in August when two people who arrived from Guam tested positive.
A handful of cases have been detected at the border since then, but there is no widespread community transmission.