Shopworkers, tourist guides and barbers are among dozens of groups who must get Covid-19 shots to work in Australia's Northern Territory, officials announced, unveiling one of the world's most far-reaching vaccine mandates.
Expressing concern at low coronavirus jab rates in some communities, the Territory's chief minister Michael Gunner announced "anyone serving the public at work will have to be vaccinated".
The vast Northern Territory stretches from tropical Darwin on the Timor Sea to the dusty Outback settlements of Alice Springs and Uluru - an area three times the size of Spain.
It is home to a large number of Aboriginal and other vulnerable remote communities.
Although more than 80% of the region's adult population has received at least one dose, Mr Gunner said there were "patches of concern" and communities where people are hesitant or refusing the vaccine.
"I am making sure we do everything possible to get everyone vaccinated," Mr Gunner said.
"You can't hold people down and stick a needle in their arm. It is their choice and some are choosing against it."
---
---
By Christmas Eve, anyone working with the public must be fully vaccinated or face a Aus$5,000 fine and instant dismissal.
"You work in hospitality - you need to get the jab. Retail or a supermarket - you need to get the jab. If you are behind the counter at a bank or receptionist, you need to get the jab," said Mr Gunner.
"A barber, hairdresser, beauty therapist you need to get the jab... (if) you are a frontline worker in the economy, that means you must be vaccinated."
In other parts of Australia, Covid-19 vaccines have been made mandatory for healthcare workers and teachers.
Indonesia's capital has announced fines for refusing a vaccine and Fiji has a policy of "no jab, no job" for all government workers.
And around the world, the unvaccinated are now routinely barred from indoor or crowded venues.
But the Northern Territory's rules go further than most democracies.
The Territory has seen just 214 cases of coronavirus since the pandemic began and zero deaths, but officials admit that run will not last.
"One day, perhaps one day soon, it will be here and it will stay here. We're going to have to live with it," Mr Gunner said.
"If you don't get vaccinated, there's a much, much higher chance that you will die."
US to open land borders to vaccinated travellers in November

The United States will open its land borders with Mexico and Canada in early November to non-essential travellers who are fully vaccinated against Covid-19, a senior White House official announced.
The official said the administration would give the "precise date very soon" - both for land crossings as well as international air travel, which would be timed to "go together."
The United States had already announced in September that it would lift bans in November on all vaccinated air passengers who undergo testing and contact tracing.
In an effort to slow the spread of the coronavirus, US borders were closed in March 2020 to travellers coming from the European Union, Britain and China, with India and Brazil added to the list later. Overland visitors from Mexico and Canada were also banned.
The White House source said the land border re-opening would happen in two phases.
Initially, vaccines will be required for "non-essential" trips - such as visiting family or tourism - though unvaccinated travellers will still be allowed into the country for "essential" trips as they have been for the last year and a half.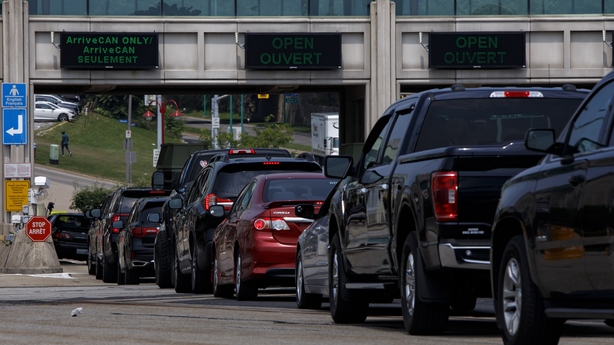 A second phase beginning in "early January" 2022 will require all visitors to the United States to be fully vaccinated, no matter the reason for their trip.
"This phased approach will provide ample time for essential travelers such as truckers or others to get vaccinated, enabling a smooth transition to the new system," the official said.
The new schedule means the land border restrictions, which are currently set to expire on 21 October, would have to be extended one more time before the new rules enter into force, the official indicated.
The Centers for Disease Control and Prevention (CDC) said last week that all vaccines approved by the US Food and Drug Administration (FDA) and the World Health Organization (WHO) would be accepted for entry by air.
"Title 42" - the controversial Trump-era rule continued by the Biden administration which allows those crossing illegally to be deported for public health reasons - will remain in place, the White House official said.
The White House cited Title 42 when thousands of Haitians gathered along the US-Mexico border were deported last month, with critics saying the law unfairly restricts those seeking asylum.
The White House official said that details were still being sorted to allow vaccinated air travellers to enter the United States, including plans on how to undertake contact tracing on such visitors. Passengers will also be tested for the coronavirus, the official said.
Congo bans weddings in anti-Covid move
The Republic of the Congo has announced a 45-day ban on weddings, a move that it said would help to stem the spread of coronavirus.
"Ceremonies for civil, religious and traditional marriages and dowries are being suspended for a duration of 45 days," communications minister Thierry Moungalla said in a statement read on public television.
The Central African country, also known as Congo-Brazzaville to distinguish it from the far larger Democratic Republic of Congo, is facing a third wave of the virus, he said, citing its national anti-Covid team.
"This extremely concerning and serious situation stems greatly from a widespread decline by the public in following distancing measures," Mr Moungalla added.
The decline was "particularly noticeable at wakes, burials, weddings and other festivities, in public transport," he said, criticising the "near absence" of controls to rectify such behaviour.
The Republic of the Congo, a country of around 5.5 million people, has officially recorded 15,445 cases of Covid-19 since 14 March 2020, of which 222 have been fatal, according to figures published on Sunday.
New Zealand reports 55 new local Covid-19 cases
New Zealand has reported 55 new locally acquired cases of Covid-19, the majority in the country's largest city of Auckland, up from 43 a day earlier.
New Zealand had been largely virus-free, excluding a small cluster of cases in February, until a Delta outbreak in mid-August forced officials to impose a lockdown in Auckland.
Officials are looking to end strict lockdown measures once 90% of the country's population over 12 is fully vaccinated.
Some 2.49 million people, or 59%, have had two doses so far