Health Service Executive CEO Paul Reid has said the number of people in intensive care units with Covid-19 has risen by 20% in one week, as he urged people to continue to come forward and be vaccinated.
Speaking on RTÉ's This Week, Mr Reid said that a rise in cases over the past four days has been matched with an increase in hospitalisations.
The Department of Health today reported 1,384 new cases of Covid-19.
As of this morning, there were 382 patients being treated in hospital for Covid-19, an increase of 29 on the same time yesterday.
Of these, 74 patients are in ICUs with the virus.
Mr Reid said that 67% of the patients in ICU have not been vaccinated for Covid-19, while 3% are partially vaccinated.
There were 319 people in hospital with Covid-19 on the same day last week.
Eleven people with the virus were discharged from hospital in the past 24 hours, while 40 were admitted for treatment for Covid-19.
---
---
Mr Reid said the HSE has been rolling out additional third vaccine doses to the immunocompromised and to the over 65s in long-term care facilties, with one third of care homes completed in recent weeks.
He said that people aged over 80 who live in the community are getting a third dose through their GPs.
Mr Reid said that if the National Immunisation Advisory Committee makes recommendations for a booster programme the HSE will mobilise to deliver it.
In Northern Ireland, 1,115 additional cases of Covid-19 and three further deaths have been reported in the last 24 hours.
'No one is proud' of long waiting lists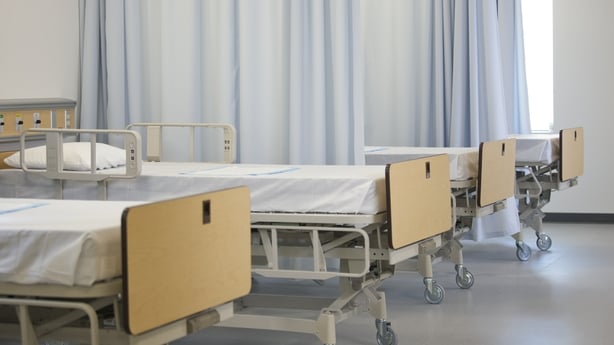 Separately, Mr Reid said that "no one is proud" of the long waiting lists in the health service and that there are a range of steps are being taken to bring to reduce them.
He said that as we head into the winter, the HSE wants to stop the lists growing further and is planning to carry out an additional 150,000 procedures including in inpatients, outpatients and scopes for those on waiting lists.
He said the plan is to make an initial impact and then follow up with a longer-term plan that includes providing extra capacity in public hospitals and engaging with the private sector to procure further capacity, as well as working with the National Treatment Purcahse Fund to address the needs of those waiting for care.
He said it is a very serious legacy and systemic issues and that 16 specialities are responsible for 90% of patients on waiting lists. He said there will be a strong focus on these areas.