Australia is to purchase 300,000 courses of Merck & Co's experimental antiviral pill, Prime Minister Scott Morrison said.
The announcement came as Victoria logged the highest number of daily Covid-19 infections of any state in the country since the pandemic began.
Molnupiravir, which would be the first oral antiviral medication for Covid-19 if it gets regulatory approval, could halve the chances of dying or being hospitalised for people most at risk of contracting severe Covid-19, according to experts.
"These treatments mean that we are going to be able to live with the virus," Mr Morrison told Nine News as Australia aims to reopen its borders next month for fully vaccinated citizens and permanent residents.
Molnupiravir capsules have to be taken twice a day for five days by adult patients for a course of ten, he said.
The drug is expected to be available in Australia by early next year if approved by the country's drug regulator, he said.
Merck expects to produce 10 million courses of the treatment by the end of 2021.
---
---
South Korea, Thailand, Taiwan and Malaysia have all said they are in talks to buy the potential treatment, while the Philippines is running a trial on the pill.
Australia, meanwhile, is stepping up its vaccination rate, with Sydney and Melbourne, its largest cities, and the capital Canberra enduring a weeks-long lockdown to combat the highly infectious Delta variant.
The national first-dose rate in the adult population topped 80% this morning.
A total of 1,763 new infections were reported in Victoria, exceeding the previous daily high of 1,488 on Saturday, with the state looking to start reopening once full vaccination levels in its adult population reaches 70%, expected around the end of October, from 53% now.
Dominic Perrottet, who was elected as the new premier of New South Wales today, said the state was on track to exit lockdown on 11 October, the first Monday after it expects 70% of its population over 16 to be fully vaccinated.
Daily infections in the state fell to the lowest in seven weeks at 608 new cases, the majority in state capital Sydney, down from 623 yesterday. Seven new deaths were recorded.
Even with the Delta outbreaks, Australia still has relatively low coronavirus numbers, with around 115,800 cases.
Total deaths stood at 1,357, with the mortality rate from the current Delta outbreak lower than during last year due to higher inoculation among the vulnerable population.
Three Vatican Swiss Guards resign after Covid vaccination request - report
Three members of the Vatican Swiss Guards, the elite colourfully dressed corps that protects the pope, have decided to resign rather than be vaccinated against Covid-19, Swiss newspaper Tribune de Geneva reported.
Following the Holy See's implementation of new Covid-19 measures, three Swiss guards have departed on a "voluntary" basis, a spokesperson for the corps said, according to the paper.
Three other recruits, hitherto unvaccinated, had decided to get a shot but were temporarily suspended until they were fully inoculated, the spokesperson said.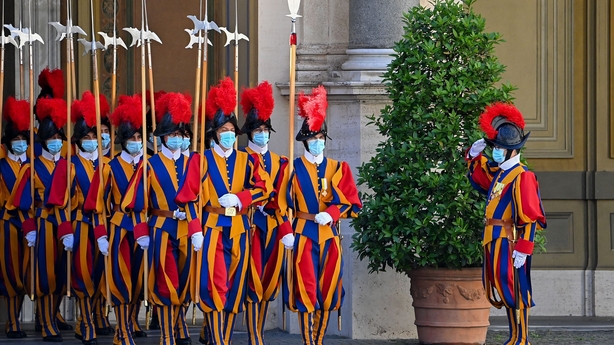 A spokesperson for the Swiss Guards did not immediately respond to Reuters' request for comment.
A health certificate showing proof of immunity to Covid-19 has been required to enter the Vatican since 1 October.
The so-called Green Pass - originally conceived to ease travel among European Union states - shows that someone has been vaccinated, tested negative or recently recovered from the coronavirus.
However, the Swiss Guards, who together with the Vatican's gendarme work in close vicinity to the Pope on a daily basis, have been required to show proof of full vaccination, as opposed to a negative test.
Nearly all of the guard are single men who live in barracks just inside the Vatican gates. Commanders and married members live in separate apartments. All members have Swiss nationality.
Four of them tested positive for Covid-19 in October last year.
New Zealand to use vaccine certificates as Delta persists
New Zealand will start using Covid-19 vaccine certificates as proof of inoculation at large events and other high-risk settings from next month, as the country battles the spread of the Delta variant.
Prime Minister Jacinda Ardern, who yesterday abandoned a long-standing strategy of eliminating coronavirus in the face of a persistent Delta outbreak, said the certificates would help ensure large gatherings such as music festivals did not become super-spreader events.
"We will use them [vaccine certificates] as a tool to lessen risks at what are currently considered as high risk settings, including large scale events," Ms Ardern said at a news conference, urging people to bring forward their vaccination plans.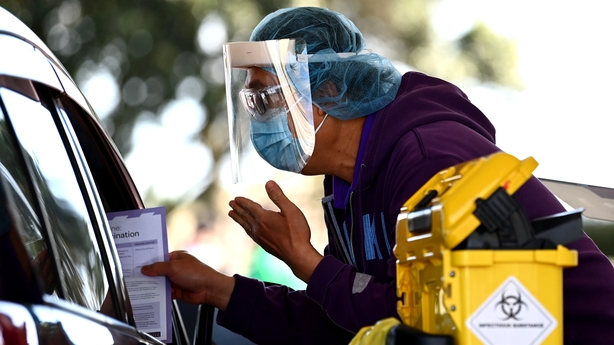 "These are now common overseas and they make good sense," she said, adding that they were unlikely to be needed in places like health services and supermarkets.
New Zealand was among just a handful of countries to bring Covid-19 cases down to zero last year and largely stayed virus-free until an outbreak of the highly infectious Delta variant in mid-August frustrated efforts to stamp out transmission.
The country will now use vaccinations and testing to control the spread of the virus, with experts warning the change will lead to a rise in cases.
New Zealand recorded 24 new cases of Covid-19 today, taking the total number of infections in the current outbreak to 1,381. About 48% of the adult population is currently fully vaccinated.
The largest city of Auckland, which has been in lockdown for nearly 50 days, will remain on a high alert level, although its 1.7 million people will be allowed some extra freedoms from Wednesday.
China reports no new local cases
No new local cases of Covid-19 were reported in China for the first time in more than three weeks after outbreaks in the provinces of Fujian and Heilongjiang were brought under control.
The first case in Fujian in its recent outbreak was reported on 10 September in the city of Putian.
Infections later spread to nearby Xiamen, but were contained within the southeastern province.
Heilongjiang reported its first case in its outbreak on 21 September. Infections were also contained within the northeastern province.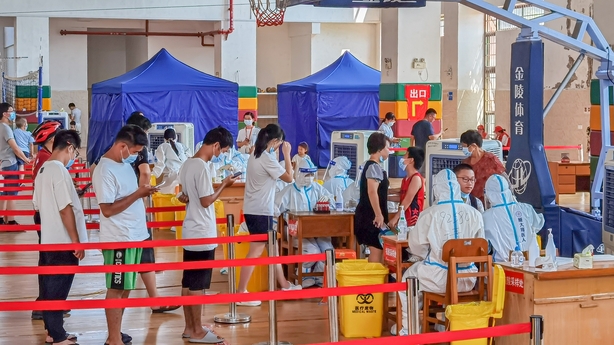 All of the new infections reported in mainland China for 4 October were imported, the National Health Commission said.
That compares with one local case a day earlier in Heilongjiang.
Overall, China reported 26 new confirmed coronavirus cases for 4 October, compared with 27 a day earlier, according to the health authority.
China reported 15 new asymptomatic coronavirus cases, which it does not classify as confirmed infections, unchanged from 15 a day earlier. No new deaths were reported.
As of 4 October, mainland China had recorded 96,284 confirmed cases, with the cumulative death toll unchanged at 4,636.