The Department of Health has confirmed 1,059 new cases of Covid-19.
There are 308 people in hospital who have tested positive for the virus, up 11 since yesterday. Of these 59 are in ICU, unchanged over the past 24 hours.
Dr Tony Holohan, Chief Medical Officer, said: "As we move into the autumn/winter period, many people have concerns about how we can continue to socialise safely and take part in the social and physical activities that keep us connected to our friends, families and wider communities.
"We are all familiar with the measures that will continue to keep us safe from Covid-19.
"Vaccination remains our best means of protection. The vaccines available in Ireland are very safe and effective against Covid-19 and limit the likelihood of an infection becoming so severe it may require admission to hospital or to intensive care."
Dr Holohan added: "There are still some people who haven't yet taken up the opportunity of vaccination, or who have delayed receiving a second dose for various reasons.
"I strongly encourage anyone who is in this position to ensure they get fully vaccinated as soon as possible in order to best protect themselves and those around them."
Earlier, a new report published by the Central Statistics Office detailed how employees in the health and social work sector were hardest hit in the early months of the Covid-19 pandemic.
They made up almost 60% of cases among those employed in April 2020.
Nurses and midwives were most likely to contract Covid-19 during the first wave of the virus in March 2020.
Sales and retail assistants and checkout operators were the workers most likely to contract it in waves two and three, according to the new figures.
"More than half (56%) of confirmed cases were those working for payment or profit, and nurses and midwives was the most common occupation of Covid-19 cases in wave one," said CSO statistician Steven Conroy.
"However, the most common occupation to contract Covid-19 in waves two and three were sales and retail assistants, cashiers and checkout operators."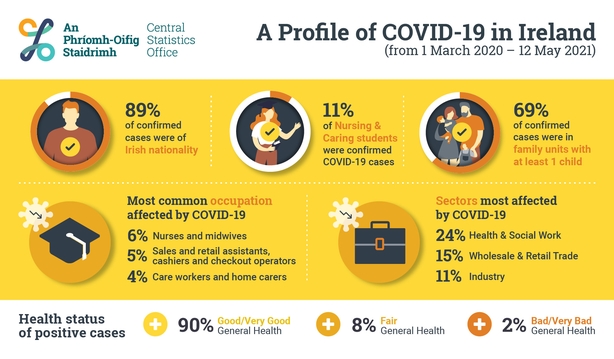 Older age groups were infected most in wave one compared to waves two and three when younger age groups were most likely to be infected.
"Analysing the cases over the first three waves of the pandemic, we can see that the profile of cases changed from the first wave, where cases were concentrated more in older age groups and in Dublin, to the second and third waves, where younger age groups were more likely to be infected and the cases were spread around the rest of the country," said Mr Conroy.
Overcrowded homes, where there is more than one person per room, accounted for 8% of households with a confirmed case in wave three compared to 19% in wave one.
In wave three, 89% of cases were Irish nationals, 86% were white Irish and 85% were born in Ireland.
"White Irish accounted for more than 80% of confirmed Covid-19 cases across the three waves from March 2020 to May 2021, but the percentage of Asian or Asian-Irish fell in the second and third waves from 5% of cases to 2%," said Mr Conroy.
---
Read more:
Latest coronavirus stories
Third dose for immunocompromised to begin next week - HSE
---
In Northern Ireland, 1,039 new positive cases of Covid-19 and eight deaths were reported today.
Meanwhile, over half of the people who died from Covid-19 since April were not vaccinated, according to a new report by the Health Protection Surveillance Centre.
Of the 301 Covid-19 deaths notified between 1 April and 25 September, 50.8% were in people who were not vaccinated.
In 34.2% of cases, the person who died had been vaccinated 14 or more days before their death and are classified as vaccine breakthrough infections.
Of the 103 people who had been vaccinated and died, 64 or over 62% were reported to have an underlying medical condition.
The age range of all those who died was 50 to 97 years.
Data on Covid-19 vaccination status of Covid-19 deaths is manually updated in Ireland's Computerised Infectious Disease Reporting System (CIDR).
The HSE said that robotic solutions are being established to link data to the CIDR.
Once these automated robotic processes are fully implemented for CIDR, the period of analysis will extend to include data from 1 January 2021.
Extra vaccine, booster dose roll-out to get under way
The Health Service Executive has moved to reassure people as the roll-out gets under way of the Covid-19 vaccination "additional dose" and "booster" programmes.
Third vaccine shots for the immunocompromised are being administered while booster shots will be offered to everyone over 80, and people over 65 in residential settings from next week.
Speaking on RTÉ's Morning Ireland, HSE lead for infection control Professor Martin Cormican said the programmes should run smoothly and there is currently a "very good supply" of the vaccine in Ireland.
The additional dose for the immunocompromised will include anyone over the age of 12, but in the first instance it will be offered to those aged 16 and over, he added.
"There will be a little delay for those between the ages 12 and 15," he said.
He explained that the reason for this is because they were vaccinated later and there is a need to wait two months.
"That is where you get the most benefit if you allow the interval of two months to go by."
Prof Cormican said for this third dose or booster vaccine the HSE will make contact with people.
It is expected to take five to six weeks to administer third doses to all those who need one, according to the HSE.
Looking ahead to winter, he said it looks likely the flu will be around this year.
"The pathway to get the flu vaccine is similar to other years". He added that there is a good supply of the flu vaccine.
Elsewhere, Taoiseach Micheál Martin said that "no one has promised anything to too many" in relation to the so-called pandemic bonus.
Speaking in Wexford, Mr Martin said that there was a consistent theme in public discourse that frontline healthcare workers did an extraordinary amount of work in the teeth of the pandemic, particularly in the acutely hospital setting.
He said that people more generally also contributed significantly in different areas.
Mr Martin said discussions will be had with unions and groups such as Ibec in order to achieve consensus on this issue.