Australia will begin to reopen its borders next month 18 months after citizens were banned from travelling overseas without permission.
Prime Minister Scott Morrison said vaccinated Australians would be able to return home and travel overseas "within weeks" as 80% vaccination targets are met.
On 20 March last year Australia introduced some of the world's toughest border restrictions in response to the coronavirus pandemic.
For the last 560 days countless international flights have been grounded, and overseas travel has slowed to a trickle.
Families have been split across continents, an estimated 30,000 nationals were stranded overseas and foreign residents were stuck in the country unable to see friends or relatives.
More than 100,000 requests to enter or leave the country were denied in the first five months of this year alone, according to Department of Home Affairs data.
"The time has come to give Australians their life back. We're getting ready for that, and Australia will be ready for takeoff, very soon," Mr Morrison said.
He also announced that vaccinated residents would be able to home quarantine for seven days on their return, dodging the current mandatory and costly 14-day hotel quarantine.
The exact timing of the border reopenings will depend on when Australian states reach their 80% vaccination targets, and crucially on local political approval.
The most populous state of New South Wales currently has 64% of those aged over 16 fully vaccinated and has indicated it will hit 70% and 80% targets this month.
But most Australian states - most notably West Australia and Queensland - still have no widespread community transmission, are persuing a strategy of "Covid-zero" and remain shut to other parts of the country.
Today's announcements could mean that within a month it is easier for those in Sydney or Melbourne to travel to London or New York than to go to Perth or Brisbane.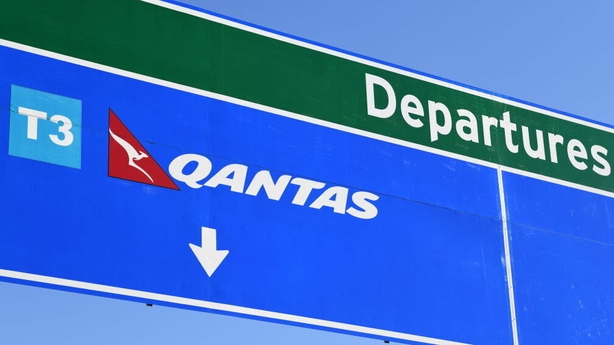 Australian flag carrier Qantas welcomed the decision, announcing it would restart flights to London and Los Angeles on 14 November.
Expats and foreign residents gave the news a cautious welcome on social media forums. But experts say many Australians will remain cautious about booking travel for fear of snap lockdowns or other disruptions.
---
---
Meanwhile, Victoria has included professional athletes in a mandate that will require about 1.25 million "authorised workers" to have two Covid-19 vaccination doses by the end of November.
Premier Daniel Andrews announced the health order as the state struggles to deal with with an outbreak of the highly infectious Delta variant of the virus.
The categories of authorised workers released by the Victoria government include "professional or high-performance sportsperson, workers that support the safe running of that person's professional sport" and broadcasters.
Authorised workers must have their first vaccine dose by 15 October and their second by 26 November or face being banned from their workplaces.
Victoria is the first Australian state to introduce such a mandate, though vaccination was made compulsory last month for workers who care for older people across the country.
Vietnam's commercial hub back in business after lockdown
Ho Chi Minh City has lifted a stay-at-home order that had kept its nine million residents indoors for three months and devastated business in Vietnam's economic hub.
To curb a fast-spreading wave of Covid-19 - which struck the southern metropolis particularly hard - residents have been unable to leave home, even for food, and almost all travel in and out of the area was suspended.
Almost half of Vietnam's total 790,000 virus cases were reported in the city, along with three-quarters of the country's deaths.
But after a gradual fall in cases, soldiers began dismantling road barriers and removing hundreds of checkpoints that had separated city districts.
Roads were busy for the first time in months after most businesses were given the go-ahead to reopen and vaccinated people permitted to move freely within the city.
Although authorities have kept a ban on travel to other provinces, thousands of families travelling by motorbike gathered at a checkpoint on the way out of the city, hoping to return to their hometowns.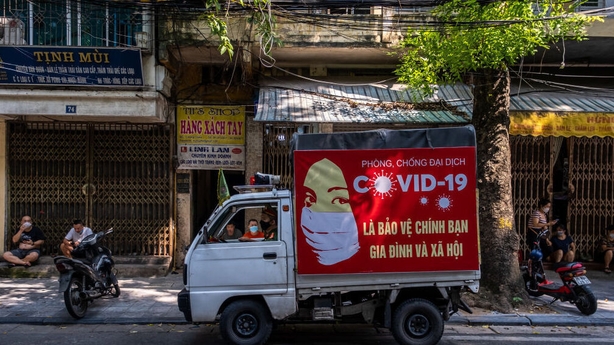 Vietnam was once hailed as a model for virus containment, but the country struggled to stop the spread of a fourth wave of infection that began in April in northern industrial parks and quickly travelled south.
More than a third of Vietnam's 100 million people were under stay-at-home orders this summer, bringing the country's important manufacturing industry to its knees and breaking supply chains.
Its economy suffered its heaviest contraction on record in the third quarter, officials said Wednesday.
Factories in industrial parks and goods transportation services are among businesses allowed to open, authorities have said.
Less than 10% of Vietnamese are fully vaccinated but Ho Chi Minh City had been allocated the biggest number of jabs with almost all the city's adults inoculated.
Cases rise in South Korean capital
South Korea has extended social distancing measures for two weeks, offering more incentives to people to get vaccinated as it battles thousands of new cases each day, particularly in the capital.
The rapid resurgence in the greater Seoul area prompted authorities to extend distancing restrictions until 17 October, including a ban in the region on dining out after 10pm and gatherings of more than two people after 6pm.
The country recorded 2,486 new Covid-19 cases yesterday, according to the Korea Disease Control and Prevention Agency(KDCA), with the daily tally having topped 3,000 for the first time last week.
The daily average exceeded 2,635 over the past week – the highest-ever level and easily more than twice the level a month before, the KDCA said.
The capital Seoul and neighbouring regions remain the hotspot, reporting almost 2,000 cases every day for the last week, up about 42% within just one week.