German politicians have expressed shock over the killing of a 20-year old petrol station worker after an argument about a face mask and said coronavirus deniers who are willing to use violence will not be tolerated.
The killing on Saturday evening in the western town of Idar-Oberstein is believed to be the first in Germany linked to the government's coronavirus rules.
The row started when the cashier, a student, told the customer to put on a face mask, as required in all German shops. After a brief argument, the man left.
The suspect then returned about an hour-and-a-half later, this time wearing a mask. But as he brought his six-pack of beer to the till, he took off the mask and another discussion ensued.
"The perpetrator then pulled out a revolver and shot him straight in the head," prosecutor Kai Fuhrmann told reporters yesterday.
The suspect, a 49-year-old German man, walked to a police station the following day to turn himself in. He was arrested and has confessed to the murder.
He told police he felt "cornered" by the coronavirus measures, which he perceived as an "ever-growing infringement on his rights" and he had seen "no other way out", Mr Fuhrmann said.
Idar-Oberstein mayor Frank Fruehauf called it "an unfathomable, terrible act", and residents have laid flowers and candles outside the petrol station.
The murder comes just days before Germans head to the polls for a general election on 26 September that will see Chancellor Angela Merkel bow out after 16 years.
Finance Minister Olaf Scholz from the centre-left Social Democrats, the current frontrunner to succeed Ms
Merkel, said he was "shocked" by the murder of someone who only wanted "to protect himself and others".
"As a society, we must resolutely stand up to hatred," he tweeted.
Annalena Baerbock, the Green party's candidate for the chancellery, said she was "shaken" by the murder and "very concerned" about growing radicalisation in the anti-mask community.
Paul Ziemiak, general secretary of Ms Merkel's CDU party, said the victim was "practically executed" in an act that showed "an inconceivable level of radicalisation".
India warns of compulsory quarantine for UK travellers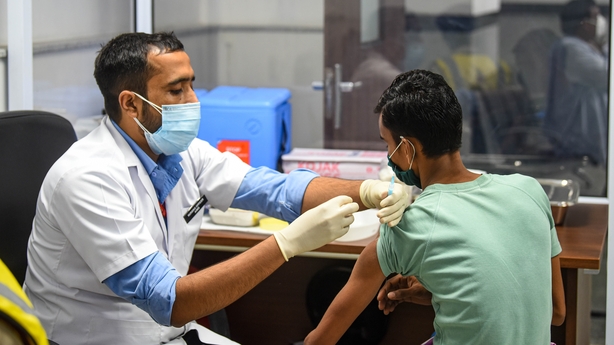 India has warned the UK that its citizens would face reciprocal measures over new "discriminatory" Covid-19 rules requiring travellers from India to quarantine even if they are fully vaccinated.
England and Scotland will ease pandemic restrictions from early October, but the list of countries with approved vaccines does not include India, despite the country using a locally made version of the AstraZeneca vaccine created in Britain.
"The basic issue is that, here's a vaccine - Covishield - which is a licensed product of a UK company manufactured in India of which we have supplied five million doses to the UK at the request of the government," foreign minister Harsh Vardhan Shringla told reporters in New Delhi.
Calling the non-recognition of Covishield "a discriminatory policy", he said that negotiations were under way with Britain over the new requirements.
---
---
"But if we don't get satisfaction we would be within our rights to impose reciprocal measures."
India is a major supplier of Covishield globally via the Serum Institute, the world's biggest vaccine maker.
The government plans to resume exporting Covid-19 vaccines to fulfil its commitment to the Covax programme for poorer countries from October.

Chinese city shuts spas, cinemas after Covid case confirmed
Spas, cinemas and mahjong salons in the Chinese city of Harbin were ordered to close to prevent Covid-19 spreading in poorly ventilated spaces, state television reported.
The temporary shutdowns were part of a range of restrictions imposed on the northeastern city after one case of community transmission, the report said, citing the Harbin government.
Religious activities were also suspended, tourist attractions were ordered to operate at half capacity, and visits were banned at retirement homes.
The restrictions come as China celebrates the mid-moon festival and ahead of the National Day golden week holiday starting on 1 October, a time of increased travel and social interaction.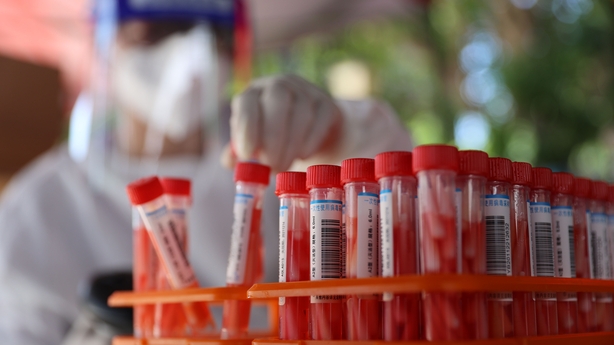 China reported 72 new confirmed coronavirus cases in the mainland for yesterday, down from 49 a day earlier, with the latest cluster of infection in the southeastern province of Fujian, according to National Health Commission data.
China has brought under control several clusters of infection since late July, driven mainly by the highly transmissible Delta variant of the new coronavirus.
That was achieved by swift contact tracing and locking down areas deemed high-risk, even when only a handful of cases were detected.
In cities where most infections were found, multiple rounds of testing on local populations were undertaken and travel restrictions imposed.
Amid official denials, Nicaraguans battle Covid surge
In Nicaragua, governed by Daniel Ortega, official coronavirus figures do not reflect the reality of a population scrambling to find oxygen tanks for stricken loved ones.
The government insists there is no shortage of hospital beds and says the pandemic has killed 201 Nicaraguans out of a population of 6.5 million.
But observers and residents paint a different picture.
A network of independent doctors, Observatorio Ciudadano, says more than 4,500 people have died with Covid-19-like symptoms, and lists at least 25,150 suspected cases - almost double the government's official figure of 13,206.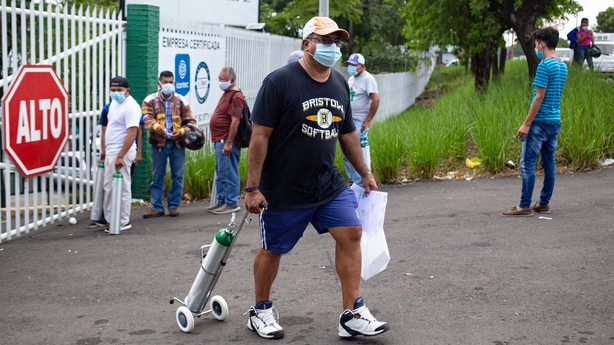 Mr Ortega, who since June has arrested dozens of opposition candidates ahead of 7 November elections in which he will seek a fourth consecutive term, dismisses these numbers as "pandemic terrorism".
Last Wednesday, the Pan American Health Organization (PAHO) said that despite a lack of "official figures to allow a proper analysis" there were "other sources indicating high demand for health services, particularly hospitals" in Nicaragua.
The Catholic Church said that among its ranks alone, 16 priests have died of the virus in Nicaragua to date, most of them this year.
The PAHO said it had received reports of "high transmission, that is an increase in the number of cases - also in children and teenagers - both in terms of hospitalizations, suspected and confirmed cases, and deaths".
Oxygen tanks have been in short supply for weeks, and from all corners of Nicaragua, people flock to the capital to try and acquire some of the precious gas for loved ones they say they have no choice but to treat at home.
Taxi driver Julio Larios traveled 180km from Leon in the country's west to Managua only to be told after a long wait that there was no more oxygen.
"I will queue and hope by some miracle that another tanker comes today," he said.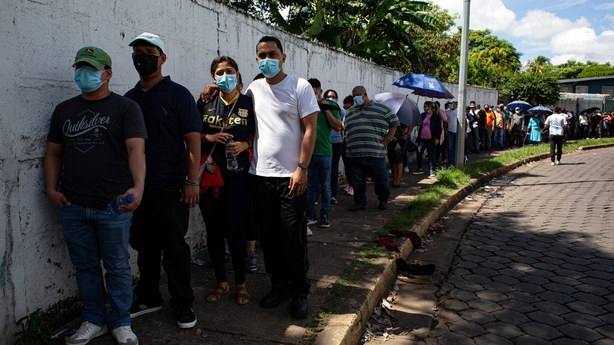 Francisco Montenegro, who has taken in both his parents stricken with Covid-19, is also in an oxygen queue.
He laments the lack of containment measures to brake the spread of the pandemic.
"In the streets, in the bus, everywhere there are people not wearing masks," he told AFP, and blamed Nicaragua's Covid-19 resurgence on the amassing of "crowds" despite low rates of vaccination.
Unlike other countries in Latin America that have also experienced infection surges, Nicaragua has never had a coronavirus lockdown.
Sporting events, large religious gatherings, fairs and dance parties have continued throughout the epidemic, often gathering thousands together in enclosed spaces, and without strict mask protocols.
Mr Ortega has insisted that if the country "stops working ... it will die of hunger".
A million Nicaraguans, according to the central bank, make ends meet through informal employment.
To date, Nicaragua has administered at least one dose of a coronavirus vaccine to only 523,000 of its residents - all over the age of 45 or falling into vulnerable groups of people battling cancer or other diseases.
The government intends to complete vaccination of this group by next month, as well as 30% of those over the age of 30 - for whom the campaign started Monday.
Nicaragua's health authorities have in recent weeks been urging people to respect voluntary counter-infection measures such as mask-wearing, social distancing, and regular hand-washing.
Health personnel are travelling around the country, making home calls to detect suspected cases.
For its part, Observatorio Ciudadana urges Nicaraguans with Covid-19 symptoms to voluntarily self-isolate to avoid a "collapse of the hospital system".