The Department of Health has been notified of a further 1,394 confirmed cases of Covid-19.
Latest figures released by the department shows that the number of people hospitalised with the virus now stands at 321, which is up six since yesterday.
Of these patients, 58 are in intensive care, which is down one since yesterday.
Chief Medical Officer Dr Tony Holohan has urged people to be aware of the symptoms of Covid-19, urging people to isolate if they experience any, regardless of how mild they are.
"The awareness of Covid-19 symptoms, and what to do if you experience them, is extremely important.
"The symptoms for adults and children include fever, cough, shortness of breath, loss of taste or smell, runny or blocked nose, nausea, vomiting or diarrhoea, aches, fatigue, sore throat, headache.
"Regardless of how mild symptoms may be, we ask that you isolate if you experience any of them and contact your GP.
"Do not go to school, the workplace or socialise if you or your child exhibits Covid-19 symptoms."
The figures come as the HSE has said there are no immediate plans to change the system of mass testing for Covid-19 in Ireland.
Chief Clinical Officer Dr Colm Henry confirmed that a discussion paper has been submitted to the National Public Health Emergency Team (NPHET), highlighting the need for a more focused testing regime in the months ahead.
The paper authored by Prof Martin Cormican, the HSE's leading expert on infection control, was submitted to the team in late July. Dr Henry confirmed the document suggested a move towards a more selective testing regime as the pandemic evolves.
There are no plans currently to change the Covid-19 testing regime, Dr Colm Henry has said.

He added that NPHET is looking at the transition from a pandemic to an endemic as the vaccination programme takes hold | Read more: https://t.co/W56zDLVwlT pic.twitter.com/iiLzJP2eUo

— RTÉ News (@rtenews) September 13, 2021
"Unbelievably within one year we have vaccinations which have proven remarkably effected at reducing serious illness and also effective in terms of protecting health care systems and that gives us choices," he said.
He added: "What we are doing now is imagining what the transition from a pandemic stage to an endemic stage where this disease is no longer considered exceptional but part of a profile of other seasonal viruses."
Dr Henry said the transition will depend on case numbers, the positivity rate, the impact on hospitals and intensive care units and on vulnerable groups.
"These are measurements we are continuously watching all the time and are showing some signs of stability in recent weeks," he said.
In the event of moving to an endemic stage, Dr Henry said they would be looking at focused testing in outbreak settings.
However, he said "it is some journey yet" before NPHET gets the assurances from the figures that the country is beginning to transition from a pandemic through to an endemic - a disease that is at a background level with other seasonal diseases in society.
---
Read more:
Latest coronavirus stories
---
Asked about the spread of Covid-19 among children, he said he understands people's fears but their experience is that transmission within the classroom has not been a big factor in the spread of Covid-19 and the majority of schools have remained open with minimum disruption up until the summer of this year.
He said he accepts that more outbreaks in school settings are likely, but NPHET has to balance that risk against the risk to children through the disruption to their education.
"Covid-19 is not a serious illness in children. Of the 1,700 cases we have had in intensive care since the beginning of this pandemic, less than 30 has been amongst this age group."
Earlier, Dr Henry told RTÉ's Today with Claire Byrne programme that case numbers are still high but that the link between cases and harm is falling.
He said the country was entering a different scenario in relation to Covid-19 as a result of the vaccination drive and take up and this "may open up choices".
The policy of "chasing down cases", he said, will continue because there are still high levels of cases.
However, he added, that some stability is being seen in cases with the five day moving average 1,200 - 1,400 cases a day while there is some sense of stability in the number of hospital cases as well.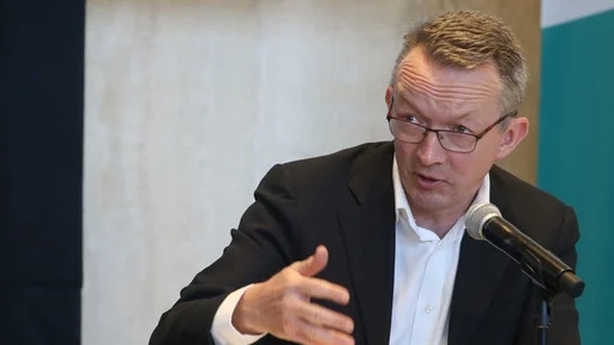 In addition, the number of new cases a day are falling slightly and falling in all vaccinated age groups.
He said he is aware of the secondary effects of the measures that had to be implemented as a result of the pandemic.
Dr Henry said the HSE would like to see even higher take up of vaccination, particularly among the younger population.
Meanwhile, the World Health Organisation's special envoy on Covid-19 has said that the virus is here to stay and the way it behaves is remarkably unpleasant, forming surges of disease that build up in particular places often without warning.
Speaking on RTÉ's Six One, Dr David Nabarro said that living with it means learning to deal with it and that means keeping it at bay and not letting it overwhelm us.
This requires governments to work together and people to work together and there is a tough job ahead, he said.
Dr Nabarro said that for now, people need to able to access reliable testing quite easily and that the data from these tests is collected and used to help gain an understanding of where the virus is.
There is no other way of measuring this, he said, and for the moment testing should continue at present levels. Dr Nabarro said that testing of whole populations should also be done to give an idea of the overall trend of what the virus is up to.