"To play the piano here is an amazing opportunity, because it is part of my therapy," says Nelson Aguilar, a volunteer at the Covid-19 vaccination centre in Citywest, Dublin.
He is one of around 30 people who volunteer during the week to play a piano which was put there in May.
After its installation, a call out for volunteer pianists was made, and Nelson signed up when he saw a post about it on Facebook.
"I thought that's an amazing place. I could do that. I could play the piano for all the people who need to listen to music."
However, there were also more personal reasons behind Nelson offering his services at the centre. In June of last year, his father died with Covid-19, and he was unable to return home to Bolivia for the funeral.
Nelson says that for him, playing the piano at the centre helps him grieve his loss.
"I thought by myself that it was important to honour my father because he passed away last year because of a heart attack and Covid-19 as well," he says.
"And that's the main reason. That's why I am here playing the piano for these amazing and lovely, lovely people."
The idea for the piano came from workers at the centre who are musicians.
Tricia Nolan, Manager at South Dublin County Volunteer Centre, says that she was reflecting on the quietness at the centre with her colleague Fiona Sweeney, who also worked as a musician before the pandemic.
Tricia says that she was inspired after seeing videos of American cellist Yo-Yo Ma playing at vaccination centres in the US. "I just thought that it was a beautiful idea," she says.
"So we were having a bit of a banter with the Chief Operations Officer, Phil O'Neill, here one day, saying it would be lovely to get a piano in and that I play it. She said she thought it was a great idea."
When the piano was first brought in, Tricia began playing it. Then the husband of another volunteer joined and played music there for the first time in public.
"And that's where it started," Tricia says.
The piano has proven to be a welcome distraction for people queuing at the centre, and Tricia says positive feedback from members of the public has been "overwhelming".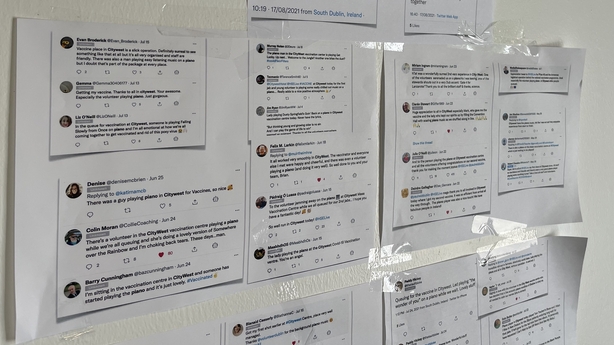 Words of gratitude are documented above the piano at the centre, with printouts of various Twitter posts all praising the volunteer pianists.
"The lady playing piano non-stop in the Citywest vaccination centre is the glue holding this country together," one tweet says.
Another reads: "There's a volunteer in the Citywest vaccination centre playing a piano while we're all queuing and she's doing a lovely version of 'Somewhere Over the Rainbow' and I'm choking back tears. These days…man."
Joan Dempsey, who works as a music teacher for Music Education Wicklow, says she began volunteering once a week from early June, at the start of the school summer holidays.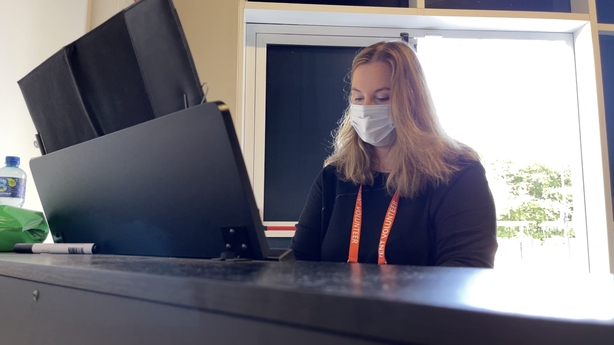 While members of the public benefit from the music as they queue for their vaccine, Joan says that she plays the piano for the staff at the centre as well.
"I have to say, the staff have been so appreciative. And they just seem to be lovely."
"There seems to be a lovely atmosphere here within the staff. So I play for them as much as I do for the people being vaccinated.
"And really lovely reactions from the queue of people as well, I get the thumbs up or a bit of applause. It's difficult with masks to be smiling at people and really communicate, but there seems to be a lot of positive feedback in general."
Hendrik Van der Kamp volunteered after he received both his vaccinations at the centre.
Originally from the Netherlands, he has been living in Ireland for over 40 years. He says that seeing the piano being played while queuing had a calming effect on him.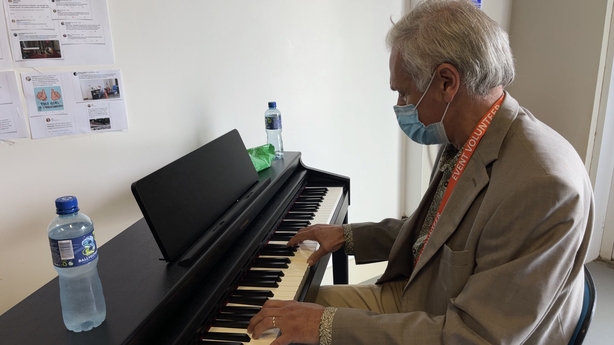 "It seems to be important for all of us that we are calm in these strenuous times and the fact that live piano, which has almost disappeared now from daily life, has such an effect and Tricia Nolan has brought it back to us here in the centre. I think the response teaches us a lot about the value of live music and people's emotions," he says.
Hendrik says that volunteering at the centre and seeing the scale of the operation has been an emotional experience.
"I think it's something that we will all remember in years to come."
That is certainly the case for Nelson, who is determined to strike a chord with his vaccination centre audience.
"I have been trying to overcome the pain," he says.
"I watched the funeral for my father through Zoom. I never, I never thought about that. To see my father online, a funeral online.
"But at the end, I understand God has interesting plans and playing the piano here is an amazing opportunity, because it's part of my therapy.
"And I'm trying to do that with all of my heart, giving all of my best for these people because Ireland was my home in tough times."