The Minister for Health has said it was a Government decision to allow the return of public transport to full capacity and was not based on a National Public Health Emergency Team recommendation.
Public transport is operating at 100% capacity across the country, as the Government implements a phased plan to lift most Covid-19 restrictions by 22 October.
Face masks remain a mandatory requirement on all public transport.
Stephen Donnelly said Minister for Transport Eamon Ryan was keen to see a full return of services, as the restrictions in place were putting pressure on transport networks.
Speaking on RTÉ's Morning Ireland, Mr Donnelly said he fully supports the decision.
'It's not a public health recommendation' - Minister for Health @DonnellyStephen says the decision to return public transport to full capacity was taken by Cabinet due to the 'pressure' capacity restrictions were placing on the transport system | More: https://t.co/HI6W714gf7 pic.twitter.com/UKfV2nCngK

— RTÉ News (@rtenews) September 1, 2021
"It is a good plan, but there are risks. I would ask anyone who is still thinking about getting vaccinated to please, please get vaccinated," he said.
The minister said Ireland has one of the highest rates of Covid-19 in the EU and said he is concerned about the serious spikes being seen in Northern Ireland, Scotland and Wales as they reopened.
He said this must be avoided in the Republic.
Mr Donnelly said there is no one measure that would force the Government to reverse the timetable on lifting restrictions, but a comprehensive view of the situation will be taken in October.
---
Read more:
At a glance: Key dates and the start of the 'new normal'
Latest coronavirus stories
---
'Its a good plan, but its not without risk,' Minister @DonnellyStephen has said after the announcement that nearly all Covid restrictions will end by 22 October.

He said the Govt are trying to find a 'cautious path' to reopen society | Read more: https://t.co/HI6W714gf7 pic.twitter.com/Cg3lpAf14d

— RTÉ News (@rtenews) September 1, 2021
The minister said NPHET presented four potential models to the Government last week, with the most optimistic modelling predicting that things will improve relatively quickly, while three other models predicted Covid-19 cases continuing to rise until mid October before stabilising.
With this in mind, he said, the Government chose 22 October as the right time to lift restrictions, which allows time to examine the impact of schools reopening and people returning to the office, while 90% of people over 16 should be vaccinated by then.
Mr Donnelly said it is really important that people do not let their guard down, but continue to practice the basics and follow public health advice such as mask wearing.
He said he hoped that lockdowns are over but warned that Covid has "torn up global plans many times", and that his two big concerns are the rates of the Delta variant, and the possibility of a new variant emerging.
The minister also said that it is likely that the All-Ireland football final on 11 September will see capacity in Croke Park at 50%, which would see 40,000 spectators attend.
He added that with such high numbers of vaccination in the population, it is likely the vast majority of those who attend will be vaccinated.
Meanwhile, Health Service Executive CEO Paul Reid said there is a "huge sense of positivity everywhere, which is good for mental health".
In a post on Twitter, he said: "Everyone has made sacrifices to protect our health service. We appreciate it.
"Covid hasn't been eliminated and if we can live our lives with caution, we can ensure society and the economy moves on."
A huge sense of positivity everywhere, which is good for mental health too. Everyone has made sacrifices to protect our health service. We appreciate it. Covid hasn't been eliminated & if we can live our lives with caution, we can ensure society & the economy moves on. @HSELive

— Paul Reid (@paulreiddublin) September 1, 2021
Further easing of restrictions in September
From next Monday, live indoor events and large outdoor gatherings will be permitted.
All religious ceremonies can also proceed, albeit with some capacity restrictions.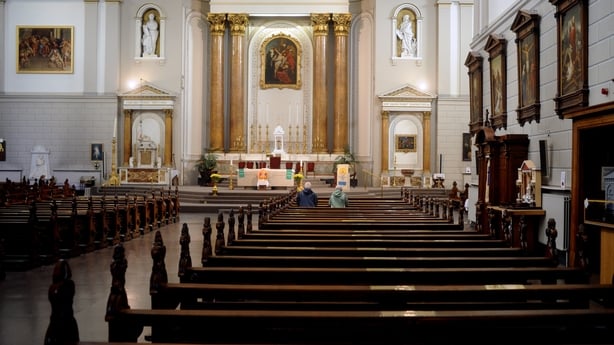 Monday 20 September signals the return to the workplace, on a staggered but yet to be finalised basis, along with a return of other indoor activities including sports and arts events, and dance classes.
Most remaining restrictions will be lifted on 22 October which will see nightclubs being reopened, the ending of limits on wedding numbers, and any requirement for physical distancing.
The Event Industry Alliance, which represents workers in the commercial events sector, said the easing of restrictions was a step in the right direction but called for full audiences of vaccinated patrons to be able to attend shows as soon as possible.
It also said business and employee supports will be needed into 2022 to help the industry fully recover.
Taoiseach Micheál Martin has said the country is taking an important step forward, but warned that the coalition will not be slow to respond if there are significant increases in infections here.
Demand for public transport set to increase
The CEO of the National Transport Authority (NTA) said she believes there will be a gradual return to full capacity on public transport.
Speaking on RTÉ's Morning Ireland, Anne Graham said there are some busy services at peak times, but these are not at 2019 levels.
She said she expects to see demand for services increasing over the coming week as children return to school and more people return to the workplace.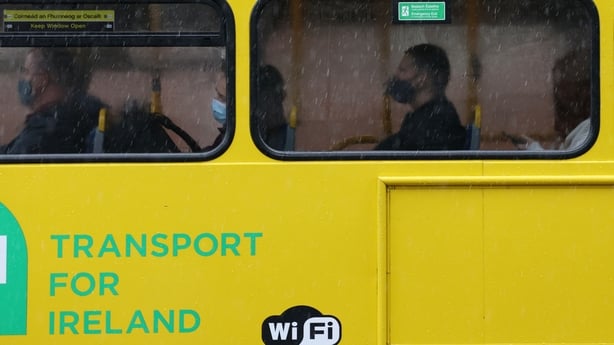 Passengers are asked to leave windows open on buses, Ms Graham said, adding that the frequent opening of doors on buses means there is a good regular exchange of air.
She said buses and trains do not have the capacity to check CO2 levels, but the NTA has been assured the ventilation systems are adequate on these modes of transport, including closed systems such as trains.
Passengers are urged to reduce any risk associated with Covid-19 by continuing to use Leap cards and to minimise contact.
Vulnerable staff members with concerns about the return to full capacity can always raise concerns with their employers, Ms Graham added.
€4bn spend on health service 'absolutely essential'
Social Democrats co-leader Róisín Shortall welcomed the Government's announcement of a timetable for further reopening but said that the next seven weeks will determine what happens on 22 October.
She said the increased €4 billion spend on the health service remains "absolutely essential" given the record waiting lists for procedures and out patients supports.
Speaking on the same programme, she also said there is also a very significant wave of mental health issues expected given the "very destructive impact" of the pandemic.
Deputy Shortall said: "People have been through illness, bereavement, unemployment, isolation and anxiety and that has had a very destructive impact".