There was an extra pep in the step of those taking part in 'Zumba with Louise' class in Mount Merrion in Dublin this morning, with the news that from 20 September, they will be allowed to return indoors.
It is good timing, just before the colder weather sets in. Pupils and teacher are thrilled.
"I'm delighted," says instructor Louise Heatherwick.
"We did it outside all through winter last year. We were down here with hats, gloves, scarves and thermals on.
"But now we're all delighted to be able to go back inside."
For her, the move indoors means there will now be certainty that her classes will be able to go on and not be postponed at the last minute due to the weather.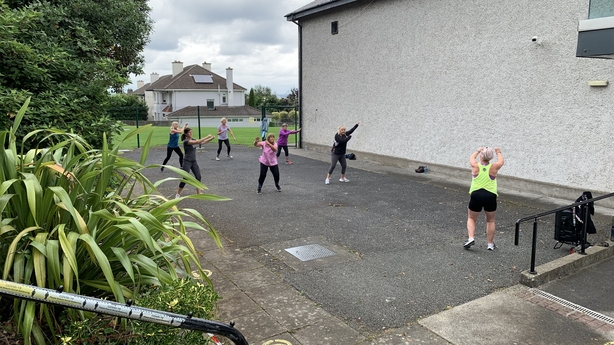 She says her business has suffered badly in the last 18 months.
"It's more or less been a write-off," she said.
"I used to have ten classes every week and it just dropped down."
Now she is looking forward to the future and the boost today's news has had. It is shared too by those in her class, including Mel Reed.
---
Read more:
Cabinet agrees to end almost all restrictions by 22 October
164,000 children aged 12-15 have registered for vaccine
---
"I'm really looking forward to it," she said.
"We're a small group and at least we can guarantee that we will be back in there doing Zumba every week, which is what we love."
'A tough year'
It is a similar story across the city in Fairview's Viva School of Dance.
Founders of the school, Marcin Szymutko and Ksenia Yanchenkova are thrilled that they can, once again, open their studio to their students.
They have had their fill of Zoom lessons and cannot wait to get back to in-person teaching.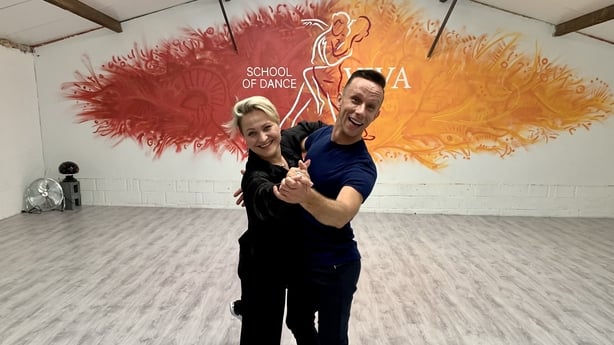 "The last year-and-a-half has been very tough for the school," says Mr Szymutko.
"We haven't seen many students in person. We did a lot of online classes but nothing beats face-to-face communication," says Ms Yanchenkova.
"Now we have a date. It's great seeing students coming through the door, enjoying themselves, laughing and smiling and learning a couple of steps."
A welcome announcement
After-school groups will also be back indoors from next month - a welcome development for the estimated 200,000 plus children who take part.
At the Mel Ryan School, which teaches dance and drama, along with other life skills, the owner can't wait to welcome back the kids after a rough year.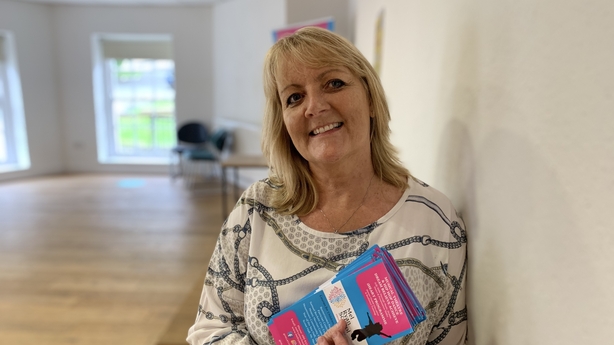 "It's been challenging enough, not so much for me, but for the children because they've missed out on so much valuable developmental time, emotional, intelligence education, communication skills, confidence building. They've missed out on all of that," said Mel Ryan.
The school caters for those aged 3-17. Pre-Covid, it had 500 children on its books.
''I've had parents phoning me every day talking about their children suffering from anxiety, particularly the teenagers. My heart goes out to them," she said.
"I had a parent on to me yesterday talking about their six-year-old whose verbal communication has deteriorated and has now developed a stammer. So, there's an awful lot going on that you might not realise."
Fifteen-year-old Chloe McWilliams has been attending the Mel Ryan school for many years and is keen to get back.
"I've really missed all my friends," she said.
"It'll be very exciting just to go back in and dance and do drama again.''
'Mad keen to get going'
Sport facilities will be getting ready too, after over a year of quiet, as 20 September is a key date for all those who take part in indoor sports.
"It's been quiet," said Eoin Ryan, squash coach at the Sutton club in Dublin.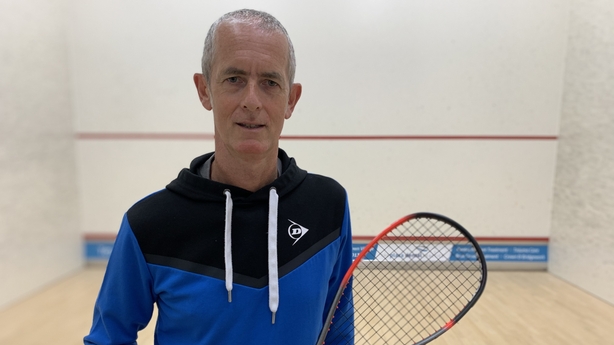 "We're mad keen to get going. The last 18 months have been non-existent.
"The kids have missed it an awful lot. Hopefully we get them all back."
And that is the worry for many sport coaches: Will the same number of players return to their sports once the restrictions end?
"The seniors will probably be a bigger worry, the juniors I think will come back pretty quickly," he said.
"The seniors, the older people, if they haven't done much for the last 18 months, there's injury worries, and maybe they've got into other sports, but that's the challenge."
For many, 20 September can't some soon enough.