The proportion of pregnant women who need intensive care treatment for Covid-19 is "worrying", according to the chair of the Institute of Obstetricians and Gynaecologists.
Consultant Obstetrician at the Coombe Hospital in Dublin Dr Cliona Murphy said that around 10% of patients in ICUs with Covid-19 are pregnant women and while the absolute numbers are not high, "they are worrying to us."
Speaking on RTÉ's News at One, Dr Murphy said: "Even as our ICU numbers dropped, the proportion of those ICU admissions were pregnant women and this raised red flags.
"In the six weeks that we have been reporting on, from the end of June to August, we saw the proportion of hospitalised cases at 4%, which is more than one would expect from the population and the proportion in ICU almost 10% or 9.4%."
She said some of these women require emergency premature delivery.
"When they do get sick, they have a higher chance of being hospitalised and when they're in hospital they have a higher chance of going into ICU."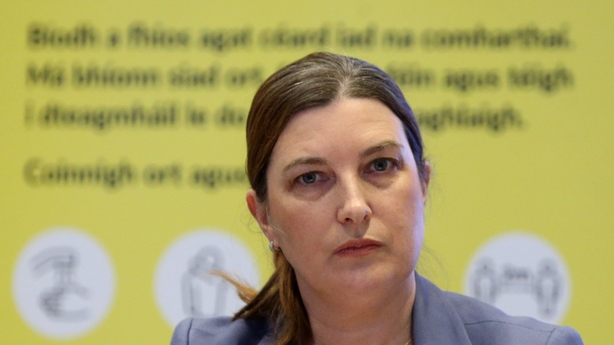 She said that "fit and healthy pregnant women shouldn't be in ICU as a general rule, and what we see when a pregnant woman goes into ICU is often, they're 28, 30 32 weeks, so they have a large tummy with that extra weight.
"They're more difficult to ventilate or to assist with breathing, so often with very sick women they have to have their babies delivered by emergency cesarean section, those babies then have all the complications of prematurity and those mums unfortunately often don't meet their babies initially.
"So, it's a huge, huge trauma for those women, their families and their extended family, and also for the healthcare staff looking after them."
As of this morning, there were 331 patients with Covid-19 being treated in hospital and 61 of these are in ICUs.
---
---
Dr Murphy said most of the pregnant women who become very sick are unvaccinated, adding, "I haven't heard of any case that's been vaccinated".
She said: "In the beginning, when we had Covid in 2020, we were almost expecting to see more sick pregnant women, and luckily we didn't so it appeared to be really mild in the first and second wave for pregnant women."
But that has changed and "we're seeing an uptick in the last few weeks."
Dr Murphy said the majority of those pregnant women who end up in ICU do not have underlying conditions.
"Obviously some might be a little bit overweight, but these are not transplant patients, these are not people you know that we've considered to be clinically vulnerable, they're not high risk in a medical sense.
"In general, they are women who are pregnant, maybe in their 20s, have other children at home and ordinarily I would think that they are fit and healthy.
"Their vulnerability is the latter stages of pregnancy," she said and that the vaccine is the "best protection" for a pregnant woman.
Dr Murphy said she encourages her own patients to get a vaccine and for those who have not, or who are ambivalent, I tell them vaccine is their best protection.
She added: "Some have concerns about is that the right thing for the baby and I'm saying that a vaccinated woman will provide antibodies that will go to the baby and protect the baby after it's born, so that's another thing to reassure people."