An ongoing rise in Covid-19 case numbers could impact on elective and delayed procedures in hospitals, with bed capacity reducing in recent days, the Heath Service Executive's Chief Operations Officer has said.
Anne O'Connor said there has been a significant increase in the admission of Covid-19 positive patients to hospitals since Saturday, rising from 259 patients then to 318 today, which is the highest figure since 29 March.
There are 60 patients with coronavirus in ICUs, an increase of one on the same time yesterday.
It is the highest figure since 6 April.
Yesterday, the Department of Health was notified of 1,688 new cases.
Speaking on RTÉ's News at One, Ms O'Connor said there is a concern around growing numbers in hospital and intensive care units, and "the system is coping...but it's not without its challenges".
Ms O'Connor said that there are 157 available acute beds across the hospital system, with fewer than five beds available in some hospitals.
She said: "We are running it on a very tight line and... if we see an increase in Covid numbers, that will impact on our ability to bring those other people in".
She said that the priority remains to deliver delayed care and procedures, while planning for a busy few weeks ahead.
She said: "We don't want to cancel procedures as we are acutely aware of the waiting lists growing... but there may well be occasions where people get called [to cancel].
"Our priority is to get people back in and provide those serious procedures that people need."
---
---
Ms O'Connor said the emergence of infections, including RSV and para-flu in children, is combining with Covid-19 to lead to the emergence of "an early winter" in the system.
She said the majority of people in hospital who are Covid-positive have been admitted because they need care for Covid symptoms.
President of the Intensive Care Society Dr Colman O'Loughlin said that approximately 60% of Covid-19 patients in the Mater ICU are unvaccinated.
Speaking on the same programme, he said that he was particularly concerned at the infection levels among pregnant women.
There have been cases of emergency Cesarean sections being carried out to protect loss of life in both mother and baby, he said.
Dr O'Loughlin said the country is facing a new chapter in the fight against the infection, which will not be based on restrictions, but will be entirely based on vaccination success.
He added that this is unknown territory and "we don't know where we are with that".
Vaccine key to overcoming Delta variant - Nolan
People are being urged to come forward for a Covid-19 vaccine to help overcome the spread of the Delta variant.
The chair of the National Public Health Emergency's Team's Epidemiological Modelling Advisory Group Professor Philip Nolan said while Ireland is well on target to have over 90% of the population vaccinated by the middle of September, "we have not yet reached the level of vaccine protection that we would like to have".
Almost 6.6 million vaccines have been administered to date, with around 85% of adults fully vaccinated and 91% partially vaccinated.
Speaking on RTÉ's Morning Ireland, Professor Nolan said that infections in this wave should start to decline from mid-September, after which the risk of catching or spreading the disease should reach the lowest point to date.
Prof Nolan said restrictions will "fall away" but a fundamental shift in behaviour where people continue to self-isolate if symptomatic is required.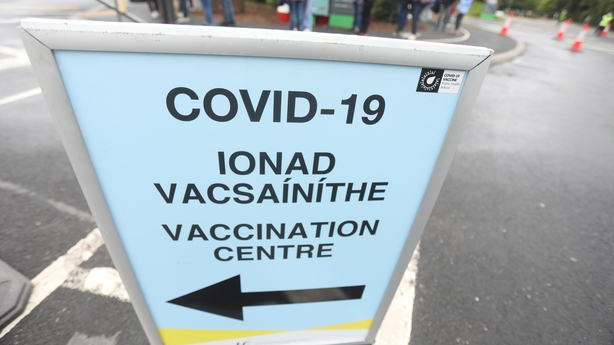 He also said that "we have to prepare a plan to remove remaining formal restrictions over time", while retaining the key measures of mask wearing and social distancing.
He said hospitalisations and the numbers of patients in ICU are expected to increase over the coming two to three weeks, adding that since April there were almost 200 admissions to ICUs, three quarters of which were among people who were not vaccinated.
Prof Nolan said that 19 out of every 20 of these patients had no vaccination or were partially vaccinated and the vast majority were eligible for vaccination.
He said only 5% of those admitted to ICU were 14 days out from their second vaccine.
He said there has been a small number of young people aged under 45 admitted to ICU and have required "a difficult course of intensive care".
Prof Nolan also said that the reopening of schools is a priority and a "near-normal" return to schools is envisaged, but that mask wearing will be required.
At third level, he said, some online lectures for larger classes will continue, but in-person teaching will return in many instances.
Ireland in 'tricky' phase of pandemic
Meanwhile, an infectious disease consultant at St Vincent's University Hospital in Dublin has warned that Ireland is now in a "tricky" phase of the pandemic and blanket decisions on reopening society will be difficult as not all activities carry the same risks.
Dr Paddy Mallon said there is sense in the Government's approach of seeking to maximise the benefit of vaccinations before deciding to ease restrictions further, but "at some stage we have to move on to the next step" of easing restrictions so that society can progress.
Speaking on RTÉ's Today with Philip Boucher-Hayes, he said the people who are getting sick with the virus now are those who have chosen not to get vaccinated or people with underlying health conditions who remain vulnerable despite vaccination.
Dr Mallon said this is the reality of what people are going to be living with in the months ahead.