The Government has been accused of "apathy" around the implementation of support structures for nursing home residents and staff following Covid-19.
Nursing Homes Ireland (NHI) said that key structural reforms to ensure lessons are learned from the pandemic have not been advanced.
The national representative body for the private and voluntary nursing home sector has made the claim one year since the publication of the Covid-19 Nursing Homes Expert Panel report.
The panel was established in May last year by then Minister for Health Simon Harris, following a recommendation by the National Public Health Emergency Team.
Early that month, deaths from coronavirus associated with nursing home residents accounted for almost 53% of total deaths.
The panel was tasked with delivering recommendations about what could be learned from the pandemic and the ongoing protection and support for nursing home residents.
The Expert Panel Report on Covid-19 and nursing homes report made 86 recommendations to safeguard residents in nursing homes over the following 12-18 months and "into the longer term".
It suggested that staff employed by such homes be precluded from working across multiple sites for the duration of the pandemic.
It also said adequate single-site employment contracts should be put in place to support the measure.
To coincide with the anniversary of the publication of the expert panel report, NHI has published another report carried out by the consultancy firm Accenture.
It engaged "key stakeholders" to assess the structural and sectoral challenges required to deliver the recommendations and system-wide transformation in care for older persons.
It has identified three themes that it says requires "State redress and prioritisation" if nursing home care is to "undertake the transformation required to implement real reform required post Covid-19".
---
---
The themes centre around integration, workforce and resourcing.
On integration it said the coronavirus highlighted access to community care services for nursing home residents as inconsistent, fractured and unstructured.
It has called for an "updated integrated model of care" to ensure nursing home residents have access to community care services that are vital to support their health and social care needs.
On the workforce it said that the challenge of private and voluntary nursing homes "losing" staff to both the wider healthcare system and other sectors needs to be addressed within a comprehensive nursing home workforce strategy.
The strategy needs to concentrate on attracting and retaining staff within gerontological care and to ensure appropriate staffing mixes are maintained to support high quality resident-centric care, the report stated.
It also said recruitment and retention, education and training, and options for career development within nursing home care urgently require a dedicated strategy.
When it comes to resourcing, the Accenture report said that over a five-year period from 2015 to 2020, operating costs for nursing homes have risen by 37.6% while Fair Deal rates have increased by 11.12% over the same period.
It said a model that ensures funding is based on an assessment of resident needs and dependency levels has long been ignored and must be brought into effect to reflect the rising costs to deliver high-quality, person-centred, specialised care in nursing homes.
NHI said calls from the nursing home providers - who are tasked with the implementation of 40 of the 86 recommendations - for the resources required to be put in place have been largely ignored to date, with many of the medium to longer term recommendations now stagnant.
NHI said "much remains still to be achieved by Government within the remaining six-month lifespan for recommendations to be implemented".
As of 9 March 2021, 4,160 deaths from Covid-19 were recorded in Ireland, with over 92% of those deaths in the 65+ age group.
15-20 Covid outbreaks in homes - NHI
Nursing Homes Ireland has said there have been between 15 and 20 Covid-19 outbreaks in nursing homes.
It has acknowledged these are not official figures from the Health Service Executive/Health Protection Surveillance Centre, but information it has received from providers.
There are 576 registered nursing homes in Ireland of which 440 are private or voluntary homes.
NHI said the outbreaks are in public, private and voluntary facilities.
While it acknowledged it is "a very small number", NHI said it presents "notable concern" and coincides with an increase in the number of cases in the community.
The organisation noted that coronavirus vaccines have offered residents highly effective protection, with the symptoms associated with positive cases generally being mild and not life-threatening.
"We are engaged with the Minister for Health and Public Health with regard to the rollout of booster vaccine. There is a requirement to commence as a priority and expedite Covid-19 booster vaccination for nursing home residents and staff given the ongoing challenges," NHI added.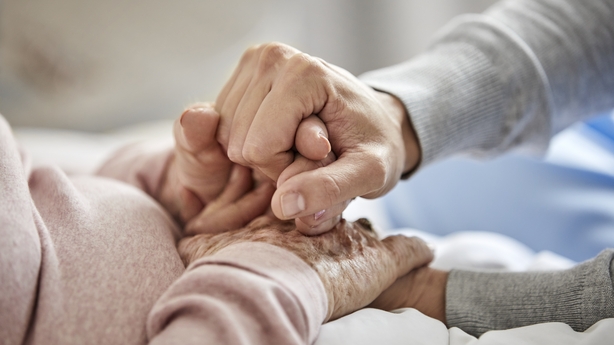 Primary responsibility lies with operators - Dept
The Department of Health has noted that in the first instance, the primary responsibility for the provision of safe care and service to nursing home residents rests with individual nursing home operators.
It said registered providers must provide appropriate medical and health care, including a high standard of evidence-based nursing care in accordance with professional guidelines.
It also said registered providers have a legal obligation to ensure that their service has sufficient resources to ensure the effective delivery of care in accordance with its statement of purpose.
In a detailed statement, the Department said support for nursing homes over the last number of months has included enhanced HSE engagement; multidisciplinary clinical supports at CHO level; a supply of precautionary and enhanced PPE and a serial testing programme for all staff of nursing homes.
It says that where possible, there has been access to staff from community and acute hospitals. Approximately 8,500 staff were redeployed to nursing homes during the period May 2020 to March 2021, according to the department.
It also notes there was a "suite of focused public health guidance and training resources and temporary accommodation to nursing home staff" to support measures to block the chain of transmission.
The department notes that a Temporary Assistance Payment Scheme as established in April 2020 as a temporary, administrative measure to contribute towards costs associated with Covid-19.
The scheme closed at the end of June 2021.
However, the outbreak assistance component of the scheme continues to the end of the year as a contingency measure. To date, approximately €117m has been paid to private and voluntary nursing homes under the scheme, according to the department.
On the progression of work relating to the recommendations of the expert panel report - particularly those recommendations requiring a priority focus in the response to Covid-19 - it says this is ongoing across health agencies and stakeholders.
It says the recommendations of the Nursing Home Expert Panel (NHEP) report are "varied and complex", are both short, medium and longer-term in nature, and require a mix of ongoing operational response to the virus and a longer-term strategic reform.
The department says those strategic reforms are, by their nature, complex and relate to whole of system issues.
"It is important to note that any such reforms require careful consideration and substantial policy development work. In the case of some recommendations, substantial legislative reform may be required, something that must be approached in a measured and considerate way, to ensure reforms are delivered as intended".
The department says significant progress has been made across the health agencies in progressing the implementation of the recommendations, including progress on the shorter-term actions and on progressing the necessary developmental work on longer-term strategic reform actions.
Reform needed as well as investment - IASW
Additional investment in the sector must be accompanied by reforms, according to the Irish Association of Social Workers.
This according, to the association, will ensure that individual nursing homes are fully accountable to the people who live in them.
The IASW has advised the Government that social workers are "unable to adequately safeguard the rights of residents when abuse or harm occurs within the current system".
It says the pandemic has simply placed a spotlight on these long-standing systemic failings in our nursing home sector.
The association has called for the introduction of safeguarding legislation and strengthened regulatory powers to ensure that residents rights are protected.
"While many nursing homes provide excellent standards of care, this is not a universal experience," according to the IASW.
It says the Government's "hands off" approach to governance and oversight of nursing homes remains a significant concern for social workers.