Officials in New Zealand have said that an additional four cases of Covid-19 have been confirmed in the country overnight, including an Auckland hospital worker, after its first locally transmitted case in six months was recorded earlier.
It takes the total number of confirmed cases in the country to five, a government spokesman confirmed.
All cases have now been confirmed as the Delta variant and are linked to the original case recorded.
New Zealand's first local Covid-19 infection in six months was reported earlier, and a snap lockdown ordered for the entire nation.
All of New Zealand will be in lockdown for three days from tomorrow while Auckland and Coromandel, a coastal town that the infected person had also spent time in, will be in lockdown for seven days.
Imposing its toughest level 4 lockdown rules, schools, offices and all businesses will be shut down and only essential services will be operational.
"The best thing we can do to get out of this as quickly as we can is to go hard," Ms Ardern told a news conference.
"We have made the decision on the basis that it is better to start high and go down levels rather than to go low, not contain the virus and see it move quickly," she said.
The last reported community case of Covid-19 in New Zealand was in February.
Officials have said the latest outbreak has no obvious connections to the border, and investigations to determine its origin are ongoing.
---
---
New Zealand has followed a go-hard-and-early strategy that has helped it virtually eliminate Covid-19 domestically, allowing people to live without restrictions although its international borders remain largely closed.
The country has reported about 2,500 confirmed cases of coronavirus and 26 related deaths.
Sydney set for 'substantial' rise in cases
Covid-19 cases are set to "rise substantially" in Sydney in the coming weeks despite a prolonged lockdown, authorities there have said, warning soaring infections have already put hospitals under enormous strain.
Australia, once a world leader in curtailing Covid, is struggling to suppress a third wave of infections driven by the highly infectious Delta variant despite locking down more than half its population.
New South Wales state, whose capital Sydney is the epicentre of the latest outbreak, reported 452 cases in the past 24 hours, the third-biggest one-day jump, and one new death.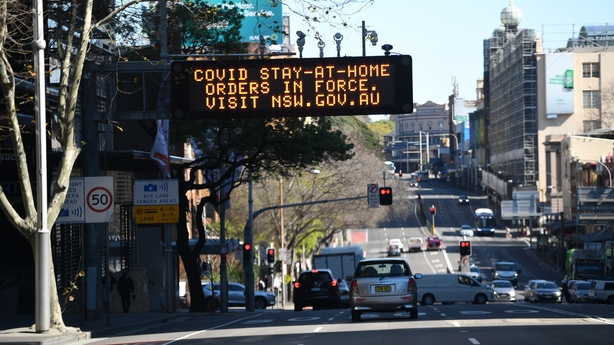 "We envisage that case numbers in the next two or three weeks will bounce around and are likely to rise substantially," NSW Premier Gladys Berejiklian told reporters.
Sydney has already toughened restrictions, including setting up roadblocks in parts of the city, and has hiked fines amid reports of people flouting strict stay-at-home orders.
Economists fear the lockdowns may drive the country's economy into a second recession in as many years, although Australia's central bank stands ready to take policy action, minutes from its August meeting showed.
In Sydney's south, 80 medical staff were forced into isolation at a local hospital after several cases of Covid-19 were found in an oncology ward, NSW Health Minister Brad Hazzard said, noting reports of ambulances queuing to access care in the city's west.
"There's no question that the hospital system is under enormous pressure across New South Wales," Mr Hazzard said.
As the virus spreads to regional centres across NSW, a case was detected as far away as Broken Hill, a mining town more than 900km northwest of Sydney deep in Australia's outback, raising fears of wider outbreaks.
The country is racing to speed up its sluggish vaccination roll-out, with only about 26% of Australians fully vaccinated.
In Melbourne, the capital of Victoria state, 24 new local cases were detected, the first day after officials reinstated a night curfew and extended a hard lockdown until 2 September. 22 cases were reported yesterday.
Australia's capital, Canberra reported 17 new locally acquired Covid cases and authorities warned infections would likely rise in the coming days.
Despite the recent Delta outbreaks, Australia's coronavirus numbers are well below than many other countries in the developed world, with just over 40,000 cases and 967 deaths, but its vaccination figures are among the lowest.
A total of 57 people, most of them unvaccinated, have died in the latest outbreak in Sydney since 11 July.
There were no Covid-related deaths in Australia during 2021 until then.
Japan expands virus emergency to battle surge

Japan's government expanded a coronavirus state of emergency to seven more regions as it battles a record wave of infections a week before the Paralympic Games.
Virus emergency measures that ban restaurants and bars from selling alcohol and require them to close by 8pm are already in place in Tokyo and five other regions, and had been due to end by 31 August.
But Prime Minister Yoshihide Suga said the measure would be expanded to additional areas, with the restrictions in all parts of the country running until 12 September.
"We are seeing unprecedented growth in infections continuing in our country. The number of patients with serious symptoms is increasing," Mr Suga told a meeting of ministers and government officials.
"The government will form a united front to overcome this crisis and take thorough measures to save people's lives and keep them safe."
In addition to the measures affecting bars and restaurants, the government will ask large shopping malls and department stores to limit the number of customers inside at one time.
Japan has seen a smaller outbreak than many other countries, with around 15,400 deaths despite avoiding lockdowns.
But its inoculation programme began later and more slowly than in many other developed countries, and only around 37% of the population is fully vaccinated.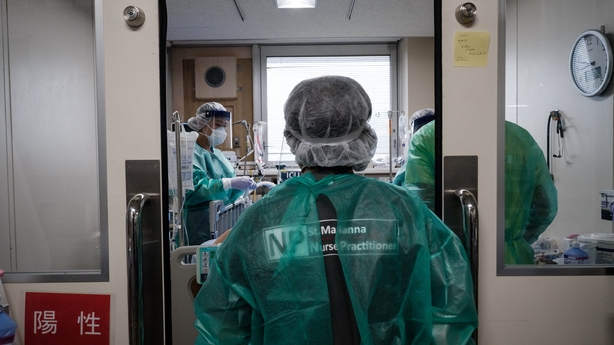 In recent days, Japan has reported more than 20,000 daily cases nationwide, a record for the country.
The surge began before the Olympics opened last month and continued throughout the Games, which were held with spectators banned from most events.
Last night, organisers said a spectator ban would also be applied to the Paralympics, with limited exceptions for a programme bringing schoolchildren to watch the Games.
Paralympic participants face virus restrictions including regular testing and limits on their movement.
The government says there is no evidence that holding the Games contributed to the rise in cases and recent polls have found most Japanese believe holding the Olympics was a good idea, though many also think it fuelled the infection surge.
Some experts argue that the massive international event undermined the government's virus restrictions, encouraging people to go out and businesses to remain open.
Local media reports have estimated up to 40% of bars and restaurants in some parts of Tokyo are flouting the virus rules.