China's coronavirus cases hit a seven-month high, after a cluster at a test site drove up numbers as the Delta variant challenges Beijing's grip on the pandemic.
State media has described the current outbreak, which has sparked local lockdowns, mass testing and travel restrictions, as the most severe since the virus emerged in the central city of Wuhan.
Authorities had brought domestic infections down to virtually zero, allowing economic activity to rebound albeit with tight border restrictions. But now, cases are rising.
Chinese health authorities reported 143 new coronavirus infections, with 108 of them locally transmitted.
Dozens of cases came from a Covid-19 testing site in eastern Yangzhou city.
In a sign of the anxiety over even relatively minor outbreaks, several officials have been issued warnings for mishandling mass testing, which city authorities said allowed the virus to spread.
Yangzhou city authorities said "a small number of party members and cadres have yet to perform their duties properly".
The latest surge started after infections among airport cleaners in neighbouring Nanjing city sparked a chain of cases across the country.
Today's numbers are the highest since January, when the country logged 144 new cases and 126 domestic infections, mostly in the northern regions.
---
---
Authorities are now working to shore up confidence that the latest resurgence is controllable.
"We have successfully contained the epidemic in Guangzhou, and the epidemic in Nanjing is gradually being put under control," the official Xinhua news agency cited infectious diseases specialist Zhang Wenhong as saying.
Portugal recommends Covid vaccinations for 12 to 15-year-olds
Portugal has recommended that 12 to 15-years-olds be vaccinated against Covid-19, ideally before the start of the academic year, as the Delta variant has led to a surge of cases in the country.
About 400,000 children included in that age group will get one of the two vaccines authorised for teenagers by European Union's medicines regulator: Pfizer-BioNTech and Moderna, the Health Authority DGS said.
Health Authority head Graca Freitas said data in the EU and the US have shown no increased risk of rare side effects like myocarditis and pericarditis for the 15 million teenagers who got vaccine shots.
Portugal ramped up vaccination as a new wave of Covid-19 cases hit the country early last month to levels not seen since February when the country went into a strict lockdown to tackle what was then the world's worst coronavirus surge.
Daily deaths and hospitalisations remain well below February levels, with new cases primarily reported among younger, unvaccinated people who are less likely to fall seriously ill.
Portugal reported 2,232 cases and 17 deaths in the last 24 hours, bringing the total to 990,293 cases and 17,502 deaths since the pandemic started.
Late last month, the country announced a three-stage plan to lift Covid-19 restrictions, including scrapping a night-time curfew and lifting restrictions on the opening hours of restaurants and shops
Pentagon to mandate Covid-19 vaccine for US military
The Pentagon has said it will make Covid-19 vaccinations mandatory for all members of the US military by mid-September, amid an alarming surge in infections by the Delta variant.
Defense Secretary Lloyd Austin said in a memo he would ask President Joe Biden to approve the move in about five weeks, even if none of the current vaccines gains full approval from the US Food and Drug Administration.
But the order could come earlier if the Pfizer vaccine gets approval before then. Officials say they think Pfizer could earn full FDA approval by the beginning of September.
Because the Covid-19 vaccines have only had emergency approval, the US military has until now not required troops to have them, as it does for other inoculations.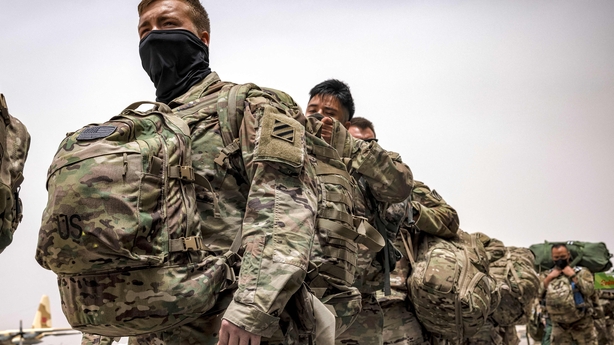 Doing so would have opened the door to legal challenges, unless Mr Biden issued a waiver to allow it.
If the Pfizer or another vaccine does not get full FDA approval by mid-September, Mr Austin said he would go ahead and seek the president's approval.
Mr Biden released a statement "strongly" supporting the decision. "These vaccines save lives," he said.
"Being vaccinated will enable our service members to stay healthy, to better protect their families, and to ensure that our force is ready to operate anywhere in the world."
Defense Department spokesman John Kirby said that the Pentagon expects to have the hundreds of thousands of doses needed to be stockpiled and that individual services are currently developing plans for the forced vaccinations.
Currently 73% of 1.4 million active duty forces have had at least one shot, but if another 1.1 million in reserve troops are added in, the rate goes down to 56%.
That low level has left US officials concerned over the potential for the virus to hurt military readiness.
Mr Austin said in the memo that before the vaccination order is made, the military would "also be keeping a close eye on infection rates - which are on the rise now due to the Delta variant - and the impact these rates might have on our readiness".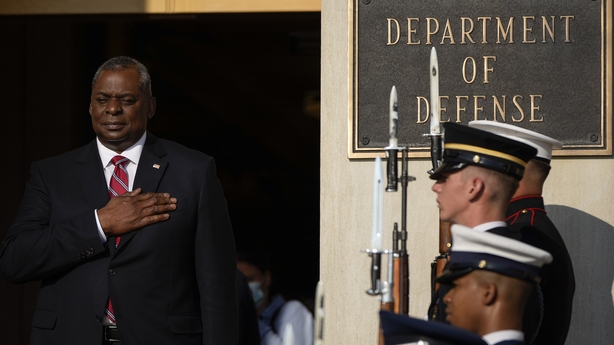 "I will not hesitate to act sooner or recommend a different course to the president if I feel the need to do so," he said.
US service members currently are mandated to have 17 vaccines, all of which are FDA-approved. Making the Covid-19 vaccine compulsory also raised threats of intervention from some members of Congress.
But Representative Mike Rogers, the senior Republican on the House Armed Services Committee, said the vaccines were important for military readiness.
"We must not allow Covid-19 to be a hindrance on our force," he said.
"Vaccines protect our men and women, many of whom live in cramped and crowded conditions, from the spread of disease while at home or deployed across the globe."
Sydney hits new Covid case record as outbreak spreads
Sydney posted a new record of Covid-19 infections as the city struggles to control an outbreak that is sending other Australian regions into lockdown.
New South Wales state announced 356 new cases, a fresh record for a Delta-variant outbreak that began in mid-June and continues to grow in a population with low vaccination rates.
More than five million people in Sydney, Australia's biggest city, are now in their seventh week of lockdown as the cluster hit 5,805 cases with 32 deaths to date.
"Our strategy is to get to as close to zero as we can ... but regrettably we have seen those numbers increase in the last few days," state premier Gladys Berejiklian said.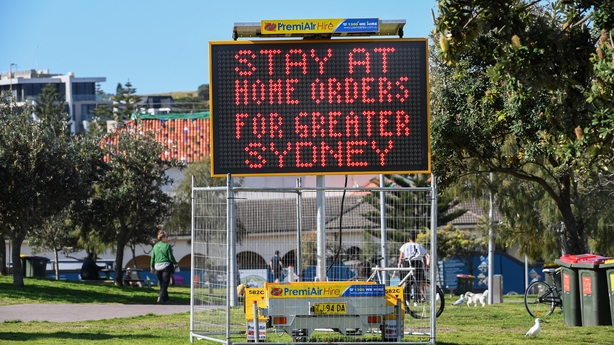 The coastal town of Byron Bay became the latest put under stay-at-home orders - joining regional centres such as Newcastle and Tamworth - with a snap seven-day lockdown announced last night after an infected person travelled there from Sydney.
Meanwhile, another five million residents of Melbourne are in their sixth pandemic lockdown after a fresh cluster emerged in the city last week.
Australia had dodged the worst ravages of the pandemic through a strategy of closed borders, lockdowns, mandatory travel quarantine, and aggressive testing and tracing.
But those tools appear blunted in the face of the highly transmissible Delta variant and have left Australians weary of repeated lockdowns.
Australia's vaccine roll-out has been one of the slowest in the OECD.
Just over 20% of the population is now fully vaccinated, but the under-pressure conservative government has promised a boost to supplies from September.
Prime Minister Scott Morrison said the country was in a "tough fight" against the Delta strain but he wanted to get "everybody around that table at Christmas time".
The nation has recorded about 37,000 cases of Covid-19 and 940 related deaths to date in a population of 25 million.
French territory of Martinique enters new lockdown
France's overseas territory of Martinique will enter a tougher lockdown for three weeks from today to tackle a Covid-19 outbreak on the West Indian island, a local government official said on Twitter.
Martinique had already imposed an evening curfew, but the tougher lockdown, set to start from 7pm local time, will shutter shops selling items that are not essential, such as food, as well as closing beaches and clamping down on people's movements.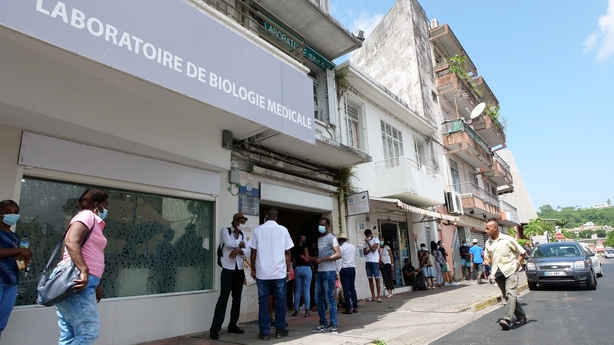 Administrative authorities in Martinique also advised tourists to leave the island.
Last weekend, French health minister Olivier Veran appealed for volunteer doctors and nurses to travel to the overseas territories of Guadeloupe and Martinique as a wave of Covid-19 infections overwhelms hospitals on the two Caribbean islands.
Guadeloupe and France's island of La Reunion in the Indian Ocean have also imposed restrictions over the virus.
East Timor detects first domestic transmission of Covid-19 Delta variant

East Timor has recorded its first case of community transmission of the Delta variant, raising concerns by its health ministry about a possible spike.
Genomic sequencing by Australia's Doherty Institute in the first week of August found that of 27 samples taken in the country's Ermera region from people infected with the coronavirus, 12 were of the Delta variant.
Ermera has the highest number of active cases and lowest vaccination rate in East Timor, which borders Indonesia, where the Delta variant has been fuelling one of Asia's worst coronavirus outbreaks.
The health ministry in its 8 August report said Delta variant transmission "is likely to cause a significant increase in case numbers, including severe cases and deaths," with those with limited vaccine access most at risk.
Home to 1.3 million people, the Southeast Asian nation has recorded just 11,579 cases and 28 deaths since the start of the pandemic.
About 8.5% of its 1.3 million people have been fully inoculated so far, using the vaccines of AstraZeneca and Sinovac.
Samples from other regions have yet to be tested but public health experts said growing case numbers elsewhere in the country could indicate that Delta was also present there.