Deputy Chief Medical Officer Dr Ronan Glynn has said Ireland's 14-day Covid-19 incidence rate has now risen to 386 per 100,000 people - the highest it has been since early February.
In an update on social media, Dr Glynn said 18,000 cases of the virus have been recorded in the last fortnight alone.
"There remains significant uncertainty in terms of the underlying trends, including due to the potential effect of the recent August Bank Holiday weekend on case numbers and referral patterns," he said.
His comments came as the Department of Health was notified of a further 1,782 confirmed cases of the virus today. The number of people hospitalized with the virus stands at 189, of whom 30 are in ICU.
Dr Glynn said just 3% of cases are in people aged over 65, with incidence remaining highest in those aged 16-34.
Incidence remains highest in counties Donegal, Louth, Galway, Mayo and Monaghan, with each of those counties recording a 14-day rate exceeding 500 per 100,000.
"Although the link between cases and severe disease has been very substantially weakened through vaccination, it has not been completely broken, and unfortunately due to the high incidence, we continue to see an increasing number of people in hospital," he said.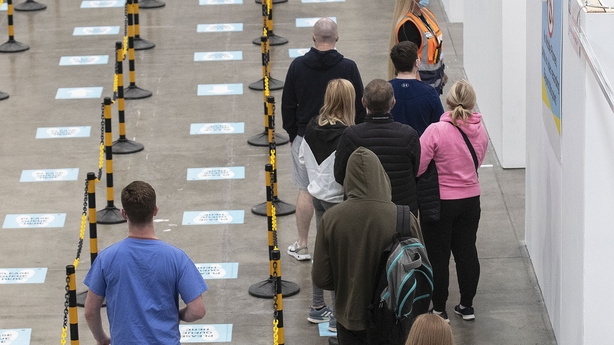 Dr Glynn said the country is experiencing a high level of disease, and that the outlook over the coming days "is uncertain".
He added however that what was not uncertain was that the course the disease takes in Ireland can be altered with the measures adopted by people over the past few months.
He also described the uptake of vaccines in Ireland as "phenomenal", and urged people to avail of walk-in clinics, which are operating again this weekend.
Chief Medical Officer Dr Tony Holohan, Chief Medical Officer also urged those who can to avail of additional walk-in Covid-19 vaccination centres across the country.
"This time last year, we could not have hoped for such highly safe and effective vaccines to aid us in suppressing this virus, nor that we would in fact have a range of them to use.
"The Covid-19 vaccination programme shows not only the best of scientific endeavour, but also commendable solidarity in those who come forward to receive a vaccine for the good of their wider community.
---
---
Meanwhile, the Cabinet Committee on Covid-19 met this morning to review disease progression and the roll-out of the vaccination programme.
A statement afterwards said the Government intends to publish a road map by the end of this month for the easing or ending of remaining Covid restrictions.
The Government also plans to write to senior church leaders to outline plans to allow communions and confirmations to take place in September.
The statement noted: "Disease incidence remains high and is continuing to increase, particularly in younger age cohorts, with a seven-day average of around 1,300.
It said nearly 85% of people aged 16 and over have either registered or received at least one dose of a Covid-19 vaccine.
"The effectiveness of vaccination is now clearly apparent in the lower levels of severe disease, hospitalisations, ICU admissions and mortality during the current wave," the statement noted.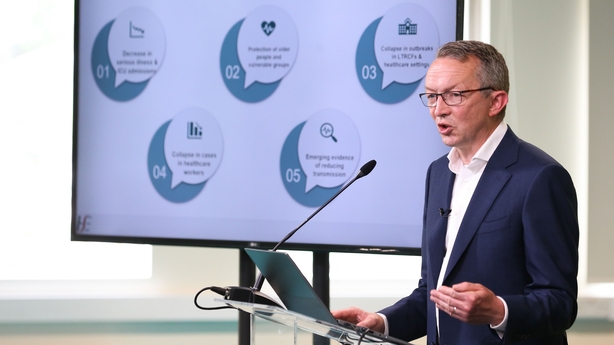 Earlier, the Health Service Executive's Chief Clinical Officer said the rate of Covid-19 cases appears to be "growing more slowly than expected".
But Dr Colm Henry urged caution about attending outdoor gatherings at this stage of the vaccination programme.
He told RTÉ's Today with Philip Boucher Hayes that while the vaccination uptake has exceeded the HSE's expectation, there is "still more work to do" to complete the course of those aged in their 20s and 30s.
Dr Henry also warned of the consequences of people who test positive for Covid-19 not revealing their close contacts, saying advice cannot be passed on to others and there can be secondary spread of the virus and further cases.
"We do know from our directors of public health that there are instances where people don't always reveal their close contacts.
"They might ring their close contacts themselves but if they don't tell us their close contacts we can't ensure they get the correct public health advice and that secondary transmission doesn't occur."
He said this risk is further heightened, considering there is a more transmissible variant with the Delta strain of the virus, which he said can lead to superspreader events, even outdoors.