Authorities in Wuhan said they would test its entire population for Covid-19 after the central Chinese city where the coronavirus emerged reported its first local infections in more than a year.
The city of 11 million is "swiftly launching comprehensive nucleic acid testing of all residents", a senior Wuhan official said at a press conference.
Authorities announced yesterday that seven locally transmitted infections had been found among migrant workers in the city, breaking a year-long streak without domestic cases after it squashed an initial outbreak with an unprecedented lockdown in early 2020.
China has confined the residents of entire cities to their homes, cut domestic transport links and rolled out mass testing in recent days as it battles its largest coronavirus outbreak in months.
China reported 61 domestic cases today as an outbreak of the fast-spreading Delta variant reached dozens of cities after infections among airport cleaners in Nanjing sparked a chain of cases that have been reported across the country.
Major cities including Beijing have now tested millions of residents while cordoning off residential compounds and placing close contacts under quarantine.
The eastern city of Yangzhou, near Nanjing, was the latest local government to order residents to stay home after large-scale testing detected 40 new infections over the past day.
The more than 1.3 million residents of Yangzhou's urban core are now confined to their homes, with each household allowed to send only one person outside per day to shop for necessities, the city government said.
---
---
The announcement comes after the tourist destination of Zhangjiajie in central China's Hunan province as well as nearby Zhuzhou city issued similar orders in recent days to more than two million people combined.
The outbreak spread to Hunan from Nanjing last month after people infected at the Nanjing airport cluster attended theatre performances in Zhangjiajie.
Officials have since been desperately tracking down thousands of fellow theatregoers and urging tourists not to travel to areas where cases have been found.
Meanwhile, Beijing has blocked tourists from entering the capital during the peak summer holiday travel season and asked residents not to leave unless necessary, with top officials vowing over the weekend to "spare no expense" in defending the city.
China had previously boasted of its success in bringing domestic cases down to virtually zero after the coronavirus first emerged in Wuhan, allowing the economy to rebound.
But the latest outbreak is threatening that success with more than 400 domestic cases reported since mid-July.
US belatedly hits Biden's Covid vaccination goal as hospitalisations soar

The United States has hit President Joe Biden's goal of administering at least one dose of a Covid vaccine to 70% of adults almost a month late, as the newest wave of infections pushed hospitalisations to levels seen last summer.
Mr Biden's administration had initially targeted Independence Day on 4 July to reach the goal and declare victory over the worst of the pandemic.
But falling vaccination rates, particularly in politically conservative regions in the South and Midwest, and among younger people, those with lower income and racial minorities, meant the objective was missed.
While 60.6% of eligible adults and 49.7% of the total population are now fully vaccinated, the United States has fallen behind its northern neighbor Canada, which started its immunisation campaign later but has now fully vaccinated 59% of its people.
It comes as the US was being battered by a new wave driven by the Delta variant, which has sent national daily cases soaring to beyond 70,000, according to data that excludes unreliable weekend numbers.
Across the country, hospitals were seeing on average more than 6,200 daily Covid admissions, while more than 300 people are dying every day.
"These cases are concentrated in communities with lower vaccination rates," Jeff Zients, White House Covid task force coordinator, told reporters.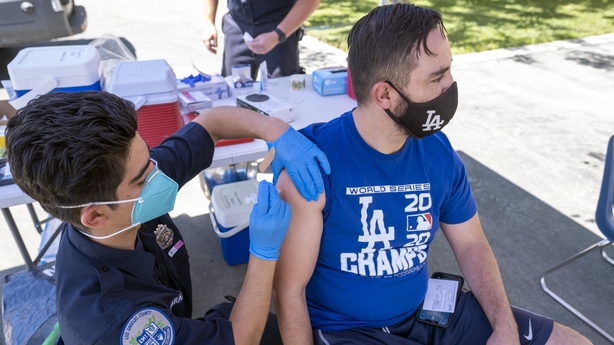 "One in three cases nationwide occurred in Florida and Texas this past week," he added.
In a silver lining, states that lagged behind in their vaccination rates are now beginning to catch up, according to the latest data.
The eight states with the highest current case rates have seen an average increase of 171% in their daily vaccination rate compared to three weeks ago, said Mr Zients.
These include Louisiana, Mississippi, Alabama and Arkansas.
Momentum was also picking up for vaccine mandates in the private sector, with Disney and Walmart implementing new requirements and incentives for employees.
Last week, Mr Biden's administration announced federal workers would need to either get vaccinated or submit to regular tests, following similar steps by California and New York.
While Delta poses the strongest threat yet to vaccine protection, the current generation of shots were continuing to keep the vast majority of vaccinated people out of hospital and alive.
According to cumulative data reported to the Centers for Disease Control and Prevention by 24 July, vaccination resulted in an eight-fold reduction in disease incidence and 25-fold reduction in hospitalisations and deaths.
In the state of Tennessee, over the month of July, 97% of all Covid hospitalisations and 98% of deaths were among unvaccinated people, data showed.
Breakthrough infections, meanwhile, remain uncommon, but when they do happen, preliminary research suggests there is an increased risk of onward transmission of the Delta variant compared to past strains.
With this in mind, the CDC last week reinstituted guidance for fully vaccinated people to wear masks indoors in areas considered high-risk, which is now 79% of all the country's counties.
Eight counties in the Bay Area of San Francisco issued mask mandates yesterday, as did Louisiana.

Federal health authorities are also debating whether a third dose may be required for certain groups such as the immunocompromised, following a similar move by Israel.
NSW lockdown could be eased if vaccination rates hit 50%
Australia's New South Wales, home to Sydney, said it could ease a Covid-19 lockdown that demands five million people stay at home until the end of August if 50% of the population is vaccinated, even as new infections linger near a 16-month high.
A lifting of restrictions in New South Wales, the country's most populous state, would be a boost for Prime Minister Scott Morrison, under intense pressure for his government's handling of the vaccine rollout, with the threat of a second economic recession in as many years looming.
New South Wales, which accounts for a third of all activity in Australia's economy, has struggled to contain a surge of cases of the highly infectious Delta variant in Sydney, the country's biggest city, despite the lockdown, currently due to be lifted on 29 August.
While New South Wales reported another 199 locally acquired Covid-19 cases in the past 24 hours - near a 16-month high of 239 infections recorded in one day last week - state Premier Gladys Berejiklian said curbs could be eased if six million people are vaccinated by the time the lockdown is due to end.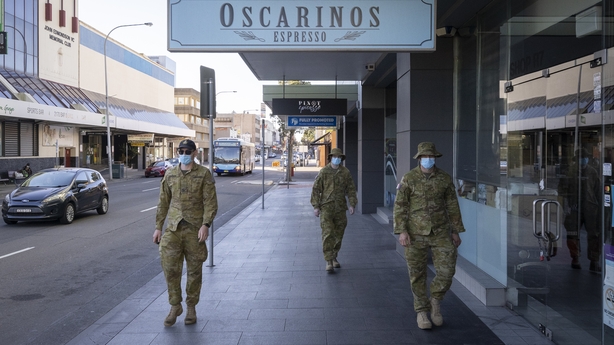 "Six million jabs is roughly half the population with at least one or two doses," Ms Berejiklian told reporters in Sydney. "That gives us additional options as to what life looks like on 29 August."
Ms Berejiklian did not say exactly how many in New South Wales were fully vaccinated as of today, but said the state is on course to meet its vaccination target. She cautioned the number of people in the community while infectious would also need to come down.
Although Australia has largely kept its Covid-19 numbers relatively low, with just over 34,500 cases and 925 deaths, its national vaccination rollout has hit several roadblocks due to changing medical advice on AstraZeneca doses over blood clot concerns and supply constraints for Pfizer inoculation.
Japan to hospitalise only most serious COVID-19 cases in surge

Japan will hospitalise only Covid-19 patients who are seriously ill and those at risk of becoming so while others isolate at home, officials said, as worries grew about a strained medical system amid a surge in Olympics host city Tokyo and elsewhere.
The country has seen a sharp increase in coronavirus cases, and is recording more than 10,000 daily new infections nationwide. Tokyo had a record high of 4,058 on Saturday.
Chief Cabinet Secretary Katsunobu Kato told reporters fewer elderly people, most of whom are already vaccinated, are getting infected.
"On the other hand, infections of younger people are increasing and people in their 40s and 50s with severe symptoms are rising," he said. "With people also being admitted to hospital with heat stroke, some people are not able to immediately get admitted and are recovering at home."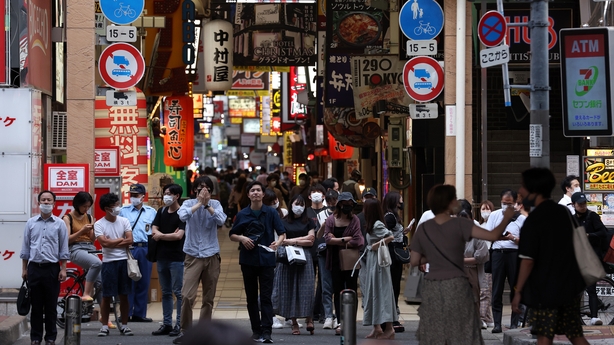 Prime Minister Yoshihide Suga, who announced the change, said the government would ensure people isolating at home can be hospitalised if necessary. Previous policy had focused on hospitalising a broader category of patients.
But some worry the shift could lead to more deaths.
"They call it in-home treatment but it's actually in-home abandonment," opposition Constitutional Democratic Party of Japan leader Yukio Edano was quoted as saying by NHK public TV.
Japan has expanded its state of emergency to include three prefectures near Tokyo and the western prefecture of Osaka. An existing emergency in Tokyo - its fourth since the pandemic began - and Okinawa is now set to last through 31 August.
The country has avoided a devastating outbreak of the virus, with about 932,000 total cases and just over 15,000 deaths as of Sunday.
But it is now struggling to contain the highly transmissible Delta variant even as the public grows weary of mostly voluntary limits on their activities and the vaccination rollout lags.
Just under 30% of the population is fully vaccinated, including three-quarters of those 65 and over.
Mr Suga and Olympics organisers say there is no link between the Summer Games and the sharp increase in cases.
Medical experts, however, have said holding the Olympics sent a confusing message about the need to stay home, contributing to the rise.
Unlike the voluntary restrictions and low vaccination rates elsewhere in Japan, more than 80% of the people in the Olympic village in Tokyo for athletes and coaches are vaccinated, testing is compulsory and movement is curtailed.
Organisers today announced 18 new Games-related Covid-19 cases, bringing the total since 1 July to 294.
South Korea on alert for new Delta Plus Covid-19 variant

South Korea has detected its first two cases of the new Delta Plus Covid-19 variant, the Korea Disease Control and Prevention Agency (KDCA) said today, as the country battles with its fourth wave of infections.
The Delta Plus variant is a sub-lineage of the Delta variant, and has acquired the spike protein mutation called K417N, which is also found in the Beta variant first identified in South Africa.
Reports of Delta Plus cases have been few, and a handful of countries, including Britain, Portugal and India, have reportedsome cases.
"The first case (in South Korea) was identified in a man in 40s who has no recent travel records," the KDCA said. The source of transmission is under investigation.
Test results in around 280 people who were in contact with the man found that only his son was positive too, a KDCA official said, adding it was unclear whether the son was also infected with Delta Plus.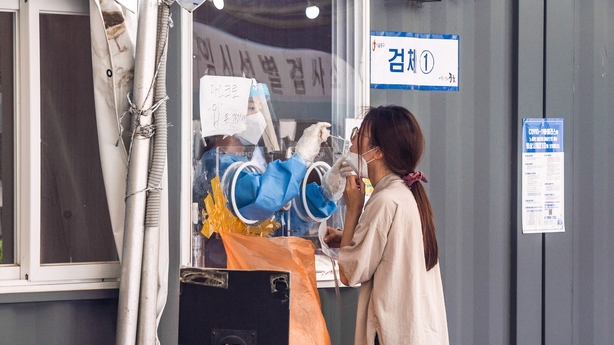 The second case was found in a traveller who returned from the United States. The person had been vaccinated with both shots of AstraZeneca before the trip.
Health authorities have said several major vaccines work against the Delta variant, but have raised concern new strains may evade some vaccines.
Genetic analysis of 3,014 infections last week found 64% were the Delta variant, KDCA data showed, a clear sign the variant has become the dominant strain in South Korea as well. Cases among the fully vaccinated remained low.
South Korea reported 1,202 new Covid-19 cases for yesterday, raising the total to 202,203 infections, with 2,104 deaths.
The country said it has given 20 million people, or 39% of its population, at least one dose of a vaccine, while14.1% have been fully vaccinated.
South Korea aims to immunise at least 36 million people by September.