The Department of Health has reported 1,501 new cases of Covid-19.
This is the highest daily number of infections since 23 January, when 1,910 new cases were notified.
As of this morning, there were 169 people in hospital who have tested positive for the virus, an increase of nine since yesterday.
This figure compares to 106 people in hospital on this day last week and more than double the number from two weeks ago.
However, the number of patients with the virus in intensive care units has fallen to 23, three fewer than yesterday.
On this day last week, there were 22 patients with coronavirus in critical care.
Chief Medical Officer Dr Tony Holohan said: "This week vaccination is open to anyone over the age of 16 and those aged 12-15 will be able to register soon. Walk-in vaccination centres are now available for those yet to receive a first dose.
"If you have a child with an underlying medical condition, that is living in a household where there are other people at risk, please avail of vaccination at the earliest opportunity.
"Vaccination and the incredible uptake across many age groups is leading us to a turning point in the pandemic.
"If we experience similar uptake in the younger cohorts as experienced in the over 60s, Ireland will have a strong population level defence against Covid-19 and its known variants."
---
---
Professor Philip Nolan, chair of the Irish Epidemiological Modelling Advisory Group, said that case numbers may appear to be plateauing, but are "probably not, just growing more slowly than a week ago".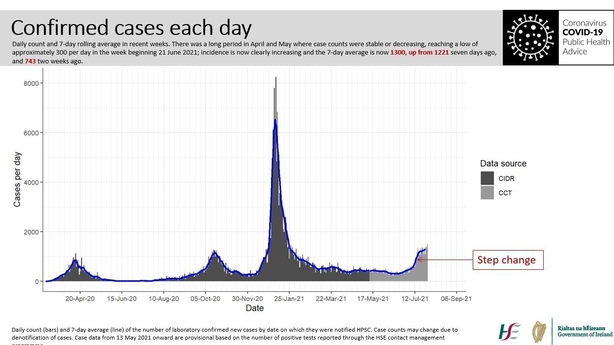 In a series of posts on Twitter, he also said that "unfortunately, cases are translating into hospital admissions: numbers in hospital continue to increase, also growing at, on average, between 4% and 5% per day".
Prof Nolan said there had been a spike in travel-related cases in early July but this did "not suggest that travel is driving the growth right now, just to illustrate a sudden shift in what we have been doing".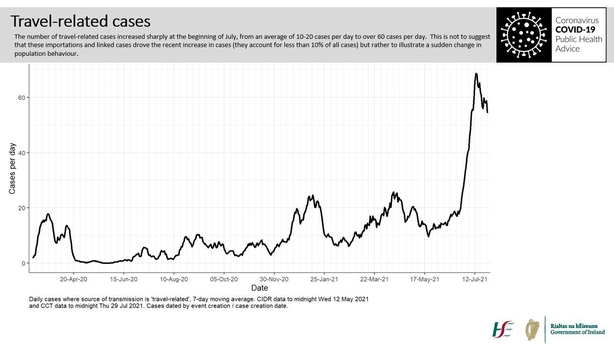 Deputy Chief Medical Officer Dr Ronan Glynn said: "If you experience any symptoms of a cold or flu, including fever, cough, shortness of breath, change in taste or smell, headache, sore throat, runny nose or blocked nose/sinuses, please isolate and come forward for a test.
"There are testing centres located in every county in Ireland."
There were 1,101 new infections reported in Northern Ireland with three further coronavirus related deaths.
Earlier, Health Service Executive CEO Paul Reid said there has been a steady rise in hospitalisations from Covid-19 over the last four weeks, rising from 39 patients to 169 in that period.
Speaking on RTÉ's Today with Claire Byrne, he said that "while we are seeing some positive indicators in virus trends and daily cases over the last few days, we are certainly not out of the woods".
The situation is severely impacting on hospitals as every Covid-19 patient has "a significant and disproportionate effect on the healthcare system", he said.
For each patient in hospital with Covid-19, whether symptomatic or not, there is a need to isolate them and move others from wards and put in place additional infection control measures.
Sligo, Galway, Limerick and Cork are busier in recent weeks, with people staycationing, Mr Reid said.
He said that attendance in emergency departments is up 20% on last year, with many delayed presentations for non-Covid-19 illness and more older people with high frailty attending.
Meanwhile, the first of the walk-in Covid-19 vaccination centres, operating over the bank holiday weekend, opened today.
Those attending the centres will receive a first dose of the Pfizer-BioNTech vaccine.
It comes as Public Health Mid-West said it is under increasing pressure in the management and contact tracing of new outbreaks in the region.
It said the "vast majority" of new cases have multiple exposures and a significant number of close contacts.
Over the past 14 days, there have been 711 Covid-19 cases in the Mid-West. These include 471 in Limerick, 123 in Clare, and 117 in North Tipperary.
Yesterday there were 41 new infections in Limerick, 12 in North Tipperary, and eight in Clare.
Dr Marie Casey, Specialist in Public Health Medicine, said: "We ask that you be alert, socialise safely, and prioritise getting a vaccine this weekend."
As Covid-19 rates rise in many parts of Cork and Kerry, acting Director of Public Health Dr Anne Sheahan said: "I am particularly concerned by the number of cases spreading in workplaces.
"Many of these cases could have been prevented if those with symptoms stayed away from their workplace or from social gatherings.
"If you have symptoms, even mild ones, please don't presume that it's a cold or another bug. Don't take a 'wait and see approach'. Stay at home and arrange to be tested."