The Netherlands has cancelled all summer music festivals after a recent spike in coronavirus infections, but eased travel restrictions to most countries in Europe.
The cancellations included the sold-out Lowlands festival, which was also dropped last year because of the Covid-19 pandemic. Similar festivals like Mysteryland and Down the Rabbit Hole, scheduled for August, will also not take place.
"Unfortunately, we had to extend the current ban on festivals lasting more than 24 hours, at least until 1 September," Dutch Prime Minister Mark Rutte said.
A plan to test festival-goers for the virus every 24 hours would have been too complicated, health authorities added.
The Dutch government had to rethink plans to ease restrictions after a sharp spike in cases earlier this month, mainly blamed on highly-infectuous Delta variant.
---
---
However, the upward curve has been flattening in recent days, with Dutch health authorities reporting 3,900 new infections today.
The Dutch cabinet also eased restrictions for visits to European countries, making it easier for holidaymakers to travel.
The Netherlands uses a colour-code system: green, meaning no restrictions; yellow, travelling permitted but that there are risks; orange, only essential travel and red, no travel.
All European countries will either have a green or yellow designation.
China reports 76 virus cases, highest daily rise since January
China has reported 76 new coronavirus cases, the highest daily rise since January, including 40 domestic transmissions prompting authorities to test millions in eastern Jiangsu province.
Beijing has a zero-risk approach to the virus, which emerged in the central Chinese city of Wuhan in late 2019. It locks down cities and mass tests whenever small clusters appear.
Tens of thousands of people are under lockdown in Jiangsu's provincial capital Nanjing as authorities test the city's 9.2 million residents after an outbreak linked to its airport last week.
"Of the 40 domestic cases, 39 were from Jiangsu province and one from Liaoning," the national health commission said in a statement, adding there had been no new deaths.
Contact tracing also found five individuals who travelled through the Nanjing airport and tested positive after arriving in neighbouring Anhui and three other provinces, sparking fears that the cluster could lead to a fresh nationwide outbreak.
This prompted Nanjing officials to announce a second round of mass testing for all residents to identify patients who may take longer than usual to show symptoms.
Beijing has rushed to curb recent mini-outbreaks in border provinces, aware of the risks of the fast-spreading Delta variant.
One new case was reported today in the northeastern province of Liaoning that borders North Korea, bringing the total number of local transmissions in the region to five since Thursday.
Yunnan in the southwest has reported a spike in infections traced to neighbouring Myanmar, where the military government that seized power in February is struggling to contain a coronavirus surge.
The province has reported 79 cases since 20 June with nearly half linked to Myanmar.
Beijing has tightened border controls and even supplied over 10,000 Covid-19 vaccines to the Kachin Independence Army, a spokesman for the rebel group said on Saturday.
The border town of Ruili in Yunnan is using facial recognition to track people's movements and health status as they enter and exit residential areas, supermarkets, transport hubs and other public places to squash the virus spread.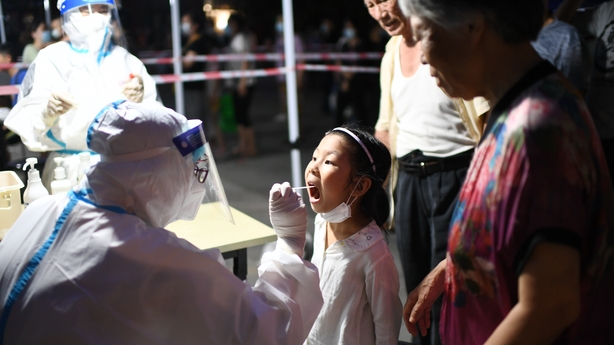 The southern manufacturing hub of Guangdong is building a quarantine clinic for international arrivals with 5,000 beds after being hit by a recent virus outbreak.
China has recorded 92,605 virus cases and 4,636 deaths since the initial outbreak in late 2019.
French parliament adopts vaccine passports law despite protests
France's parliament voted to make vaccine passports a key part of daily life in the battle against Covid-19, after a compromise between MPs from the upper and lower houses.
Yesterday's breakthrough in talks came a day after France was again shaken by protests against the rules that saw over 160,000 rally and dozens arrested.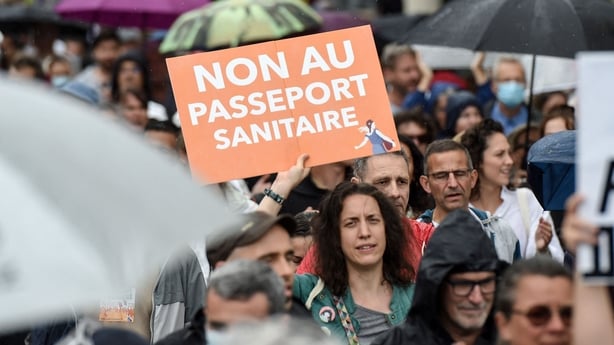 President Emmanuel Macron last week ordered that the health pass - proof of full vaccination or a negative test - would be required for the French to visit venues such as cinemas or nightclubs.
The announcement was a move by Mr Macron to make vaccinations the top weapon against Covid-19 as new variants emerge, essentially requiring people to become vaccinated if they want to continue daily routines.
Those changes were implemented by decree, but parliament has been engaged in a marathon session since Tuesday debating whether to extend them.
Vaccine passports have encountered fierce opposition from some, who believe they erode civil liberties.
The legislation still needs to be approved by France's highest administrative authority, the Constitutional Council, before becoming law - an extra step requested by Prime Minister Jean Castex.
Mr Macron's announcement had already made the health pass compulsory for cinemas, museums and any venue gathering more than 50 people.
The new legislation would make it compulsory from August for air travel and inter-city trains, as well as for visiting cafes and restaurants.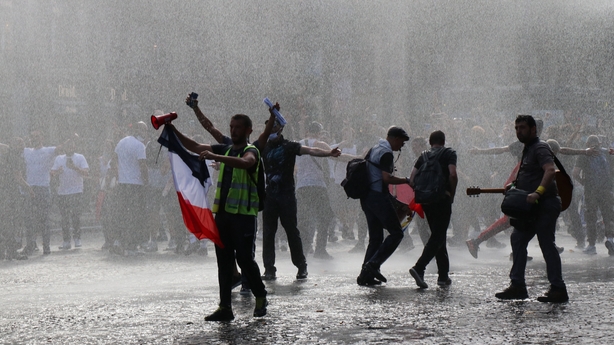 It would also make vaccinations obligatory for health workers and carers.
By maximising vaccinations, the French government wants to minimise the impact of the fourth coronavirus wave.
Forty million people in France have now received at least the first dose of a Covid-19 vaccine, Mr Macron said in a tweet.
He said said that amounted to nearly 60% of the population, and that 4 million of the vaccinations had been administered in the past two weeks.
C'est tous ensemble que nous vaincrons le virus. On continue ! pic.twitter.com/zzrSkAx5M7

— Emmanuel Macron (@EmmanuelMacron) July 26, 2021
France recorded almost 23,000 new Covid-19 cases on Saturday, twice as many as last week, as the Delta variant caused a surge.
But in figures the government credits to vaccinations, there are 878 Covid-19 patients in intensive care, compared with a peak of almost 6,000 at the end of April.

Vietnam's economic hub imposes night curfew as country battles virus surge
More than 10 million residents of Ho Chi Minh City will be placed under a strict overnight curfew beginning today, an unprecedented move to curb infections as Vietnam battles a rapid Covid-19 surge.
After successfully containing limited coronavirus outbreaks last year, the country is now recording increasing infections and deaths fuelled by the highly contagious Delta variant.
Hardest-hit are the northern industrial centres and Ho Chi Minh City in the south, which has registered more than 62,000 infections since April - making up the bulk of Vietnam's 101,000 cases.
Authorities have restricted movement in the once-bustling economic hub for more than two months, and imposed a lockdown in early July. Residents are allowed to leave home only for medical emergencies and food.
But beginning today, an additional, strict stay-at-home order will be in effect from 6pm to 6am local time - though authorities refused to use the word "curfew". No end date was announced for the measure.
Almost all public transport links with the city have already been suspended, while travellers originating from the city are required to stay in mandatory quarantine centres for at least two weeks.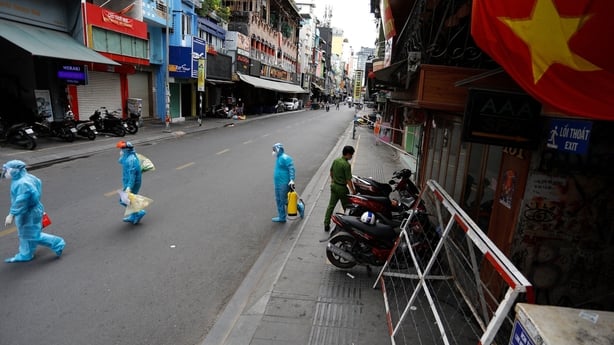 Currently, more than a third of Vietnam's 100 million people are under a lockdown, including residents of its capital Hanoi in the north.
The military drove through major boulevards across the city, spraying disinfectant as they went past historic buildings and Hoan Kiem Lake, a major tourist attraction.
Vietnam was one of the few economies that expanded last year due to its success in containing the virus during the first wave of the pandemic.
But it has been slow to procure and administer vaccines, with just 4.7 million doses given so far.
It is also developing its own inoculations and authorities say they hope to reach herd immunity by early 2022.
Indonesia's easing of Covid-19 curbs seen driven by economics
Indonesia's decision to relax some Covid-19 curbs this week, despite reporting record-high deaths in recent days, is being driven by social and economic concerns rather than epidemiological advice, public health experts said.
As the country grapples with the worst coronavirus outbreak in Asia, President Joko Widodo announced yesterday that while overall curbs in place since July would be extended for a week, some measures would be eased.
Businesses, including salons, garages, traditional markets and restaurants with outdoor areas will now be allowed toc onditionally reopen, while malls will be permitted to operate at 25% capacity outside of designated higher-risk "red zones".
Hospitals have been filled with patients in the past month, particularly on the densely populated island of Java and in Bali, but the president said infections and hospital occupancy had declined, without specifying by how much.
The move to ease some curbs comes as the government has faced pressure from business groups to act to avoid mass layoffs, and with several relatively small-scale street demonstrations last week.
As the Delta variant, first identified in India, has spread across Indonesia cases have surged to the highest levels since the start of the pandemic.
Southeast Asia's biggest economy posted a record of more than 56,000 daily cases in mid-July, and while reported case numbers have dipped slightly Indonesia registered record-high Covid-19 deaths on four days last week.