Australia's two largest states have reported sharp increases in new Covid-19 cases, a blow to hopes that lockdown restrictions would be lifted with more than half the country's population under stay-at-home orders.
New South Wales (NSW) state, home to the country's most populous city Sydney, logged 110 new cases, up from 78 yesterday, nearly four weeks into a lockdown of the city and surrounding areas to contain an outbreak of the virulent Delta variant.
Victoria state clocked 22 new cases, from nine yesterday, its biggest increase since the outbreak began this month, as it nears its second week of state wide lockdown.
"Had we not gone into the lockdown a few weeks ago, the 110 number today would undoubtedly have been thousands and thousands," said NSW Premier Gladys Berejiklian at a televised news conference.
"But we need to work harder and, of course, all of us need to be on guard," she added.
Health leaders have said their greatest concern is the number of people active in the community before receiving their coronavirus diagnosis, and that the number should be near zero before lifting lockdown.
Ms Berejiklian said that number jumped to 43 today, double yesterday, and that she could not say until next week whether the city would exit lockdown by a 30 July target.
Overnight, NSW added three regional centres some 250 km (150miles) from Sydney to the list of areas under lockdown after a pet food delivery driver tested positive there, raising fears of local transmission.
---
---
Victorian authorities, meanwhile, said 16 of its 22 new cases were in quarantine during their infectious period, while exposure sites for the remaining six were "reasonably low".
"That is something that should give us all a degree of confidence and hope that this response... is working," said Victorian Health Minister Martin Foley.
A third state, South Australia, went into its first full day of a week-long lockdown today, and reported one additional case.
France launches vaccine pass for cultural venues

People wanting to go to cinemas, museums, sporting matches and other cultural venues in France will have to show proof of Covid-19 vaccination or a negative test starting today, as the country braces for a feared spike in cases from the highly transmissible Delta variant.
The so-called "health pass" will be required for all events or places with more than 50 people, before being extended to restaurants, cafes and shopping centres in August, President Emmanuel Macron announced in a televised address last week.
Once inside, however, people can take off their face masks, which remain necessary inside shops or businesses or on public transportation.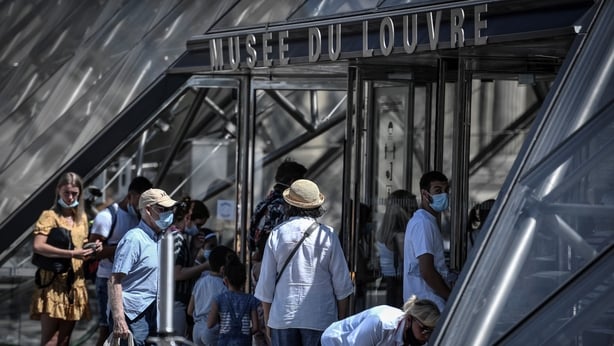 Masks are now mandatory outside again in the southern Pyrenees-Orientales department neighbouring Spain, as well as in much of the western Charente-Maritime department near Bordeaux, a popular tourist spot, where case numbers are soaring.
Outdoor mask mandates were also reimposed in Toulouse and other nearby towns.
Health Minister Olivier Veran warned of an unprecedented increase in Covid-19 cases because of the Delta variant yesterday , when 18,000 cases were reported over 24 hours.
"That means we have an increase in the spread of the virus of around 150 percent in the last week: we've never seen that," Mr Veran told parliament as it began debate on the stricter rules aimed at encouraging vaccine hold-outs.
The initial Covid-19 pass was implemented by decree, while politicians will vote on its extension to restaurants and trains or planes for long-distance travel.
From September, vaccinations will also be required for healthcare and retirement home workers, many of whom have been particularly wary or dismissive of the shots.
Over 100,000 people demonstrated across France on Saturday to protest the health pass, denouncing a "dictatorship" that would discriminate against those opposed to the vaccine.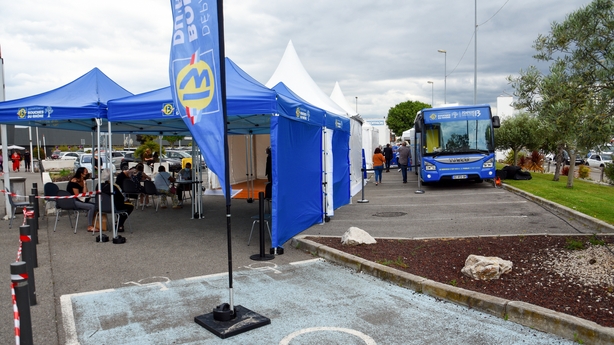 Covid-19 incidence rates now exceed the warning level of 50 per 100,000 people in Paris and across much of southern and western France, traditional vacation haunts for thousands of families.
But the government is hoping that widespread vaccination will soften the impact of a fourth wave of cases, that could again strain hospitals or require new lockdowns.
Millions of people have booked appointments for jabs since Mr Macron's address last week, and more than 37 million people (56%) have had at least one of the two necessary doses.
By the end of July, 40 million people will have had at least one shot, a goal reached a month ahead of schedule, Prime Minister Jean Castex said.
But in a sign of the passions unleashed by the tougher measures, two vaccination centres were vandalised over the past week, and MPs from Mr Macron's Republic on the Move party have been the target of vitriol on social media.
Prosecutors in the Mediterranean city of Toulon, meanwhile, opened a "public insults" inquiry over posters depicting Mr Macron as Hitler saying "Obey, get yourself vaccinated."

South Korea reports daily record high of Covid cases
South Korea reported a daily record of 1,784 coronavirus cases yesterday, breaking a mark set last week, as the authorities struggled to get on top of a surge in outbreaks linked to the Delta variant.
Transmission rates have been kept relatively low across the country despite no lockdowns thanks in part to aggressive testing and tracing, but the fourth wave of infections is proving particularly hard to contain as the unvaccinated fall victim to the Delta strain.
Genetic analysis of 2,381 infections last week found nearly 40% were the Delta variant, the Korea Disease Control and Prevention Agency (KDCA) said. More than half the total 1,741 Delta variant cases since December were diagnosed last week.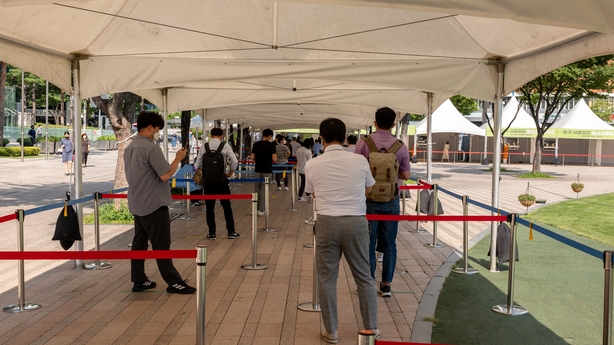 Latest cases do not include at least 266 infections among sailors who were flown to Seoul yesterday after a navy destroyer patrolling the waters off Africa was found to be riddled with the coronavirus, a deputy minister of health care policy, told a briefing today.
The new distancing curbs, introduced about ten days ago, have not been effective in containing the virus spread as the summer season has contributed to higher infections in beach vacation spot, the official said.
The government last week put the capital Seoul and neighbouring areas under a semi-lockdown, including a ban on gatherings of more than two people after 6pm, as more than 80% of the caseloads were found in the region.
New distancing rules are expected to be announced by Sunday.
Despite the record number of cases, South Korea has seen no significant increase in hospitalisations or deaths, with a mortality rate of 1.13% and the number of severe cases at 214 as of yesterday.
Of the country's 52 million people 32% have received at least one vaccine dose, with the government aiming to vaccinate 70% by September.
So far, South Korea has recorded 182,265 cases and 2,060 deaths.
India reports 3,998 Covid deaths after state corrects its data

India reported its highest death toll in a month - at nearly 4,000 - after its richest state reconciled its death count with 3,509 previously unreported fatalities, the health ministry said.
Maharashtra, home to the financial capital of Mumbai, has reported 130,753 of the country's 418,480 coronavirus deaths, and added 3,509 earlier deaths to its tally, the federal health ministry said.
The ministry did not give a reason but authorities have in the past attributed other instances of deaths going unreported to administrative errors, before the mistakes are discovered and the numbers appear in official data.
Last month, the northern state of Bihar raised its death toll by more than 5,000 in a day when it included some unrecorded data.
The sudden appearance of previously unrecorded deaths has lent weight to suspicion that India's overall death tally is significantly more than the official figure..
India's tally of infections stands at 31.22 million, with a death toll of 418,480, according to official data.
But the Washington-based Center for Global Development estimated said in a report yesterday that India's real death toll from Covid-19 could be as high as 4.9 million.
The government reported 42,015 new coronavirus infections in the previous 24 hours, health ministry data showed.