More younger people are being referred to hospital with Covid-19, the head of the Health Service Executive has said.
Speaking on RTÉ's Morning Ireland, Paul Reid said the concern is not just about hospitalisations, but particularly Long Covid for younger people.
"We are seeing transmission levels at a high level for the younger population. That being said, what we do know is Covid, over the past 16 months, causes the most harm to the older population," he said.
"We have many incidents where people may not have been hospitalised, but Long Covid can significantly impact, particularly younger people as well."
Mr Reid said the country is heading into a new surge of Covid-19 cases with a strong line of defence that was not there previously.
He told the programme that 60% of the adult population were now fully vaccinated, 75% are partially vaccinated and five million vaccines have been administered.
"So that's a strong line of defence that we didn't have previously," he said.
However, he repeated his warning to the public that the Delta variant has prompted a dramatic increase in Covid cases in Ireland.
"It is the trend that we're concerned about, particularly in the context of the rising number of daily cases," he said.
HSE Chief Executive @paulreiddublin says that hospitals are seeing more younger people being admitted and that the "concern is not just about hospitalisations, the concern, particularly for younger people, is long Covid" pic.twitter.com/Q7yICxAWVA

— RTÉ News (@rtenews) July 16, 2021
Mr Reid said that 87% of new virus case numbers over the last two weeks are with people under the age of 45, adding that back in January, 40% of cases were with people over the age of 45.
We need your consent to load this rte-player contentWe use rte-player to manage extra content that can set cookies on your device and collect data about your activity. Please review their details and accept them to load the content.Manage Preferences
"Now the exposure we have, is the people who haven't been vaccinated, so that's the new vulnerable we are dealing with," he said.
"And the concern is two-fold. Number one, as you are not vaccinated, you are at a high level of risk, and number two, what we want to protect against is the high level of spread and transmission in the community."
Mr Reid also said that people aged between 60 and 69 should have received both vaccine doses by the end of this week. He said it was not a case of the HSE "not getting to them", but rather the dosage interval recommendation.
"That was a factor of recommended medical clinical guidance about dosage intervals", Mr Reid said.
"That went out to 16 weeks, back to 12, back to eight and then back to four, so we were following that guidance all the time.
"But thankfully, the vast majority should be substantially complete by the end of this week, and it's really just people who haven't been in a position to come forward."
Mr Reid said there are still some people in their 50s and 60s who have not come forward, adding that the portal is "always open to them".
Those aged between 25 and 29 are able to register on the portal from today and the HSE CEO said they aim to provide a vaccination within three weeks from registration.
HSE Chief Executive @paulreiddublin says the vast majority of 60 - 69-year-olds will have received their second vaccine by the end of this weekend pic.twitter.com/RUBAgA7ySp

— RTÉ News (@rtenews) July 16, 2021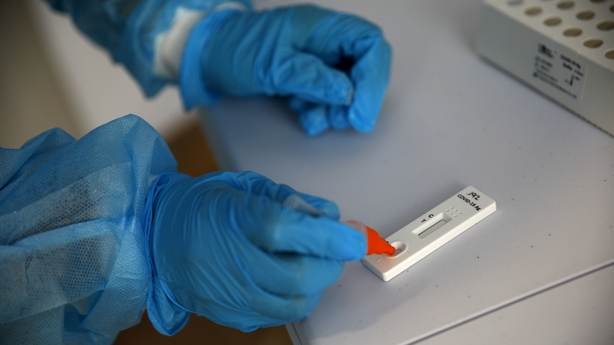 The HSE's National Lead for Covid-19 Testing and Tracing has said that a combination of PCR and antigen testing will be used in the new surge of Covid-19.
Speaking on RTÉ's Today with Claire Byrne, Niamh O'Beirne said: "This wave may be greater than all the other waves we have had previously."
She said that the HSE would not have capacity for 120,000 PCR tests per day, which was forecast in the most pessimistic scenario by the National Public Health Emergency Team (NPHET).
Ms O'Beirne said antigen testing would be used for close contacts.
"At the moment, we are looking at a model of providing those people [close contacts] with a box of size antigen test, they are home tests, and a self-swab kits and asking them to do testing on day zero, day five, day seven and day ten - so four tests," she said.
Speaking on the same programme, a consultant in emergency medicine said attendances at emergency departments have "significantly increased" compared to pre-pandemic attendances.
Dr Emily O'Connor, from Connolly Hospital in Blanchardstown, said they are facing into an increase of young people coming in sick with Covid-19, particularly in departments that deal with paediatrics.
She said paediatric departments have reported seeing far more viral type presentations than they normally would at this time of the year.
"About 30-40% of their attendances are being put down to what we call the Covid stream," Dr O'Connor said.
"Not all parents are thinking of Covid when their child is feverish, and they're needing to be prompted to bring their child for swabbing."
90% of HSE systems running again
In relation to the cyber attack on the HSE IT system in May, Mr Reid said about 90% of acute hospital systems are back up and running.
The last 10% does cause problems, he said, adding that there are still some "slow, clunky issues" that they are dealing with.
"But the vast majority, particularly of our high clinical care services, are back," Mr Reid said.
"Some have been impacted in particular, but equally, things like people applying for a medical card online are back up and running."
---