Cabinet has approved legislation for the resumption of indoor hospitality, said Tánaiste Leo Varadkar.
He said it will allow people with evidence of vaccination or immunity to enter cafes, restaurants, pubs and others licensed venues.
However, accompanying minors will be allowed to attend these venues with their parents or guardians and social distancing measures will still apply as a result.
Mr Varadkar said he knows this is not the ideal way to reopen, but that the alternative was to wait until September, when all adults are vaccinated, but he said even then it may not have happened as all teenagers may not be vaccinated by then.
The Tánaiste says he hopes that people don't see the reopening of indoor hospitality - for fully vaccinated people - as discrimination. He says that it is a public health measure and will only last a number of weeks | https://t.co/Rm6LXv63dA pic.twitter.com/G4icCq2KkL

— RTÉ News (@rtenews) July 12, 2021
He said the bill contains provisions to extend hospitality to those who pass a PCR or antigen testing but this will require further scientific advice.
He said there are also provisions to extend it to other indoor venues like bingo halls and bowling allies in the future.
The measures also allow unvaccinated staff to eat a meal before or after work in the premises.
Mr Varadkar said the Government is aiming for the laws to come into force next week, but no later than 26 July, and that he believes there will be a high degree of compliance with the new regulations.
The Govt has approved legislation for the reopening of indoor hospitality. Tánaiste Leo Varadkar says that this will be done in a safe and sustainable way | https://t.co/Rm6LXv63dA pic.twitter.com/hxhsOgVxMr

— RTÉ News (@rtenews) July 12, 2021
There will be a sunset clause, so the law will fall in October unless it is extended by the Dáil and Seanad.
"I hope people won't see this as discrimination. This is entirely a public health measure," he said.
"Those most at risk now are those who are not vaccinated."
The Tánaiste says nightclubs operating as nightclubs will not be able to open for "quite some time".
However, he said nightclubs can operate as licensed venues with six to a table and table service only.
Minister for Tourism Catherine Martin said the reopening was an important next step that she hopes will turn things around for the hospitality industry.
She appealed to the public to bear with the government as they took this phased approach to reopening the sector.
Minister Martin said there will be pilot events held in nightclubs and dance hall settings in the near future.
She added that she would be seeking advice to allow for the return of live music to licensed premises.
She also said there would be fines of up to €2,500 for forged documents or for premises that were not checking certificates.
Minister for Tourism Catherine Martin confirms that if a person forges a document to gain access to indoor hospitality, they face a fine. If a business ignores the rules, it faces a fine and possible closure order | https://t.co/Rm6LXv63dA pic.twitter.com/drvcrVKH28

— RTÉ News (@rtenews) July 12, 2021
Mr Varadkar said gardaí will not be going into venues to check individual vaccine passes, but they will be checking if venues are making those checks.
He said the type of certs that will be accepted will be specified before reopening day.
The CEO of the Restaurants Association of Ireland Adrian Cummins has described the announcement as giant leap towards reopening hospitality businesses safely, viably and sustainably.
Mr Cummins said "confidence is building within the hospitality industry that we could see doors open for indoor hospitality, subject to the legislation passing through the Oireachtas this week, around Friday 23 July".
He described the measures contained in the legislation as "the only option on the table at the moment".
"We are moving forward. It's not perfect but we will make it perfect over the weeks and months ahead."
The Government is aiming to have the legislation passed by the Dáil and Seanad before the end of the week.
After the bill, which amends the 1947 Public Health Act, passes in the Seanad, most likely on Friday night, it will go to the President to be signed.
Once the bill is signed by President Michael D Higgins, the new system will come into operation.
---
---
Sinn Féin's Health spokesperson David Cullinane said earlier that his party was "very, very sceptical" about the Government's planned legislation to reopen indoor hospitality.
Speaking at Leinster House, he said it was "deeply problematic" when law is either discriminatory or rushed or both.
He said Sinn Féin will examine the legislation when it is published by the Government, but it appeared to be "unworkable".
The Social Democrats earlier said it is "very important" that the Government publishes the planned legislation "as quickly as is possible".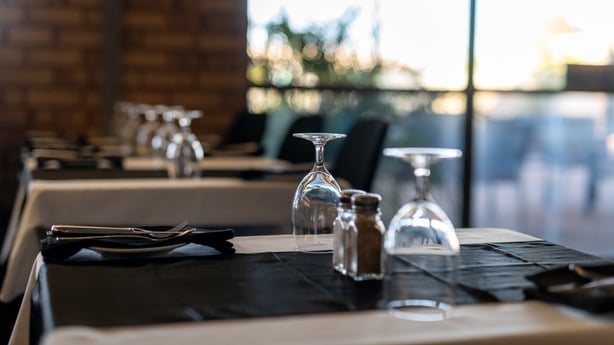 The Chief Executive of the Vintners' Federation of Ireland said the proposed plans are "cumbersome, unwieldy and unnecessary" but said his organisation will "work with members to ensure they have the protocols in place" to be able to resume operations.
Speaking on RTÉ's Today with Claire Byrne, Padraig Cribben said he understands that publicans will need to be able to verify QR codes and that "an app may be available but that could take some time".
Mr Cribben said legislation will need to be "robust" to ensure that "it covers against any claims".
The Irish Council for Civil Liberties has warned that the proposed system of vaccination verification is "wide open to abuse" and will discriminate against the unvaccinated.
ICCL Executive Director Liam Herrick said there have been issues with forgeries and impersonation problems with similar systems in other jurisdictions.
"We are putting in place a system of health surveillance that we have never had before, which raises really profound questions about employee rights and data protection," he said.
Mr Herrick said that hospitals and healthcare setting have operated safely without a legal obligation on staff to declare their vaccination status.
'Willing to work with' system
Rory O'Leary and Liam Barry run Goldbergs bar in Cork. On Friday they will open their latest venture, the Pier Head Inn in Blackrock Village, for outdoor hospitality. They will employ 40 people between the two bars.
They said they had not yet been supplied with details of the system that will apply for the resumption of indoor hospitality, but they are already planning and looking forward to welcoming customers inside as well as outside.
"We haven't got any guidelines from Government. I think our representative bodies haven't got a huge amount of information through yet," Rory O'Leary told RTÉ News earlier today.
"Whatever does come through, we are absolutely willing to work with.
"There are mutterings that there are going to be vaccine certs required. Again, we aren't sure if that's going to happen or not. How do we police it? We still don't know, but we are anxious to get our doors open, get our staff back working and get our customers into the pubs."
Rory O'Leary pointed out that publicans are already required to enforce other regulations relating to their customers and how they run their businesses, and he doesn't feel it will be too much of an additional burden on them to police who will or will not be allowed to drink indoors.
"We police our bars anyway," he said, "it's not a huge extra ordeal for us to check people coming through the doors.
"If it means unvaccinated people have to sit outside and the vaccinated sitting inside, I don't see any huge problem with that - it's no big burden on us, I don't think. That is the plan. That's the information we are getting through. That's the hand of cards we are dealt and we have just got to play them as best we can."
Additional reporting Paul Cunningham, Paschal Sheehy