The Kuwaiti Cabinet has decided to close down all activities for children, including summer clubs, from 25 July until further notice, as a precautionary measure to combat the spread of coronavirus.
After a briefing by the health minister, the Cabinet also ordered the ministry of defence and the Kuwait Petroleum Corporation (KPC) to put their hospitals at the service of the country's healthcare system, according to a Cabinet statement.
Today, Kuwait reported 1,770 Covid infections, and 19 deaths, bringing the total of infections to 37,7364 and deaths to 2,136.
Dutch PM apologises for easing Covid-19 restrictions
Dutch Prime Minister Mark Rutte admitted today his government made a mistake by easing a raft of measures to combat Covid-19, apologising as daily infection rates rocketed to peak levels.
Mr Rutte and Health Minister Hugo de Jonge on Friday reimposed a number of restrictions including closing nightclubs as the highly-infectious Delta variant took hold, particularly among young people.
"A judgement error was made. What we thought we could allow, we could actually not," Mr Rutte said in The Hague.
"We are upset about it and we apologise," he told reporters.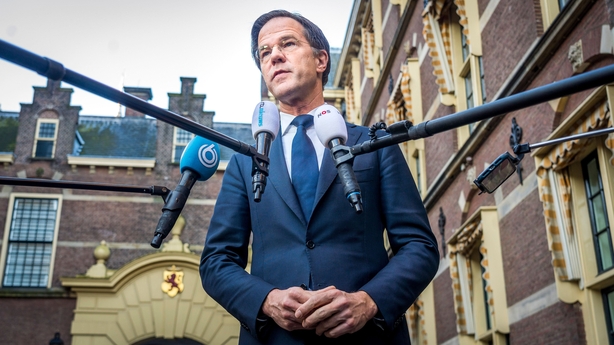 More than 9,300 people tested positive on Sunday as opposed to 500 just two weeks ago, with the country reporting its highest daily numbers since December last year.
On Monday, 8,500 new infections were registered.
"The recent increase in numbers is faster than foreseen," the Dutch Outbreak Management Team (OMT) said in a letter to parliament last week.
"We're seeing a recent exponential increase in the number of infections specifically among 18-25 year-olds," the OMT said, adding infections happened mainly at nightclubs and within the hospitality sector.
However, it added: "Outside this age group there is no obvious increase."
Hospital admissions have also not risen significantly.
At a press conference on Friday, Mr de Jonge said that some 80% of Dutch citizens have been vaccinated with at least one jab.
But virologists fear that young people with Covid could spread it to other age groups who have not yet been vaccinated.
The OMT warned that hospital admissions and "the burden of care" would likely go up again.
The Dutch decision came under fire including from the health minister of neighbouring Belgium.
"We've learned from the Dutch experience that it is best not to jump the gun," Frank Vandenbroucke told the VTM commercial television station.
Meanwhile the Dutch Event Organisers' Federation said it was "sad and furious" about the government's decision to reimpose measures to curb the virus.
"This feels like the death blow to an industry which was the only one working with the government to find a solution," it said, referring to a test-for-admission experiment which allowed people to attend events without having to keep 1.5 metres apart.
New restrictions in France
French President Emmanuel Macron announced mandatory Covid-19 vaccinations for health staff on Monday as well as a tightening of restrictions to fight a recent surge in cases linked to the Delta variant.
Mr Macron said in a national address that vaccine checks on healthcare and retirement home workers would start in September, while a "Covid pass" system will be extended to restaurants, bars and other public venues from August.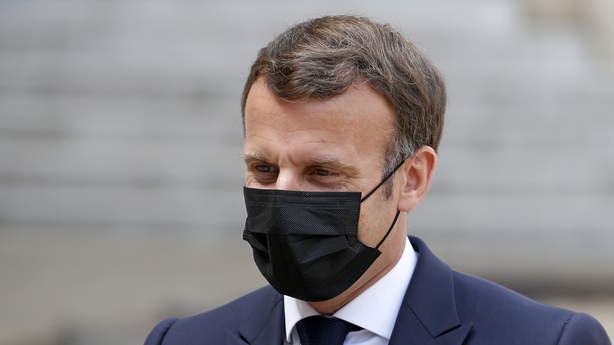 Under the new rules, people wanting to eat or drink out will have to prove they have been vaccinated or have a recent negative test showing they are infection-free.
"Our country is facing a surge in the epidemic across our territory, in mainland France as well as overseas," Macron said at the start of the televised address.
"The situation is under control, but if we do not act now the number of cases will increase significantly and will lead to a rise in hospitalisations," he said.
He laid out a strategy to combat a fourth wave of infections that was based on a further push to vaccinate people over the summer and increasing the costs for people who have decided to shun the jabs.
"We will have the same approach, recognising the civicism (of those that have been vaccinated) and putting in restrictions on the non-vaccinated rather than on everyone," he said.
The announcements represent a change in direction for the government after several months of progressively lifting restrictions and they underline the concern about the potential impact of the more infectious Delta variant.
The number of new cases in France has jumped to around 4,200 a day, according to the latest available official figures, although the number of deaths in hospital -- four in the past 24 hours -- is low. Around 7,000 people with Covid are in hospital in France
'Generational catastrophe'
Schools remain shut in 19 countries due to the pandemic, affecting 156 million children in what risks being "a generational catastrophe," the heads of two UN agencies warned today.
The statement from the leaders of UNICEF and UNESCO, responsible for children's issues and education, said "governments have too often shut down schools and kept them closed for prolonged periods, even when the epidemiological situation didn't warrant it."
They advised that "schools should be the last to close and the first to reopen," with the effects of closures ranging from lower educational achievement to mental health problems and increased malnutrition.
"We urge decision-makers and governments to prioritise the safe reopening of schools to avoid a generational catastrophe," UNICEF leader Henrietta Fore and UNESCO chief Audrey Azoulay wrote.
"Closing schools mortgages our future for unclear benefits to our present. We must prioritise better. We can re-open schools safely, and we must," they added.
Extended lockdown in Sydney
The prospect of an extended lockdown in Sydney loomed as Australian health officials reported yet another record daily rise in Covid-19 cases for the year, fuelled by the highly infectious Delta variant.
New South Wales state reported 112 new locally transmitted Covid-19 cases, almost all of them in Sydney, despite the country's biggest city entering its third week of lockdown.
Case numbers have been at record levels for at least three days.
There was, however, a glimmer of light as the number of newly infected people who were out in the community while infectious dropped to 34 from 45 yesterday.
State Premier Gladys Berejiklian said the progress of that figure in coming days would determine whether Sydney's lockdown, due to end on Friday, would be extended.
"That's the number we need to get as close to zero as possible," Ms Berejiklian said during her daily televised briefing.
"It is really up to us. The health expert advice will be based on what those numbers look like. I can't be clearer than that."
Ms Berejiklian said a majority of today's cases were family members or close friends of already infected persons.
She pleaded with residents to comply with lockdown rules, which were tightened over the weekend.
Total infections in the outbreak are nearing 700, less than a month since the first was detected in mid-June.
Sixty-three people are in hospital, with 18 in intensive care, officials said, while a woman in her 90s became the country's first Covid-19 fatality this year.
Lockdown measures for Sydney's five million residents, including school closures and stay-at-home orders, have stoked concerns of a slowdown in the economy, which had returned to pre-pandemic levels in the first quarter.
Australia has previously successfully suppressed Covid-19 flare-ups through snap lockdowns, speedy contact tracing and tough social distancing rules.
With a total of around 31,200 cases and 911 deaths since the pandemic began, the country has fared better than many other developed economies.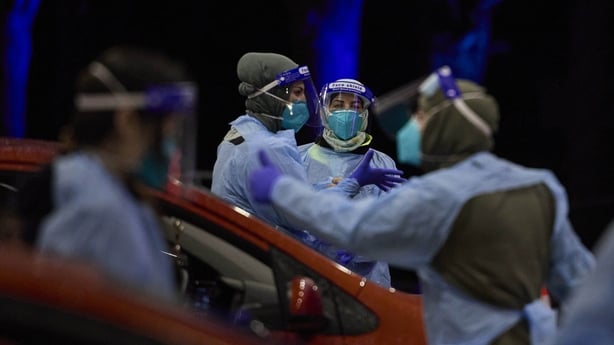 The Sydney outbreak has put Australia's sluggish vaccine roll-out under the microscope. Only around 11% of Australia's adult population of just over 20.5 million have been fully vaccinated.
Critics have pointed to confusing public advice as well as vaccine shortages.
Official federal health guidance recommends the locally-produced AstraZeneca vaccine be restricted to people aged over 60 because of blood clot concerns, while the imported Pfizer vaccine is currently limited to people below 60.
However, New South Wales officials said the state's vaccination centres and pharmacies would be authorised to give the AstraZeneca vaccine to anyone over 40. NSW officials have also recommended shortening the interval to six weeks between AstraZeneca vaccination doses from the recommended 12 weeks.
Lieutenant General John Frewen, head of the Covid-19 vaccination taskforce, has defended a newly-released advertisement showing a youthful-looking intubated woman in a hospital bed struggling to breathe and urging people to get vaccinated.
"The conditions in Sydney right now we felt warranted that commercial," he said. "It is absolutely confronting and we didn't use it lightly."
Thailand sees tougher Covid-19 curbs bite, including Bangkok curfew
Over ten million people were placed under fresh Covid-19 restrictions and a curfew in the Thai capital, as the kingdom battles a surge of cases worsened by the highly infectious Alpha and Delta variants.
Thailand has so far recorded more than 326,300 cases and 2,711 deaths, with the bulk of them coming in this latest wave that kicked off in April.
First detected in clubs at an upscale Bangkok nightlife district, the surge in infections has been exacerbated by a slow vaccine roll-out and limited testing capacity.
In addition to the capital, nine other provinces that have seen a steady uptick in infections saw more restrictions bite.
Police checkpoints sprung up across Bangkok in the early hours of this morning as a curfew from 9pm to 4am came into force, with police wearing masks and facial shields stopping cars in the centre of the capital.
Residents are barred from gathering in groups of more than five people, while public transport networks will shut from 9 pm.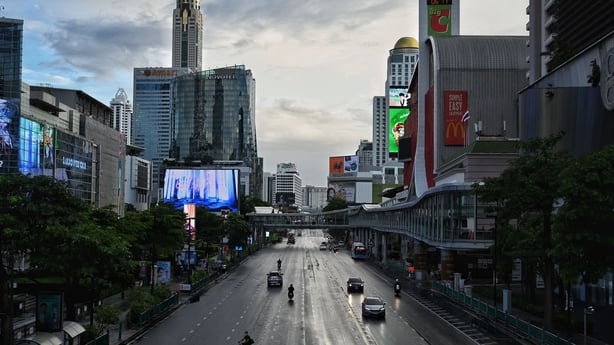 Supermarkets, restaurants, banks, pharmacies and electronics stores within malls will be able to stay open but other shops have shuttered.
The government of Prayut Chan-O-Cha has come under strong criticism for its handling of the pandemic - from its management and procurement of vaccines to its ad hoc enforcement of rules to prevent the spread of Covid.
The virus has hit poor communities the hardest, especially those living in Bangkok's slums, where social distancing is not possible.
Long lines of people waited at two free testing clinics to get swabbed last week, with local media showing people camped under a tollway in Khlong Toei district - where Bangkok's largest slum is located - as they waited for negative results before going home to their families.
One temple on the outskirts of Bangkok providing free funeral services to those unable to pay has been overwhelmed with the bodies, with its crematorium barely able to handle the demand.
Chinese athletes complain about lax virus measures at Olympics hotel
China's first athletes to arrive in Japan for the Tokyo Olympics have complained that poor prevention measures at their hotel will increase the risk of catching Covid-19.
The pandemic has cast a shadow over the games with organisers banning all fans from venues in Tokyo and three neighbouring prefectures, in a huge blow for the event.
A few outlying areas are allowed to have a limited number of domestic fans - with overseas spectators banned months ago - and organisers have promised that the event will be safe.
However, after they arrived in Enoshima, a small island where the sailing events will take place, China's sailing team complained of insufficient precautions at their hotel.
"The Chinese team lives on one floor, but mixing with tourists in the hotel is certainly a hidden danger," Zhang Xiaodong, head of the Chinese Sailing Association, told state-run Xinhua news agency.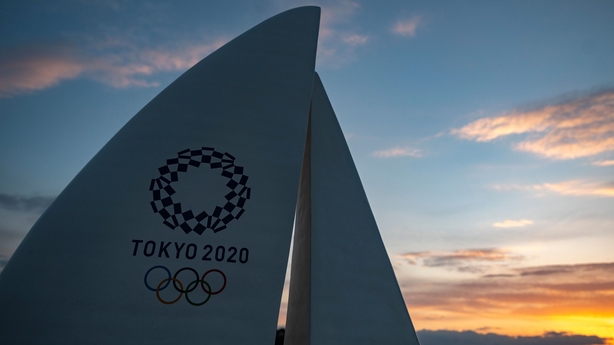 The Olympic Village in Tokyo is sealed off, with only authorised staff allowed to enter.
But the sailing and windsurfing competitions will be held far from the village, with those competitors staying at a designated Olympic hotel near the venue.
The International Olympic Committee (IOC) has released a playbook offering safety guidelines for athletes but absolves itself of any responsibility if they catch the virus.
Coronavirus concerns had led to calls in Japan for the Olympics to be postponed or even cancelled. Organisers have said athletes will be tested every day once they arrive in Tokyo.
Although it is not compulsory to be vaccinated, the IOC has said up to 80% of athletes would have received their doses before the games begin on 23 July.