As thousands of businesses wait for direction from the Government on the reopening of indoor service, café owners are worried about policing vaccine or Covid-19 passes.
Close to Acres Lake in Drumshanbo, Co Leitrim, Jinny's Tea Rooms attract the passing tourist trade
However instead of sitting in the comfortable café, tourists are taking their food and coffee away. After changing the business into a takeaway shop, Sinead Gillard is ready to welcome customers back inside.
But Ms Gillard wonders about what she and other owners will be asked to do before they can serve a cup of coffee or confectionery indoors.
The Government is drawing up legislation and preparing for a scannable vaccine pass as well as paper passes.
"I wouldn't be happy asking people," she told RTÉ's This Week.
First, she says this will require extra staff.
"That's another person to man that position, asking people at the door. Running the business is hard enough without having to add another layer to it," she said.
She also worries about people's reaction to being asked to show a pass to drink a cup of coffee or tea indoors.
"Some people could be quite upset to be asked," she said
Ms Gillard said that given the high numbers of fully vaccinated adults the Government should allow cafés to operate indoors with social-distancing and other public health measures.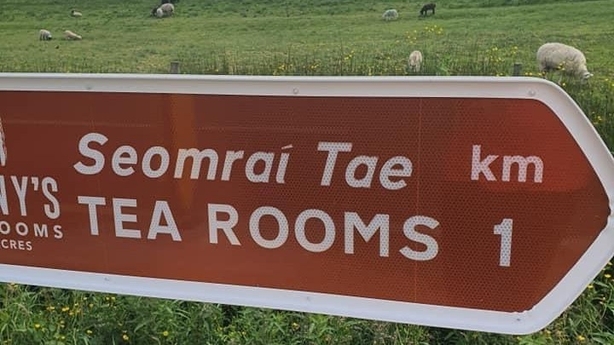 She said this worked well last summer for both customers and owners.
"With spacing and mask-wearing they should be allowed do so," she added.
In Carrick-on-Shannon's Cafe Lounge, owner Georgia Vesnyei is frustrated by the lack of communication from the Government.
She has not been able to use indoor seating in her specialty coffee bar since last December and has just a handful of outdoor seats in a draughty area.
"There are not clear guidelines and even those guidelines coming to light are giving us very short notice," she said, adding that she checks the news every hour to see if the Government has made a decision.
Located on a busy side street near the bridge in Carrick-on-Shannon, Ms Vesnyei is also worried about policing a digital Covid certificate.
"We already got abuse from customers who don't want to wear a mask. We had to set up a policy to deal with them, not to engage, but to serve them as soon as possible to protect the employees," she said.
Ms Vesnyei is also worried about people potentially using fake passes.
"I believe there will be some kind of forged document. There will be people who are not willing to leave. If one of these are infected with Covid, I will have to shut down the business.
"My employees are younger generation. It worries me that they are the ones that will be exposed to the new variant that is more transmissible."