Uncertainty about the re-opening of indoor hospitality has resulted in ongoing concern for business owners, with pubs and restaurants anxiously awaiting Government decisions on their return.
While some premises have been able to offer outdoor dining since early June, and many have been doing takeaway or 'click and collect' in recent months, others have been closed or all-but-closed.
Following talks between Government and industry representatives yesterday, a decision on the way forward is expected next Tuesday.
Last Monday was initially slated as the day for indoor dining to resume but the advent of the Delta variant of Covid-19 led to Government announcing a delay last week.
Since then 19 July has been suggested as a new target date, but there is also speculation that it could be later, and that it will only be vaccinated people allowed inside restaurants and pubs.
It will have implications for businesses around the country, including in popular tourism areas where eating and socialising in restaurants and pubs is considered part of the Irish hospitality experience.
In the seaside resort of Tramore in Co Waterford, restaurants would usually be busy with families and tourists in general, as well as locals, at this time of year.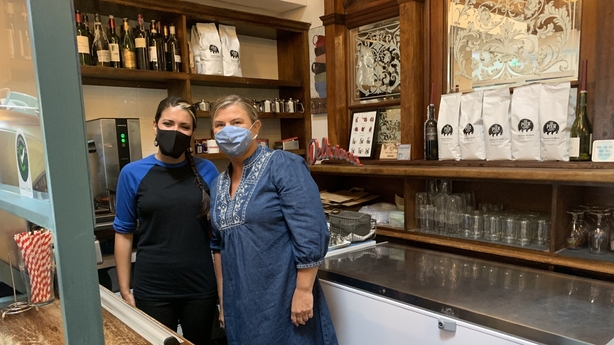 "Everybody knows it's been really difficult, we just miss the buzz, we miss working, financially of course it's been difficult, but we just want to get back and we want to get back safely for our customers and our staff," Sara Walshe, co-owner of The Pier Cafe, said.
"We know it's [restrictions] not going to last forever but it's going on, it's going on, and we just have to re-invent ourselves every month until we find out where we're going to be."
They will follow whatever guidance they are given, she added, but need certainty so they can plan.
"We were a little disappointed, 5 July I really thought we were going to get open then but obviously with the Delta, the Government decided it wasn't safe and we just had to listen to them. But we're excited to get open: we just want to get open."
The biggest thing for us at the moment is trying to keep everybody employed and get our staff back
Elsewhere in Tramore, the Vee Bistro has been offering limited outdoor dining in recent weeks but owners Catherine and Derek O'Sullivan are looking forward to allowing customers inside their renovated interior.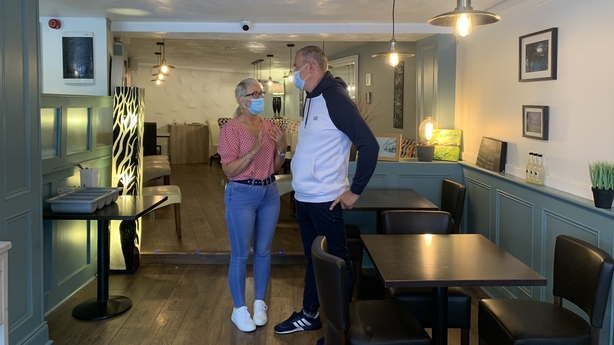 "Not ideal," she says of the outside experience.
"Today it's grey skies here in Tramore, it's a little bit cooler so people aren't really happy to sit outside. We do provide blankets and umbrellas but it's not ideal if you're not used to sitting out in the cold.
"Indoor, obviously, would be a big bonus for the business to create extra revenue and employ more people, she said.
"The biggest thing for us at the moment is trying to keep everybody employed and get our staff back who were here originally with us.
"Two years ago the hustle and bustle and queues in Tramore of people trying to get into restaurants would be incredible," she recalls.
"So that's what we're looking forward to, trying to get the restaurant open again."