People under the age of 18 will be able to go inside bars and restaurants if they are accompanied by a fully vaccinated person under a plan for reopening indoor hospitality that is due to go to Cabinet on Tuesday.
It is to ensure families can eat indoors during the holiday season.
The Government is continuing to work on legislation that would allow fully vaccinated people eat and drink inside pubs and restaurants later this month.
It would also permit those who have fully recovered from Covid-19 to enter these premises.
The industry expects that there will be a time limit of one hour 45 minutes, along with a requirement to have tables one metre apart, in the guidelines that will be issued.
Details around how hotels will cater for non-resident under this new system are being worked out this weekend too.
It is understood that senior officials are looking at introducing a model along the lines of the CoronaCheck app that is used in the Netherlands.
It would enable restaurants and bars to download an app that could read the QR codes on the EU Digital Cert, which will be issued from Monday next.
Some within the coalition are hopeful that indoor hospitality could resume before the weekend of 24 July with this new checking system in place.
The legislation is set to go to Cabinet on Tuesday and will go before the Dáil and Seanad later in the week.
It will also provide for inspections of the sector to ensure the system is being implemented and it offer protections to business owners if customers seek to enter without a certificate.
The Seanad is expected to sit late next Friday night to pass the Bill which is an amendment to the 1947 Public Health Act.
It is likely to agree a motion to ask the President to sign the legislation quickly.
Minister of State Colm Brophy said he does not see any fundamental problems with introducing a Covid-19 vaccine certificate.
Speaking on RTÉ's Saturday with Katie Hannon, Mr Brophy said the Government did not want it as a first option but is working with stakeholders to support those in the industry.
---
Read more: Latest coronavirus stories
---
Elsewhere a security expert has said Ireland does not have the infrastructure in place to introduce a Covid-19 vaccine certificate.
Indoor dining is due to reopen later this month, with a system for verifying vaccination or recent recovery from Covid-19.
Sadhbh McCarthy, security consultant at University College Dublin, says Ireland is lagging behind other EU countries such as the Netherlands, who have been working on such technology for the last year.
"I completely understand the desire of hospitality to do anything they're asked to reopen but the Government is rushing now to get something done that should have been done a year ago," she said on RTÉ's The Business.
Ms McCarthy also questioned how the system would be enforced.
"How will the document be authenticated? That's a huge thing to put on business owners," she said.
Addressing Ms McCarthy's concerns, Adrian Cummins of the Restaurants Association Ireland said his members will expect full protection from the State in the instance of forgery of vaccination certs.
Speaking on the same programme he said: "We're in a position now that we have an opportunity to get open and that will result in people forging. Legislation will have to be in place for that and we expect the protection of the State."
Mr Cummins also said the Covid-19 certificate is "the only way NPHET will allow us to reopen".
It comes as the Department of Health has reported 581 new cases of Covid-19.
There are 52 people in hospital with Covid-19, two more than yesterday. Of these, 16 are being treated in intensive care units - a rise of one since yesterday.
There have been 445 new infections reported in Northern Ireland.
Minister 'pushing' for use of antigen testing
Housing Minister Darragh O'Brien has tweeted out a video about the new EU digital cert, due to come into effect on 19 July.
He said that antigen testing was not currently accepted for entry to Ireland but is acceptable for a number of other countries.
The appropriate QR codes will be available from private antigen testing services here.
Mr O'Brien said: "I am continuing to push for the use of antigen testing here in Ireland as well - many of us are. I want to see it done."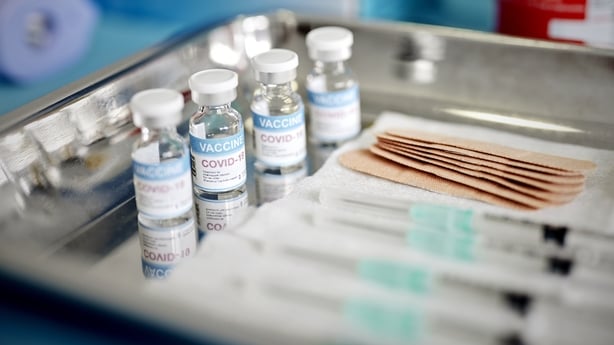 55% of adults now fully vaccinated
More than 55% of the adult population are now fully vaccinated and 70% are partially vaccinated, the chief executive of the HSE has said.
In a tweet, Paul Reid said more than 275,000 vaccinations have been administered this week so far.
There are 50 Covid-19 patients in hospital, and 15 in ICU.
"A big challenge but we all want to protect where we're at, for now," he said.
Warning over rising cases
The Chair of the Irish Medical Organisation's GP Sub Committee said that Ireland could see cases rise to 3,000 a day if restrictions are eased later this month.
Dr Denis McCauley, who is also a GP based in Donegal, said that the significant increase in Delta cases in Northern Ireland will be mirrored here if indoor hospitality resumes on 26 July.
"It's very difficult to stop this variant in the area it's affecting... There is no border for the virus.
"In Northern Ireland, they have hospitality open which is much more open than us so if we have our hospitality open with the Delta variant then we would probably have a factor of six as well," he said.
Dr McCauley said the virus does not recognise borders and that outbreaks would easily spread from county to county in the north.
"There's something strange going on in Northern Ireland and I hope that strangeness doesn't spread to here and we make good political decisions... We have to decide what level of lifting restrictions is acceptable," he said.
Asked if children should be considered in the vaccination programme, Dr McCauley said he is waiting for more information from studies in the US but that a vaccination for children aged between 12 and 15 could end the disruption to education.
"You have to look at the risk benefit. It depends how it's marketed to the parents and they'll have to weigh up the risks, whether it's helping the child, the family, the classroom or the nation," he said.
"If it [US research] adds up and we present it rationally, let's go with it," he added.