Luxembourg's Prime Minister Xavier Bettel is in "serious but stable" condition with Covid-19 and will stay in hospital for two to four more days, according to his government.
A source in the 48-year-old's office said that Mr Bettel "is short of breath, but not intubated".
He received one dose of the AstraZeneca vaccine on 6 May but, as one of Europe's younger leaders, has not received his second jab.
Mr Bettel went into voluntary self-isolation on 27 June with mild coronavirus symptoms.
He was then hospitalised yesterday for what was announced as a 24-hour precautionary measure.
"At that time, insufficient oxygen saturation was diagnosed, and the prime minister has been under continuous medical observation since then," the government statement said.
"The prime minister's current medical condition is considered serious, but stable," it said.
"The medical staff attending the prime minister therefore decided that hospitalisation is still necessary at this time to continue observation for an estimated period of two to four days."
Finance Minister Pierre Gramegna, a fellow liberal, will be given authority to ensure government continuity but Mr Bettel is able to coordinate most business from hospital.
His symptoms began less than 48 hours after he returned from a summit of the 27 European Union leaders in Brussels, but none of the others have been named as at risk of exposure.
Norway to delay reopening plans amid Delta concerns
Norway is delaying the next major step in unwinding Covid-19 restrictions to the end of the month at the earliest, Prime Minister Erna Solberg has said.
"There is a risk that the Delta variant will cause a fourth wave of infection in the unvaccinated part of the population, among those who have only received one dose or are in vulnerable groups," she added.
The World Health Organization has said Delta is becoming the globally dominant variant of Covid-19.
In Norway, it could become the dominant variant there this month, the Norwegian health minister has said.
Almost two-thirds of adults in Norway have received a first dose of a Covid-19 vaccine and 37% of adults are fully vaccinated, according to the Norwegian Institute of Public Health.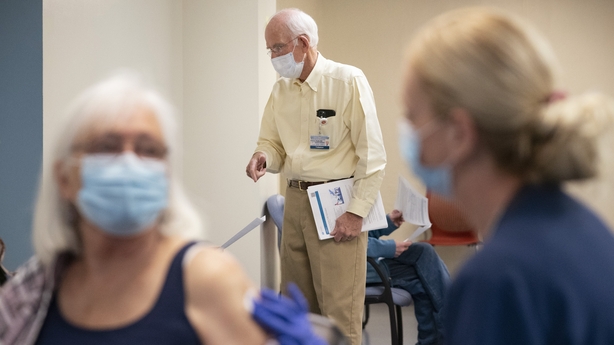 France warns virus fourth wave could hit by end-July

France could see a new spike in Covid cases by the end of July due to the spread of the more contagious Delta variant of the virus, the government spokesman said.
"Over the past week the epidemic is again gaining ground," Gabriel Attal told France Inter radio, with the Delta variant now accounting for 30% of new infections in the country.
A fourth wave of infections is "a possibility" by the end of this month, he said, echoing a warning issued by Health Minister Olivier Veran last night.
Several countries, including Britain and Russia, have already seen alarming jumps in new cases because of the variant, which was first identified in India.
French officials acknowledge that not enough people are getting vaccinated despite ample supplies, which could lead to a rise in cases.
"We've seen in the United Kingdom an explosion (of cases) that occurred very rapidly after the first red flags, and we're seeing these signs in our country," Mr Attal said.
Overall, the French infection incidence rate stood at 21 per 100,000 people as of last Thursday, the most recent data available, still below the alert level of 50 but an increase of 10% on the previous week.
"The English example shows that a wave is possible from the end of July," Mr Veran had warned on Twitter, saying that a combination of vaccines, testing and social distancing can limit its impact.
---
---
---
Health authorities yesterday reported nearly 2,600 new cases over the previous 24 hours, also an increase from recent days, though far from the 35,000 daily cases seen at the height of the third wave that hit France in April.
Only 36% of the population has been fully vaccinated with two doses, though the government has ruled out making the shots mandatory.
Prime Minister Jean Castex will meet with local officials as well as party leaders in parliament this week to discuss requiring vaccines for health workers and retirement home staff.
The French hospitals federation (FHF) says vaccination rates have stagnated at 64% for hospital workers, with holdouts expressing doubts about the safety of the shots.

Australia's New South Wales says next 2 days 'critical' as cases rise
Australia's New South Wales said the next two days would be "absolutely critical" in deciding whether a two-week coronavirus lockdown in Sydney, set to end on 9 July, will have to be extended amid rising Delta variant cases.
With more than five million Sydney residents under strict stay-at-home orders, total infections in the latest outbreak have topped 300. NSW reported 35 locally acquired cases today, matching the biggest daily rise in infections so far this year, recorded two days ago.
"We expect the case numbers of people in isolation to keep going up," NSW Premier Gladys Berejiklian told reporters in Sydney.
"What we are really looking at are the number of people who have still been infectious in the community and what impact that will have in the next few days."
Of today's cases, 28 were either in isolation throughout or for part of their infectious period. Seven cases spent time in the community while they were infectious.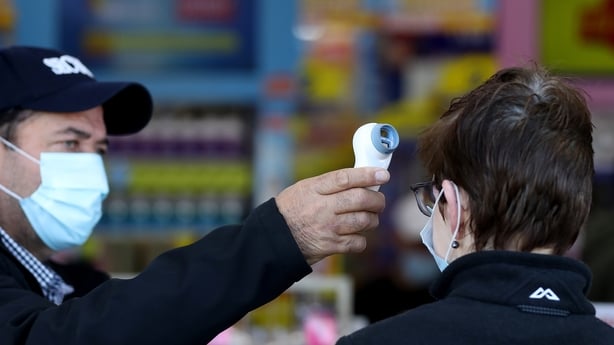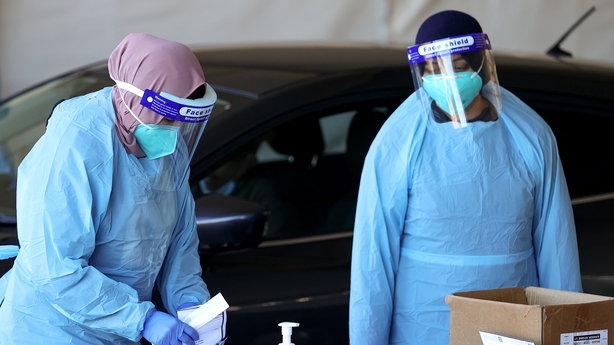 "The next couple of days will be absolutely critical," Ms Berejiklian said.
Sydney, the worst-affected city in the latest flare-up in infections in Australia, is battling to contain the highly infectious Delta variant. Perth, Brisbane and the northern city of Darwin came out of snap lockdowns over the weekend after officials there deemed the Delta strain there was under control.
Ms Berejiklian said the lockdown had been effective so far in limiting new cases to tens rather than in hundreds, although she said many had breached health orders, helping the virus to spread.
Several players of an Australian rugby league team were fined A$1,000 (€634) by NSW police for breaching public healthorders after throwing a party.
The Delta variant, first detected in India and listed as one of the four variants of principal concern by the World Health Organization, has stoked fears of a significant outbreak in Australia amid a sluggish inoculation drive.
Snap lockdowns, swift contact tracing, tough social distancing rules and a high community compliance have helped Australia to suppress past outbreaks, with just over 30,750 Covid-19 cases and 910 deaths since the pandemic began.
With Australian states demanding more doses of Pfizer vaccine, the federal government last week said it was expecting 400,000 more shots this month, taking monthly shipments to 2.8 million.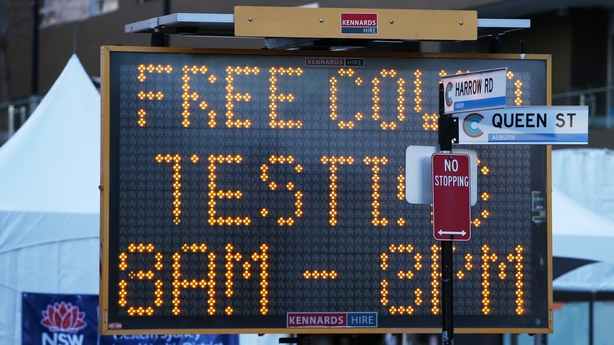 In Queensland, authorities said today that the nearly 140,000 residents who have registered for the Pfizer shots might have to wait until October or November due to supply shortages.
Federal Health Minister Greg Hunt has promised Queensland 198,000 extra Pfizer shots this month.
Meanwhile authorities in neighbouring New Zealand said 150,000 doses of Pfizer vaccine, its largest shipment to date, had arrived, just days before the country was set to runout of supplies.
New Zealand has extended its pause in quarantine-free travel to and from NSW and Queensland, Prime Minister Jacinda Ardern said in a media conference, but residents of New Zealand can return home from 10 July if they can produce negative Covid-19 results.
Germany worried about COVID-19 vaccination 'no shows'

A rising number of Germans are not showing up for Covid-19 vaccination appointments, prompting calls for fines to be imposed as Germany races to get shots in arms to counter the rapid spread of the more infectious Delta variant.
Mario Czaja, head of the Berlin Red Cross, said 5%-10% of people were skipping appointments at the city's vaccination centres - with second doses particularly affected - up from a no-show rate of less than 0.5% at the start of the year.
With around 15,000 vaccinations planned per day at the centres, the number of wasted appointments is having a "massive effect on Berlin's vaccination coverage", he told Deutschlandfunk radio.
"We need the free slots. We are still not out of the woods and we can't afford to be negligent," he said, urging people to cancel their appointments if they managed to get a second dose earlier elsewhere.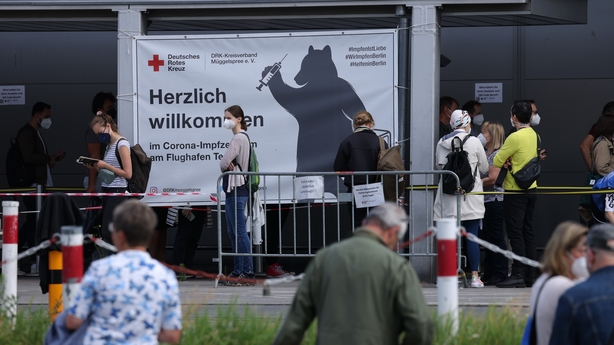 Despite the missed appointments, Mr Czaja said the centres have not had to discard vaccines as, once thawed, they can be stored for three to four days in fridges.
People might be skipping second shots because they have beenv accinated by their family or company doctor, or may be on holiday, Christian Fuellers, medical director of a vaccination centre in North Rhine-Westphalia, told ARD television.
Young men in particular also appear to think getting one dose will be sufficient, he added.
Whatever the reasons, no-shows pose a headache to Germany's plan to speed up vaccinations to try and get ahead of the more contagious Delta variant, now responsible for half of German coronavirus cases and expected to dominate later this month.
German Chancellor Angela Merkel wants Germany to achieve a vaccination rate of 80%, a participant in a meeting of her party's executive committee told Reuters.
Around 39% of Germans have now received the recommended two shots, while 56.5% has had at least one dose.
German government spokesman Steffen Seibert said penalties for vaccination no-shows were not envisaged.
Chinese city on Myanmar border locked down again over virus fears

A Chinese city near the border with Myanmar has imposed a lockdown and started mass testing after three coronavirus cases were reported, with officials rushing to curb another outbreak.
It is the second time in four months that Ruili, home to more than 210,000 people, has been locked down after the discovery of cases imported from Myanmar.
Ruili is a major crossing point from Muse in neighbouring Myanmar, which has seen escalating unrest since a 1 February military coup, raising fears that people will try to flood across the border into China to escape the violence.
One of the three infected patients was a Myanmar national, according to health authorities in Yunnan province.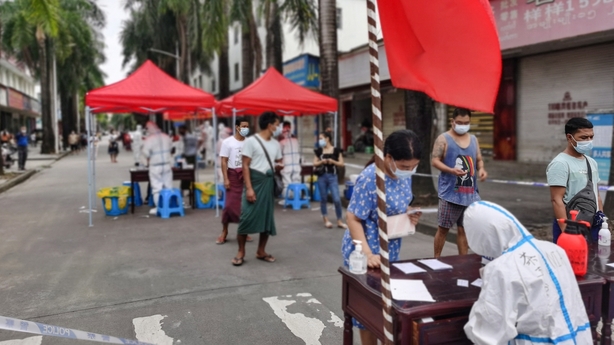 China closed the main bridge and crossing to Myanmar in March as cases surged across the border.
Authorities have also increased patrols in recent months to prevent illegal border crossings and cracked down on human trafficking to prevent an influx of refugees.
Ruili will test all residents for the virus within two days and all "non-essential travel" will be banned until further notice, the local government said Monday.
Only one member of each household can leave to buy daily necessities with permission during the testing period.
Anyone who wants to leave the city must produce a negative virus test conducted within the past 72 hours, the local government said.
The city tested all residents and urged everyone to get to vaccinated after a small outbreak in April.
Biden marks 'independence' from Covid, but pandemic remains a threat

President Joe Biden celebrated US Independence Day with an upbeat assessment of a country he said is roaring back to post-pandemic life, even if Covid-19 has yet to be fully "vanquished."
Speaking before a festive crowd of 1,000 guests on the White House South Lawn, Mr Biden drew a comparison between the declaration of independence in 1776 and today's rapid recovery from the coronavirus.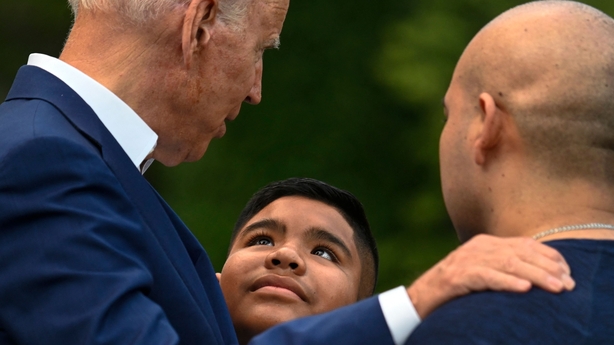 "Two hundred and forty five years ago, we declared our independence from a distant king. Today, we are closer than ever to declaring our independence from a deadly virus," he told the crowd of invited military members and essential workers.
"We've gained the upper hand against this virus," he said. But he added, "Don't get me wrong: Covid-19 has not been vanquished. We all know powerful variants have emerged, like the Delta variant."
Mr Biden paid tribute to those who have lost their lives, with the staggering number of deaths in the United States now at more than 600,000.
But he struck an overwhelmingly optimistic note, suggesting that under his leadership the country - bitterly and at times violently divided during the Donald Trump presidency - was "coming back together."
"Over the last year, we have lived through some of our darkest days," Biden said. "We are about to see our brightest future."
Large crowds packed the National Mall for a huge fireworks display in yet another sign that the United States is looking to its 4 July holiday as a moment to put the virus in the rear view mirror.
The Biden administration says it is concerned, however, about the large numbers of people who have still not got vaccinated.
The heavily promoted White House goal of getting seven in 10 adults their first shot by Independence Day has narrowly failed.
And when it comes to full vaccinations, only 46% of Americans have taken the two doses.
That lag comes as the highly contagious Delta variant continues to spread.
Public health officials are eying swaths of rural America where hospitals are starting to fill up again, especially in Utah, Missouri, Arkansas and Wyoming.
Anthony Fauci, America's top infectious disease expert, told NBC unvaccinated people now account for 99.2%
of Covid-19 deaths.