The number of new cases of Covid-19 reported each day in the UK has risen to the highest level since late January, new figures show.
A total of 22,868 cases were reported by the British government today, the highest daily rise since 30 January when there were 23,275 cases reported.
The government also said that a further three people had died within 28 days of testing positive for Covid-19 as of today.
In comparison on 30 January, during the second wave and when the vaccination uptake was a lot lower, there were 1,200 deaths reported.
The seven-day rolling average for reported cases currently stands at 16,612 - up 70% from the 9,778 a week ago and the highest since 9 February.
Of the 315 local authorities in England, 291 (92%) have seen a rise in rates and 24 (8%) have seen a fall.
The figures reflect the impact of the third wave of cases that is now spreading across the country, which is being driven by the Delta variant of coronavirus.
Public Health England (PHE) said last week that 111,157 confirmed and probable cases of the Covid-19 Delta variant had been identified in the UK - up by 35,204, or 46%, on the previous week.
Some 102,019 have been in England, 7,738 in Scotland, 788 in Wales and 612 in Northern Ireland.
The most recent data shows that approximately 95% of confirmed cases of coronavirus across the UK are the Delta variant.
Italy welcomes mask-free and 'low risk' milestone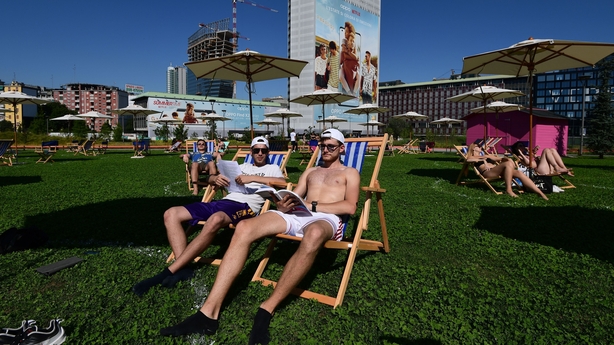 All of Italy has become a mask-free, "low-risk" zone for coronavirus, marking a dramatic milestone for the first European country to be hit by the global pandemic in February 2020.
In a decree that took effect today, the health ministry for the first time classified each of Italy's 20 regions as "white", signifying low risk, under the country's colour-coded classification system that evaluates Covid-19 risk.
That means facemasks will no longer be compulsory in outdoor areas, which is welcome news across the country where an ongoing heatwave is expected to push temperatures past 40C in some southern areas this week.
Once a symbol of the coronavirus crisis in the Europe, where images of army trucks transporting coffins from the overflowing morgue in the northern city of Bergamo were seen around the world, Italy has seen Covid-19 infections and deaths plummet in recent weeks.
A third of Italy's population over the age of 12 has been vaccinated as of yesterday, or 17,572,505 people, according to the government.
Long prohibited from entering the country, tourists from the European Union, Britain, the US, Canada and Japan are now back after the government removed a quarantine requirement for vaccinated visitors, or those who test negative.
---
Read more:
Latest coronavirus stories
---
Despite the progress, health minister Roberto Speranza urged Italians to be vigilant.
"It's an encouraging result, but caution and prudence is still needed, especially because of the new variants," Mr Speranza wrote, after signing the legislation on Saturday.
"The battle is not yet won."
After a long period beginning in November of full or partial regional lockdowns to combat a second wave of coronavirus infections, restrictions were relaxed all over Italy late last month.
The entire country was made a "yellow zone", which brought more freedoms but maintained an overnight curfew that shortened restaurant hours.
As the government gradually eliminated the restrictions over the course of June, the lone holdout, until today, was the Aosta Valley, the small alpine region in the northwest.
In Italy, more 127,000 people have died of Covid-19-related complications, while more than four million people have been infected.
New restrictions as Covid cases spread across Australia
New coronavirus cases have popped up in cities across Australia, prompting local authorities to impose restrictions in areas not used to living under strict Covid-19 rules.
Australia has been broadly successful in containing virus clusters, but is now battling flare-ups in at least four cities.
Brisbane, Darwin, Perth and Sydney have all reported new cases of the highly contagious Delta variant, which first emerged in India and has spread in Australia after escaping from hotels used to quarantine returning travellers.
The largest outbreak is in Sydney, where 130 people have tested positive for Covid-19 since a driver for an international flight crew was diagnosed in mid-June, with the city's residents now under stay-at-home orders for two weeks.
A 48-hour lockdown of Darwin and surrounding areas - due to end tomorrow - was extended to Friday after a cluster linked to an outback gold mine grew to seven cases.
Northern Territory Chief Minister Michael Gunner said that for the first time during the pandemic there were exposure sites in the city, which is home to a large indigenous population feared to be more vulnerable to Covid-19.
"The risk to the community has grown in the past 24 hours. We are now in an extremely critical period. We must stay in lockdown while we keep this virus trapped," he said, urging Aboriginal people living in remote areas not to travel to Darwin.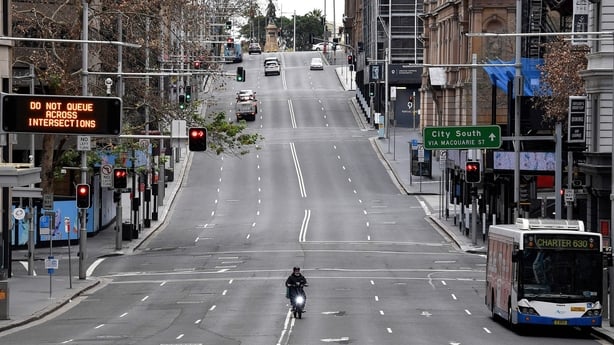 Authorities in the cities of Perth and Brisbane again tightened local restrictions, with masks mandatory and limits on social gatherings imposed on more than two million people in Brisbane and surroundings.
Other regions without confirmed cases have ramped up their rules protectively, with masks now required indoors in the nation's capital Canberra and sweeping restrictions announced for South Australia.
Australia has recorded a total of just over 30,000 cases and 910 deaths in a population of about 25 million since the pandemic began.
Officials have been quick to implement restrictions when clusters emerge, but the latest measures are among the most widespread since a nationwide lockdown in the early stages of the pandemic.
Prime Minister Scott Morrison has called a meeting of national leaders as his government faces a fresh round of criticism for a sluggish vaccine roll-out and failing to improve the leaky hotel quarantine system.
Almost 7.4m vaccine doses have been administered to date, but only a small fraction of people have received both jabs.
The government has refused to release data on how many Australians have been fully vaccinated, but the figure is reported to be around 5%.
Spain, Portugal tighten Covid rules for Britons
Spain will start to demand a negative Covid-19 test or proof of vaccination from British tourists who want to enter Mallorca, Ibiza and the surrounding Balearic islands, Prime Minister Pedro Sanchez said.
"What we are going to do is apply to British tourists who go to the Balearic islands the same requirements we make of other European citizens," Mr Sanchez told Cadena SER radio.
"They will need a full dose of vaccine or a negative PCR," he added.
Spain had previously decided to lift the requirement for Britons to present a negative PCR test from 20 May.
Authorities in Mallorca are investigating a coronavirus outbreak involving more than 600 students.
British holidaymakers heading to Portugal must quarantine for two weeks upon arrival unless they are fully vaccinated against Covid-19.
The quarantine will stay in place until at least July 11, the interior ministry said in a statement.
Portuguese authorities announced yesterday that schools in five towns in the Algarve region, popular with tourists for its stunning beaches, would be closed in a bid to contain a surge in coronavirus cases.
In mid-May Portugal became the first European Union country to welcome back British travellers, who traditionally flock to Portuguese beaches in a major boost to the tourist economy.
But three weeks later Britain reintroduced a 10-day quarantine for people returning from Portugal due to rising cases there, prompting some British tourists to rush home early ahead of its reinstatement.
Portugal's rising infection rate on Friday led Germany to ban all travel from the fellow EU member, apart from German citizens or residents returning home.
Those arriving in Germany from Portugal must also undergo a quarantine.

Moscow posts record daily Covid deaths
Moscow recorded 114 Covid-19 deaths in a 24 hours period yesterday, the worst toll in a Russian city since the start of the pandemic, according to official data.
Moscow's record comes a day after one set by Euro 2020 host Saint Petersburg, where a quarter-final is to be held on Friday in front of thousands of fans.
Covid-19 infections have been surging in Russia for weeks, blamed on the highly transmissible Delta variant first identified in India.
Dozens of Finland supporters caught coronavirus in Saint Petersburg after they travelled to the city last week for their team's defeat against Belgium.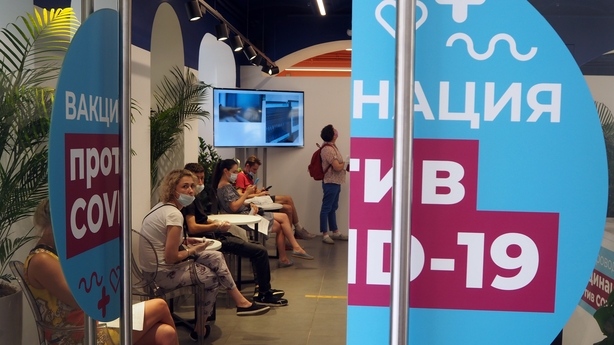 Countrywide, 599 people died in Russia of coronavirus in the same 24-hour period, bringing the national official toll to 133,282.
Some 20,538 new infections were also recorded, bringing the national total to 5.4 million.
Moscow has been the national epicentre of the pandemic and some 2,000 people are hospitalised because of the virus there daily, Mayor Sergei Sobyanin said in televised remarks.
The steep rise in infections in Russia comes as officials push vaccine-sceptical Russians to get inoculated, after lifting most anti-virus restrictions late last year.
"To stop the pandemic, one thing is needed: rapid, large-scale vaccinations. Nobody has invented any other solution," Mr Sobyanin said.
Russia is the sixth-worst hit Covid-19 country in the world, and the hardest in Europe.
Indonesia recommends Sinovac vaccine for children aged 12-17

Indonesia's food and drug agency has recommended the Covid-19 vaccine made by China's Sinovac Biotech for children aged 12-17, the country's Covid-19 task force said, as the country seeks to extend inoculations amid a surge in infections.
Indonesia has reported record daily rises in cases of more than 20,000 recently after the emergence of virus variants has helped drive a new wave of infections.
Indonesia has been using Sinovac as the main plank for its vaccination programme after receiving about 94 million doses, while it has received about 10 million made by AstraZeneca and Sinopharm.
Task force data shows children aged 0-18 account for 12.6% of Indonesia's total Covid-19 infections.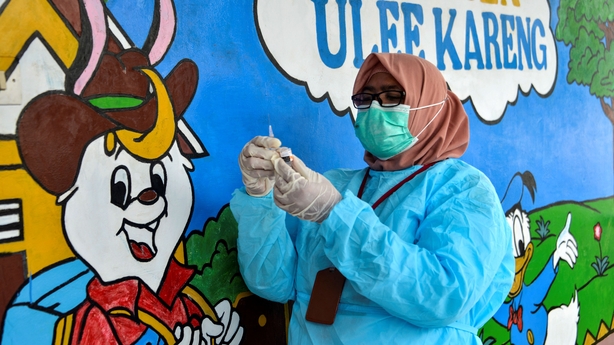 The World Health Organization (WHO) approved emergency use of Sinovac's vaccine this month, saying results showed it prevented symptomatic disease in 51% of recipients and prevented severe Covid-19 and hospital stays.
Indonesia is under pressure to speed up vaccinations with hospitals in several designated "red zones" reporting over capacity and with 93% of isolation beds in Jakarta occupied as of yesterday.
Indonesia reported it had given 1.3 million vaccine shots on Saturday, the highest daily count since the programme began in January. About 13.18 million people have received both shots as of today, government data showed.