Philippines President Rodrigo Duterte, frustrated by the slow pace of Covid-19 vaccinations in his country, threatened people who refuse to get inoculated with jail or an injection of Ivermectin, an anti-parasite drug widely used to treat animals.
Ivermectin has been touted as an alternative treatment for Covid-19 but US and European regulators and the World Health Organization (WHO) have recommended against it.
"You choose, vaccine or I will have you jailed," Mr Duterte said in a televised address, following reports of low turnout at several vaccination sites in the capital Manila.
"But for as long as you are here and you are a human being, and can carry the virus, get vaccinated.
"Otherwise, I will order all the village captains to have a tally of the people who refuse to be vaccinated. Because if not, I will have Ivermectin meant for pigs injected into you."
Mr Duterte is famous for his bellicose rhetoric and his remarks contradicted those of his health officials, who have said getting vaccinated is voluntary.
"Don't get me wrong, there is a crisis in this country," Mr Duterte said. "I'm just exasperated by Filipinos not heeding the government."
With over 1.3 million cases, the Philippines is fighting one of Asia's must stubborn Covid epidemics. But as of Sunday, just 2.1m people had been fully vaccinated of the 70 million people targeted for this year.
Mr Duterte, who has been criticised for his tough approach to containing the virus, also stood by his decision not to let schools reopen.
Israeli PM warns of new virus outbreak as cases rise
Israeli Prime Minister Naftali Bennett has warned of a "new outbreak" of coronavirus in Israel after a rise in infections he said was likely due to returning travellers carrying the Delta variant.
"Our goal is to end it, to take a bucket of water and pour it on the fire when the fire is still small," Mr Bennett said at Ben Gurion airport, where the government announced an expanded testing facility would be set up.
Israel recorded 125 new cases yesterday -- the most per day since April, in a country where more than half the population has been fully vaccinated.
At the peak of the country's outbreak in January, Israel was recording some 10,000 daily cases.
Mr Bennett said a recent spike in infections appeared to be due to the highly contagious Delta variant of the virus that likely came from overseas.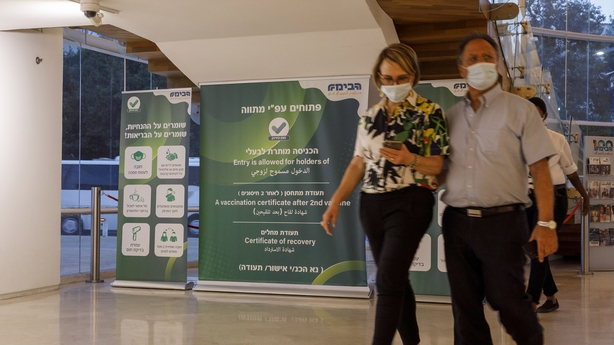 An outbreak in the town of Binyamina, north of Tel Aviv, saw more than 1,000 people quarantined and appeared to be due to travellers returning from Cyprus, he said.
"Whoever doesn't have to fly abroad, please don't," Bennett added.
Israel remains largely closed to non-citizens.
Bennett, who ousted former premier Benjamin Netanyahu earlier this month, said he was reconvening a "corona cabinet" to handle the challenge.
"We reached an initial decision to treat this as a new outbreak," Bennett said.
Israel launched a sweeping vaccination campaign after obtaining millions of doses of the Pfizer vaccine.
More than 55% of Israe
Merkel gets Moderna as second jab after AZ first dose
German Chancellor Angela Merkel received a Moderna coronavirus vaccine as her second jab, after getting AstraZeneca as the first, a spokesman said.
The 66-year-old took her first dose of AstraZeneca's vaccine in April, more than two weeks after German authorities recommended use of the jab only for people aged 60 and over.
Ms Merkel is stepping down this year after 16 years in power.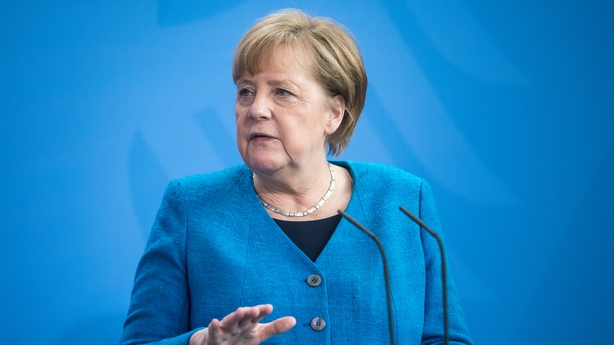 In 2019, she sparked concerns for her health with a series of shaking spells in public but has appeared to be in good condition since then.
After a stuttering start, Germany's vaccination roll-out has sharply accelerated in recent weeks.
As of today, one in two, or 51.2% of the population have received their first dose.
---
---
Sydney battles Covid-19 cluster
Sydney is battling a fresh Covid-19 cluster just as Melbourne's latest outbreak receded, highlighting Australia's difficulty in quashing persistent small virus flare-ups.
Ten people were diagnosed with Covid-19 in Sydney overnight, taking the cluster that first emerged in the city's Bondi Beach area last week to 21 cases.
New South Wales state Premier Gladys Berejiklian said health officials expected the outbreak in Australia's most populous city to continue growing in the coming days, after several people were infected in just "fleeting" non-physical contact with a case in a café and a large shopping centre.
In response, the government has reimposed mandatory mask-wearing in public transport and retail outlets across much of greater Sydney, but it has stopped short of ordering a lockdown.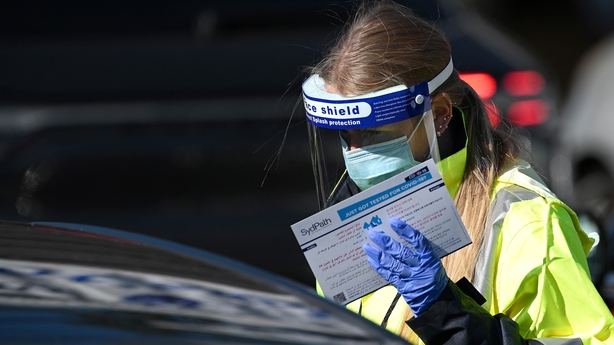 The outbreak is thought to have started when a man who works as a driver for international flight crews contracted the highly contagious Delta variant of the virus, which was first identified in India.
"We also need to recognise that this Delta variant ... is actually a gold medallist when it comes to jumping from one person to another," Ms Berejiklian told reporters in Sydney.
It comes as restrictions on Melbourne's five million residents continued easing, with new cases slowing to a trickle in recent days.
New Zealand and several Australian states have announced the removal of travel restrictions imposed last month as dozens of cases were detected in Melbourne and the city endured a two-week lockdown.
Kremlin says people without vaccine or immunity will have limited work options
The Kremlin said that people who were not vaccinated against Covid-19 or did not have immunity would be unable to work in all workplaces in Russia and that those people could be discriminated against.
"The reality is such that discrimination will inevitably set in. People without vaccination or immunity will not be able to work everywhere.
"It is not possible. It will pose a threat to those around them," Kremlin spokesman Dmitry Peskov told reporters.
President Vladimir Putin warned yesterday that the coronavirus situation in some Russian regions was getting worse as authorities began promoting the idea of regular re-vaccinations to try to halt a surge in new cases.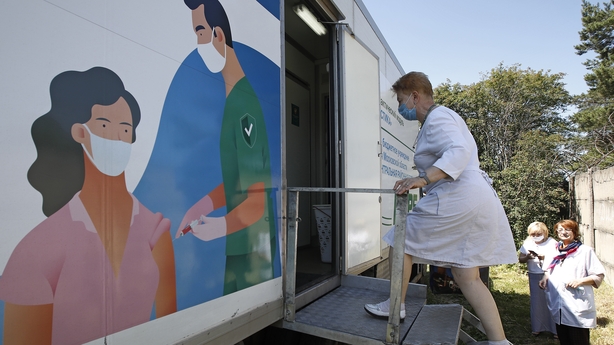 Russia reported 546 coronavirus-related deaths today, the most confirmed in a single day since February, and 16,715 new Covid-19 cases in the last 24 hours, the continuation of a dramatic rise authorities have blamed on the new Delta variant.
The authorities are trying to coax and compel people to get vaccinated, offering those who do the chance to win new cars and flats, while threatening others who do not with loss of earnings and dismissal.
The government on Friday blamed the increase in cases on people's reluctance to have vaccinations and "nihilism".
Russia has approved four domestically-made vaccines and sold its flagship Sputnik V vaccine to many foreign countries.
Vaccinated Britons could be back on Europe's beaches soon - minister
Britain is working on easing travel restrictions for the fully vaccinated to allow people to enjoy a summer holiday on Europe's beaches but the plans are not finalised yet, Health Secretary Matt Hancock said.
Currently British citizens are essentially prevented from travelling to most countries - including those in the European Union - as the quarantine and testing rules are so cumbersome and expensive.
Mr Hancock told Sky News that the government did want to let people have a family holiday abroad, but only when it was safe to do so.
Prime Minister Boris Johnson said yesterday that travellers would face hassle and delays this year if they sought to go abroad because the priority would be keeping the country safe.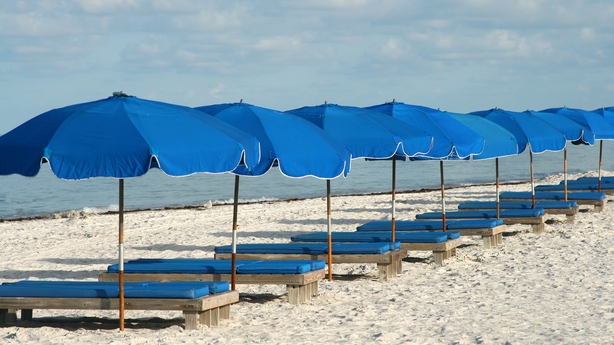 Britain has the seventh highest death toll from Covid-19 globally of nearly 128,000 deaths but has one of the fastest vaccine rollouts in the world, with 80% of adults having received a first vaccine dose and nearly 60% a second shot.
Popular European holiday destinations for Britons, including Spain, Portugal, France, Italy and Greece, are currently rated "amber", which require returning passengers to take three expensive Covid-19 tests and isolate for 10 days on return.
But travel companies are desperate to avoid another summer lost to Covid-19, and have demanded the government acts.
Italy to scrap mandatory masks outdoors from 28 June

Italy will lift a requirement that people wear face masks outdoors from 28 June, the government said, as Covid-19 cases and hospitalisations decline.
Mandatory masks were imposed in October last year, when the country was entering a second wave of the epidemic and authorities were struggling to curb surging infections.
Mario Draghi's government has been steadily lifting restrictions since April, opening activities such as restaurants, bars, cinemas and gyms and allowing freedom of movement around the country.
The wearing of masks was one of the last rules to remain in place, and it will still be required in indoor public areas.
The decision will be effective from next Monday when the whole nation is expected to be a Covid-19 white zone, the lowest risk level in Italy's four-tier colour-coded system to calibrate curbs in its 20 regions.
Nineteen of the regions are already white, the exception being the tiny northern area of Valle d'Aosta which is yellow, denoting the second-lowest risk level.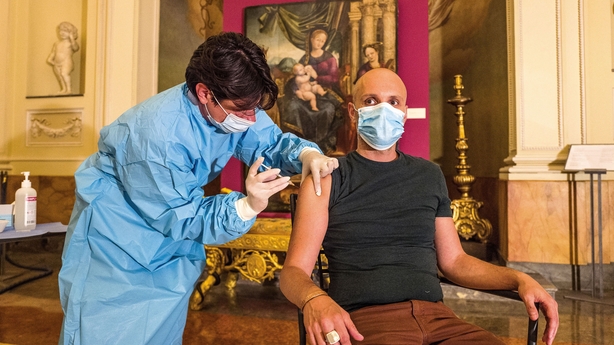 Italians should still carry a mask with them when they leave home and be ready to wear it outdoors if there is a crowd.
The announcement follows similar decisions in other European states such as France and Spain, although worries remain in Europe over the spread of the new, highly contagious Delta variant.
Some 26% of Italians have been fully vaccinated against Covid-19, while around 52% have received at least one shot, figures broadly in line with other large European Union countries.
Cases are at their lowest level in 2021 and pressure on hospitals is easing steadily.