Italian Prime Minister Mario Draghi has said he believed the Euro 2020 final should not be held in Wembley given the renewed surge in coronavirus cases in England.
"I support ensuring that the final does not take place in a country where the risk of infection is of course very high," he told reporters at a joint press conference with German Chancellor Angela Merkel in Berlin.
Mr Draghi, whose country's team has had an impressive run at the tournament so far, is the latest leader to voice doubts about the Wembley location.
British Prime Minister Boris Johnson on Friday said his priority was keeping the "country safe from Covid", as a source confirmed to AFP that UEFA was keeping the option open of moving the Euro 2020 semi-finals and final from Wembley to Budapest.
The highly contagious Delta variant, first detected in India, has fuelled a spike in new Covid-19 cases in Britain and forced the government there to delay planned reopenings.
Ms Merkel and French President Emmanuel Macron last week voiced concerns over allowing fans to crowd Euro 2020 stadiums, with the German Chancellor saying "caution is still necessary" at "big events".
Mr Macron said "we'll have to keep an eye on things" for teams and fans, particularly in view of the rapid spread of Delta variant in Britain.
Meanwhile a British minister has said that VIPs attending the final stages of Euro 2020 would be subject to a "very strict code of conduct" should the government give the go-ahead.
But fears were raised that a "UEFA variant" could be brought into the country if quarantine rules were relaxed for up to 2,500 officials to attend the final at Wembley.
The House of Lords heard that the London venue risks losing the showpiece event to another country if the UK cannot meet UEFA's attendance requirements.
Culture minister Baroness Barran said no final decision had been taken, talks were ongoing and the government would restrict any changes to the "smallest possible group deemed critical to staging the tournament successfully".
She added that VIPs or accredited guests would not be exempt from government restrictions but instead only able to leave isolation for official events, which would be subject to testing and bubble arrangements, and a code of conduct would be in place.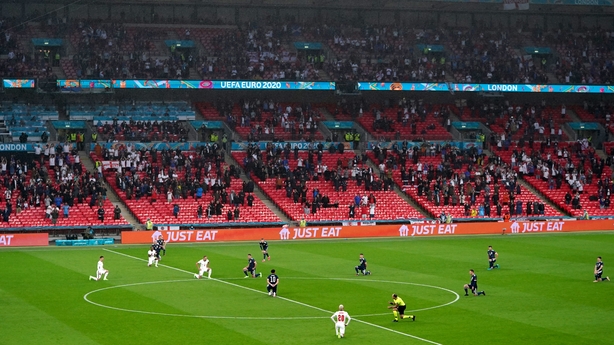 The British government has announced the final four Euro 2020 matches at Wembley will be played in front of at least 40,000 spectators after they were included in its extended Events Research Programme which allows for crowds over the usual 10,000 upper limit.
But supporters travelling from an amber list country, such as France or Spain, would need to test negative before departure, isolate for ten days upon arrival in the UK and provide two negative tests in that time before going to watch a match.
Speaking in the Lords, Lady Barran said: "We are not exempting any VIPs or accredited guests from our restrictions.
"If it's agreed they should enter the UK, they would only be able to leave isolation for official events and would be subject to a very strict code of conduct."
Asked by non-affiliated peer Baroness Stuart of Edgbaston to divulge the sanctions imposed on anyone who breached the code of conduct, Lady Barran replied: "I am not familiar with the details of that but I'd imagine it'd be the responsibility of UEFA and the international football association since it will apply to non-UK citizens."
Additional reporting PA