The HSE's Chief Clinical Officer has said he hopes the vaccination of people aged in their 20s will begin by late July or early August.
"We are always cautious to project too accurately into the future because so much is dependent on the constancy and reliability of supply lines," Dr Colm Henry said.
However, he said based on supply lines and assurances received to date, the HSE is "hopeful to begin vaccinating people in their 20s maybe by the end of July or beginning of August"
Dr Henry said the first doses of an mRNA vaccine will be administered for the age group through the month of August and those people will receive their second dose one month after the first vaccine.
From tomorrow, vaccination registration will open to people aged 35 to 39, starting with those 39-year-olds.
Dr Henry said: "We expect to be giving first doses for the whole decade of 30 to 39 right through the month of July".
He said the second dose for the 710,000 people in that cohort will also be administered one month later.
Meanwhile, the Chair of the High Level Task Force on Covid-19 Vaccination has said more than 900,000 doses will be delivered to Ireland within the next two weeks.
Professor Brian MacCraith said between 23 June and 30 June there will be three major deliveries each greater than 300,000 doses, the largest since the vaccination programme began.
He said: "Two of the major deliveries are Pfizer, one of them 317,000 and the other 318,000, and the other is 300,000 from AstraZeneca, which will be very important in terms of the accelerated dose interval for AstraZeneca from 12 weeks to 8 weeks."
Professor MacCraith said it is a huge boost for the programme and a huge boost for people who are receiving the vaccines.
"It does mean from the point of view of doses administered per week, this will represent the high point of the overall roll-out programme."
He said Ireland has benefited in recent months from a significant acceleration of doses negotiated by the European Commission.
"After that, unless clinical guidance changes, we will revert to a two vaccine programme using Pfizer and Moderna, and also return to levels of supplies and deliveries back to where we were in April where we will get just over 220,000 doses per week [from July]," he said.
The HSE is on course to administer around 330,000 vaccines this week, in the largest weekly total to date.
Professor MacCraith said the number of doses given out over the next two to three weeks will all exceed 300,000 a week, based on the large deliveries coming in.
Ireland 'on target' to introduce Covid Certificate
The Taoiseach has said Ireland is on target to introduce the EU Digital Covid Certificate from 19 July.
The new European-wide system, which will come into operation in a number of countries from 1 July, is designed to enable people to travel across the bloc.
Speaking in Cork, Micheál Martin said while 19 July is a number of weeks away, Ireland is "certainly on target to be a part of the EU framework in terms of the Digital Covid Certificate, which I think is an important milestone".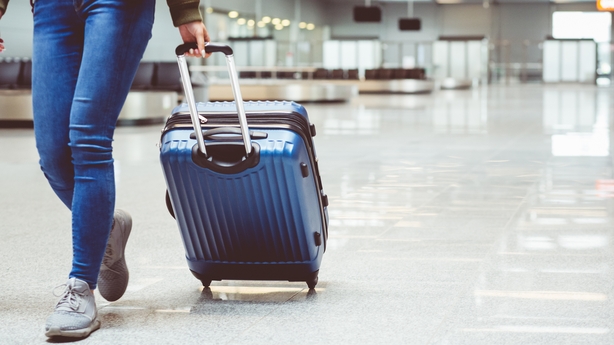 He said it also gives that "things are getting better" for the aviation industry.
A new study from the European Centre for Disease Prevention and Control has found that the risk of in-flight transmission of the virus is "very low" however the ECDC said it "cannot be excluded".
The finding was made based on evidence from contact tracing studies as part of an updated Covid-19 aviation health safety protocol.
The Taoiseach said the finding was "very interesting" and he said it gives move confidence ahead of the introduction of the Digital Covid Certificate.
"As we move on, more data and more research gives us greater confidence in terms of the decision making around Covid and around reopening society," he said.
The Taoiseach has said Ireland is on target to introduce the EU Digital Covid Certificate as planned from 19 July | https://t.co/b40Gk9invM pic.twitter.com/nb6jbZS03x

— RTÉ News (@rtenews) June 19, 2021
Meanwhile, Chief Medical Officer Dr Tony Holohan and his counterpart in Northern Ireland Dr Michael McBride have held discussions on the evolving profile of Covid-19 across the island.
After the talks, the Chief Medical Officers reminded people who are intending to travel across the border over the coming days "to be alert to the epidemiological situation in the relevant local areas and to ensure that they avoid activities which could place them or their families at risk of Covid-19 infection".
The CMOs highlighted growing concern over the Delta variant and urged people to remain careful and to continue to follow public health advice.
In a statement, they said: "Now is a time for continued caution in order to maintain the progress made to date in each jurisdiction, until more people are fully vaccinated.
"People who are not yet protected through vaccination should remain extra vigilant, avoid crowds or large events, meet up with others outdoors where possible and come forward for testing if they develop any symptoms of Covid-19."
---
---
Separately, Minister for Foreign Affairs Simon Coveney has said the Government has no plans to subsidise the cost of PCR testing for travel.
He said that the implementation of the EU Digital Covid Certificate on 19 July will require that 2.5 million people who meet the criteria to travel under it are placed on a database that is integrated with the EU system.
He said this would include all those who are fully vaccinated, those who had a Covid-19 infection and recovered in the previous nine months, and people with negative PCR tests 72 hours before landing.
The minister said that a huge amount of work is being put in place to allow people to travel safely in and out of Ireland without having to quarantine in other countries.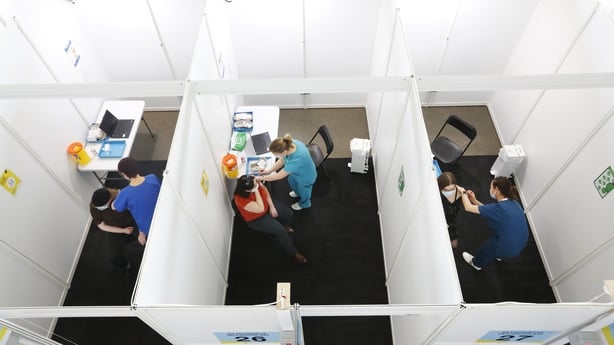 He said that antigen testing will be used extensively in the autumn in other areas of the economy, including in colleges and business.
The Department of Health has been notified of 393 new cases of Covid-19.
The number of patients with Covid-19 in intensive care units is down one to 14, while there are 48 patients with Covid-19 in hospital, up from 44 last night.
Every day that supplies allow for further vaccines, we see the benefits. We're now down to 44 positive #COVID19 inpatients in hospital, 15 of those in ICU. 21 hospitals with just one case or less. Huge credit to public support & for the take up of vaccines here. @HSELive

— Paul Reid (@paulreiddublin) June 18, 2021
Earlier, Dr Henry said there is "no doubt" that cases of the Delta variant of Covid-19, which was first detected in India, will rise in Ireland.
He said that while the overall situation here has greatly improved, he said he sees "a lot of volatility, mainly emanating from this Delta variant".
Speaking on RTÉ's Brendan O'Connor programme, Dr Henry said full vaccination affords solid protection against serious illness from the variant, and while its spread here has so far been contained, numbers are rising in Northern Ireland.
Dr Henry said that Covid-19 does not exclusively attack older people and that vaccinating younger age groups is critical to reaching herd immunity in the population.
He also said that he would be hesitant about bringing children on foreign holidays this year.
He said that people who are fully vaccinated or have clear evidence of previous Covid-19 infection will be better protected in going abroad, and that while the Government will decide on the criteria for the EU Digital Covid Certificate, this will depend "on the prevailing public health environment and advice".
Taoiseach @MichealMartinTD says the #Covid19 vaccination uptake has been very positive and the Government is appealing to people to get their second dose when called, to protect themselves, their family and wider society | https://t.co/r2fMqKuvia pic.twitter.com/a2xJl9wM8x

— RTÉ News (@rtenews) June 19, 2021
The Taoiseach has appealed to people to accept their second dose of a Covid-19 vaccine.
Mr Martin said the vaccination uptake rate "has been very positive and we want to maintain that".
Asked if there are any concerns that some people are not turning up for dose two of the AstraZeneca vaccine, he said "there is no real evidence yet that there is a significant issue here, but we are appealing to people when you get the call to get your second vaccine, to take it up."
He said doing so "will give you protection, it will give your family protection and wider society protection".
Mr Martin said Ireland is "doing very well" in terms of the uptake of vaccines.
"We are top of the EU table in terms of participation rates in the vaccine programme. That is positive and we want to maintain that as we move down through the age cohorts."
In Northern Ireland, no further deaths related to Covid-19 have been reported, but 158 new cases have been recorded in the past 24 hours.
Additional reporting Conor Kane